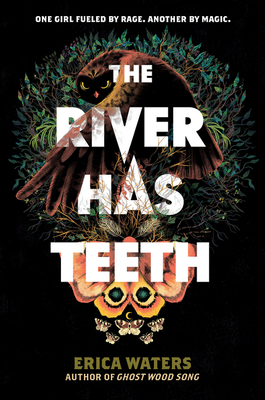 The River Has Teeth
Publication Date:
September 13th, 2022
Chop Suey Books
1 on hand, as of Jan 28 5:03pm
On Our Shelves Now
Eerie and chilling to the bone, The River Has Teeth holds back no punches. Unique magic and two girls set on their own quests for vengeance will keep readers turning these pages — and looking over their shoulder for any monsters in the night.
July/August 2021 Kids Indie Next List
Description
Lush and chilling, with razor-sharp edges and an iron core of hope, this bewitching, powerhouse novel of two girls fighting back against the violence the world visits on them will stun and enchant readers.
Girls have been going missing in the woods…
When Natasha's sister disappears, Natasha desperately turns to Della, a local girl rumored to be a witch, in the hopes that magic will bring her sister home.
But Della has her own secrets to hide. She thinks the beast who's responsible for the disappearances is her own mother—who was turned into a terrible monster by magic gone wrong.
Natasha is angry. Della has little to lose. Both are each other's only hope.
From the author of Ghost Wood Song, this eerie contemporary fantasy is perfect for fans of Wilder Girls and Bone Gap. 
Praise for Ghost Wood Song:
"A gorgeous, creepy gem of a book." —Claire Legrand, New York Times bestselling author of Furyborn and Sawkill Girls
"It will make your heart dance." —Jeff Zentner, Morris Award-winning author of The Serpent King and Goodbye Days
"Strikes the perfect balance of atmospheric chills, dark familial secrets, and a yearning for the warm comforts of home." —Erin A. Craig, New York Times bestselling author of House of Salt and Sorrows
"Waters' debut features a bisexual lead with both male and female love interests, an atmospheric southern gothic setting, and, for the musically inclined, lots of folk and bluegrass references." —Booklist
"Haunting and alluring." —Kirkus
Praise for The River Has Teeth
"This genre-blending contemporary thriller offers a searing indictment of men who prey on women while the book's fantasy elements offer a form of revenge and resolution… Potent, atmospheric, and wholly satisfying." — Kirkus Reviews (starred review)
"A backwoods murder ballad of a book that draws from the old songs and legends that underpin so many areas of rural America. [The River Has Teeth] is well worth a listen." — NPR
"Soft and seething, with an undercurrent of longing and rage, THE RIVER HAS TEETH is the perfect story for anyone who is tired of feeling helpless. This book has teeth, too." — Hannah Whitten, New York Times bestselling author of For the Wolf
"Waters weaves a spell on the page, seeped with dark and murky magic, both beautiful and terrifying, just as her girls are beautiful and terrifying. Set loose upon the Bend, Natasha and Della are two forces crashing into one another with a strength that makes their world tremble." 
— Emma Berquist, author of Missing, Presumed Dead
"Packed with monstrous magic and a wicked bite, The River Has Teeth is the perfect read for fans of Beware the Wild and Wilder Girls. Fierce and flawless." — Kat Ellis, author of Harrow Lake
"Full of fierce women and wild magic, The River Has Teeth is a captivating story of love, grief, and the power of anger. From its eerie opening pages to its gripping finale, it kept me enthralled." — Kate Alice Marshall, author of Rules for Vanishing
"The River Has Teeth is one of those books I could not put down—even when I knew I should. The lush, haunting story gave me the most gorgeous nightmares I've ever had."  — Kylie Schachte, author of You're Next 
"With its witches, monsters, and missing girls, The River Has Teeth is a hypnotic, suspenseful read."  — Wendy Heard, author of She's Too Pretty to Burn
"This horror-tinged tale from Waters (Ghost Wood Song) spotlights issues of racial and socioeconomic injustice…. [A] lushly written story." — Publishers Weekly
"A cathartic portrait of two girls' anger toward a world whose cruelty and injustice forced them to fight back. The River Has Teeth delivers ferociously good thrills." — BookPage
"Waters' southern gothic thriller cleverly uses magic as a metaphor for the ways women resist the harm that men do." — Booklist
Praise for GHOST WOOD SONG:   "What a gorgeous, creepy gem of a book, brimming with magic, mystery, music, and so much love that you'll ache as if these characters were your actual friends. Ghost Wood Song weaves a captivating spell you won't want to break."  — Claire Legrand, New York Times bestselling author of Furyborn and Sawkill Girls
"Ghost Wood Song sings a high and lonesome love song to family, to place, to music, and to love itself. It will make your heart dance." — Jeff Zentner, Morris Award winning author of The Serpent King and Goodbye Days
"These haunted pages are full to bursting with intricate family dynamics, a nuanced queer romance, and a crescendo of an ending readers won't see coming. With notes of southern gothic and mystery, Ghost Wood Song will strike a chord with fans of The Raven Boys and Beautiful Creatures." — Rosiee Thor, author of Tarnished Are the Stars
"Strikes the perfect balance of atmospheric chills, dark familial secrets, and a yearning for the warm comforts of home. I could hear the cicadas' call and feel the smothering humidity, even as I shivered!" — Erin A. Craig, New York Times bestselling author, House of Salt and Sorrows
"Ghost Wood Song is a dusky, haunting daydream of a debut that hits all the right notes." — Dahlia Adler, author of Under the Lights and editor of His Hideous Heart
"A gorgeously written debut filled with ghosts, a queer love triangle, a murder mystery, & a healthy dose of bluegrass. When you finish, you'll want to turn back to page one and start all over again."  — Amanda Lovelace, author of The Princess Saves Herself in this One
"Waters' debut features a bisexual lead with both male and female love interests, an atmospheric southern gothic setting, and, for the musically inclined, lots of folk and bluegrass references. For teens with a penchant for eerie ghost stories, this lyrical tale will hit the spot." — Booklist
"Debut author Waters weaves an intense and spectral atmosphere with vivid prose…Haunting and alluring." — Kirkus Reviews