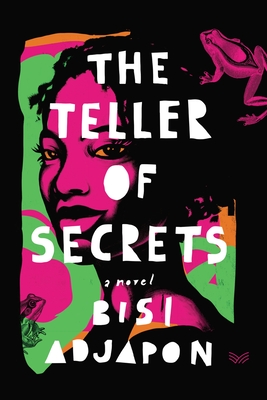 The Teller of Secrets: A Novel
Publication Date:
November 16th, 2021
Chop Suey Books
1 on hand, as of Feb 8 9:12pm
On Our Shelves Now
An absolute page-turner of a book, a fiercely feminist coming-of-age tale about a young Ghanaian girl questioning what is expected of her and what she is owed. A mesmerizing and powerful read from a fresh literary talent.
December 2021 Indie Next List
Description
"Bisi Adjapon writes with incredible vividness and clarity. Her similes and attention to all of the senses are really extraordinary."—Dave Eggers, author of The Monk of Mokha
"Melding blistering humor with razor-sharp insight, The Teller of Secrets heralds a marvel of a writer, one capable of deftly balancing questions of sexuality, politics, and feminism in a novel that is a pure joy to read."—Maaza Mengiste, author of The Shadow King, Shortlisted for the 2020 Booker Prize
In this stunning debut novel—a tale of self-discovery and feminist awakening—a feisty Nigerian-Ghanaian girl growing up amid the political upheaval of late 1960s postcolonial Ghana begins to question the hypocrisy of her patriarchal society, and the restrictions and unrealistic expectations placed on women.
Young Esi Agyekum is the unofficial "secret keeper" of her family, as tight-lipped about her father's adultery as she is about her half-sisters' sex lives. But after she is humiliated and punished for her own sexual exploration, Esi begins to question why women's secrets and men's secrets bear different consequences. It is the beginning of a journey of discovery that will lead her to unexpected places.
As she navigates her burgeoning womanhood, Esi tries to reconcile her own ideals and dreams with her family's complicated past and troubled present, as well as society's many double standards that limit her and other women. Against a fraught political climate, Esi fights to carve out her own identity, and learns to manifest her power in surprising and inspiring ways. 
Funny, fresh, and fiercely original, The Teller of Secrets marks the American debut of one of West Africa's most exciting literary talents. 
Praise for The Teller of Secrets: A Novel
"Melding blistering humor with razor-sharp insight, The Teller of Secrets heralds a marvel of a writer, one capable of deftly balancing questions of sexuality, politics, and feminism in a novel that is a pure joy to read. This book is impossible to put down. What an exciting, masterful novel by an uncommonly gifted writer."
— Maaza Mengiste, author of The Shadow King, shortlisted for the 2020 Booker Prize
"Bisi Adjapon writes with incredible vividness and clarity. Her similes and attention to all of the senses are really extraordinary." 
— Dave Eggers, publisher of McSweeney's Quarterly Concern and Pulitzer Prize-winning author of A Heartbreaking Work of Staggering Genius
"Bisi Adjapon's The Teller of Secrets unfolds with grace, and a quiet spellbinding beauty to reveal the fascinating journey of Esi to self-discovery through family drama, betrayal and passion. A poignant, witty and delightful read delivered by a storyteller of note.
— Abubakar Adam Ibrahim, author of Season of Crimson Blossoms, Winner of the Nigeria Prize for Literature

"Sharp, observant, and often bitingly funny, Adjapon's novel captures a country divided by class, ethnicity, and political loyalty and a character who might have a chance to soar on the winds of social change. This is a winner." — Publishers Weekly (starred review)
"Bisi Adjapon has written a deeply compelling, humorous coming-of-age story. Esi Agyekum is brave, perceptive, and precocious; traits she needs to survive the oftentimes perilous journey that most African girls must take on their way to full womanhood. It is a testament to Adjapon's skill as a writer that the story is told with such vulnerability and sensitivity. An utterly captivating and entertaining read!"
— Ama Ata Aidoo, author of Our Sister Killjoy and Changes, Winner of the Commonwealth Prize Award for Best Book
"Breathtaking...Esi ultimately takes control of her body, her mind, and her whole being in ways that will merit a fist pump among feminists everywhere." — Booklist (starred review)
"Adjapon is a masterful storyteller who has created the best friend I wish I had when I was growing up. In Esi, she gives readers a hero who will 'ignite their fires.' This is a feminist manifesto in the form of a novel. Watch Esi as she navigates secrets and sexism, and thank Adjapon for her skill at unpacking patriarchal hypocrisy with clear-eyed gusto"  — Mona Eltahawy, author of The Seven Necessary Sins for Women and Girls
"There's nothing like a coming-of-age story to reminds us of how connected we all are. You'll both cry and cheer as Esi learns the hard lesson that not all secrets are worth keeping." — Essence