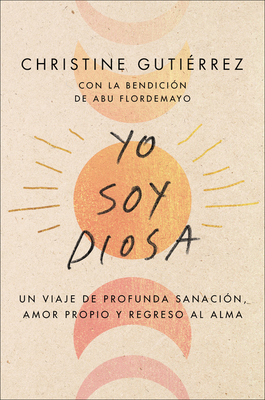 I Am Diosa \ Yo soy Diosa (Spanish edition): Un viaje de profunda sanación, amor propio y regreso al alma
Publication Date:
September 6th, 2022
Publisher:
HarperCollins Espanol
Chop Suey Books
3 on hand, as of Jan 28 5:03pm
On Our Shelves Now
Description
Esta guía cruda y amorosa hacia el autocuidado y el amor propio empodera a las lectoras y las invita a aceptar los poderes de la Diosa que llevan dentro.
En este libro intensamente inspirador, la psicoterapeuta Christine Gutiérrez invita a las mujeres a unírsele para sanar heridas de traumas o golpes del pasado con el fin de reclamar su valor y regresar al hogar que es su auténtico yo y su verdadera alma.
Diosa es la palabra en español para Goddess. Una diosa es cualquiera que honre la energía femenina primigenia en el mundo y dentro de su ser. De acuerdo con Gutiérrez, las diosas enfrentan obstáculos en su vida, pero siempre están listas y deseosas de ir a su centro para reclamar su valor interno y su autoestima. Son las que se levantan de sus cenizas y se atreven a reconstruirse hueso a hueso y pedacito a pedacito del alma. Desde historias de resiliencia tanto de Gutiérrez como de miembros de la Tribu Diosa hasta mantras, meditaciones y entradas de diarios, este libro proporciona a las mujeres las herramientas que necesitan para honrar su feminidad sagrada y convertirse en lo que siempre estuvieron destinadas a ser.
Yo soy Diosa inspirará a las mujeres a permitirse sentir, ser vistas, ser escuchadas y regresar a su más auténtico yo.
This raw and relatable guide to radical self-care and self-love empowers readers to embrace the powerful Diosa within.
In this fiercely inspiring book, psychotherapist Christine Gutierrez welcomes women to join her in healing the wounds from past hurt or trauma to reclaim their worth and come back home to their true self and soul.
Diosa is the Spanish word for Goddess. A diosa is anyone who honors the primal feminine energy in the world and within themselves. According to Gutierrez, diosas face obstacles in their lives but are always ready and willing to go to their core to reclaim their inner worth and self-esteem. They are the ones that rise from the ashes and dare to piece themselves back together bone by bone and soul piece by soul piece. From stories of resilience from both Gutierrez and members of her Diosa Tribe, to mantras, meditations, and guided journaling prompts, this book gives women the tools they need to honor their sacred feminine and become who they were always meant to be.
I Am Diosa will inspire women to give themselves permission to feel, to be seen, to be heard, and to return to their truest selves.
Praise for I Am Diosa \ Yo soy Diosa (Spanish edition): Un viaje de profunda sanación, amor propio y regreso al alma
"Gutierrez's words are at the same time raw and elegant, ancient and modern. It's exactly what's needed for the future we need to create. I Am Diosa is for every modern woman who craves a wisdom that's been denied to us for too long. Read and USE this magical book." — Rebekah Borucki, mother, author, and advocate
"Christine Gutiérrez is a brilliant and powerful force who embodies everything she teaches. I Am Diosa walks you through the inner process of understanding your past and healing your wounds so that you can live a vibrant, authentic and empowered life. I Am Diosa is for those who are ready for serious transformation" — Yung Pueblo, author of Inward
"Finally, a book that beautifully and effectively combines a psychologically grounded perspective with ancient wisdom for cultivating self-love, self-care and deep healing. I Am Diosa is a step-by-step guide to true transformation and authentic empowerment." — Terri Cole, licensed psychotherapist