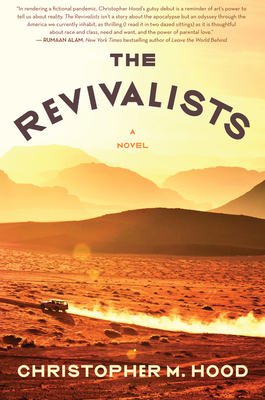 The Revivalists: A Novel
Publication Date:
October 4th, 2022
Chop Suey Books
1 on hand, as of Feb 4 11:13pm
On Our Shelves Now
Description
 "The Revivalists is a thrilling, terrifying, surprising, and tender debut, written in such exquisitely precise prose that I felt singed by its imaginary fires and warmed by its beating heart. Chris Hood's nightmarish cross-country family odyssey is also one of the most beautiful love stories I've ever read."—Karen Russell, bestselling author of Swamplandia! and Orange World
A stunning debut novel about a couple's harrowing journey across a ravaged America to save their daughter.
Bill and Penelope are the lucky ones. Not only do they survive the Shark Flu emerging from the melting Icelandic permafrost to sweep like a scythe across the world, but they begin to rebuild a life in the wreckage of the old. A garden to feed themselves planted where the lawn used to be, a mattress pulled down to the living room fireplace for warmth. Even Bill's psychology practice endures the collapse of the social order, the handful of remaining clients bartering cans of food for their sessions. But when their daughter's voice over the radio in the kitchen announces that she's joined a cult three thousand miles away in Bishop, California, they leave it all behind to embark on a perilous trek across the hollowed-out remains of America to save her.
 Their journey is an unforgettable odyssey through communities scattered across the continent, but for all the ways that the world has changed, the hopes and fears of this little family remain the same as they always have been. In The Revivalists, Christopher M. Hood creates a haunting, moving, darkly funny, and ultimately hopeful portrait of a world and a marriage tested by extraordinary circumstances.
Praise for The Revivalists: A Novel
"In rendering a fictional pandemic Christopher Hood's gutsy debut is a reminder of art's power to tell us about reality. The Revivalists isn't a story about the apocalypse but an odyssey through the America we currently inhabit, as thrilling (I read it in two dazed sittings) as it is thoughtful about race and class, need and want, and the power of parental love." — Rumaan Alam, New York Times bestselling author of Leave the World Behind
"The Revivalists is a thrilling, terrifying, surprising, and tender debut, written in such exquisitely precise prose that I felt singed by its imaginary fires and warmed by its beating heart. Chris Hood's nightmarish cross-country family odyssey is also one of the most beautiful love stories I've ever read." — Karen Russell, bestselling author of Swamplandia! and Orange World
"It's hard to imagine a story more necessary now than one about humanity somehow persisting in the face of civilization's collapse. In The Revivalists, Christopher M. Hood makes an utterly convincing argument for love's power to lend meaning and purpose to existence. Hood is a master dramatist; tense, anxious scenes resonate loudly after their tuning forks are struck. We swing from terror, to humor, to trenchant political commentary, to the strange resilience of psychotherapy to the limitless capacity for the Wu Tang Clan to delight and edify across generations." — Matthew Thomas, New York Times bestselling author of We Are Not Ourselves
"From the very first page, Christopher Hood's debut forcefully claims the reader's attention and does not release it until the entire fascinating, suspenseful journey is done. This is an American story through and through, written in keen, lively prose, stirringly speculative while being alarmingly recognizable and real. The Revivalists is urgent, beguiling, compassionate, and strikingly relevant." — Jamel Brinkley, National Book Award finalist for A Lucky Man