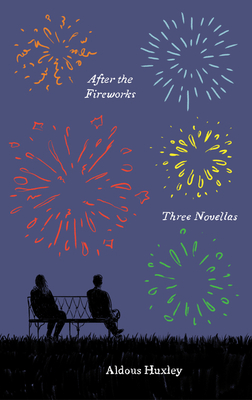 After the Fireworks: Three Novellas
Publication Date:
September 6th, 2022
Publisher:
Harper Perennial
Chop Suey Books
4 on hand, as of Nov 26 5:11pm
On Our Shelves Now
Description
"After the Fireworks is a major work and a turning point for Huxley, leading directly to Brave New World." —Gary Giddins
A striking collection of three lost classic pieces of short fiction by Aldous Huxley, author of Brave New World, now available as a Harper Perennial Olive Edition.
In the title novella, set in Rome, a renowned novelist sets out on a walk down Via Condotti toward the Spanish Steps when he encounters a mysterious and beautiful young American admirer of his work. He discovers she shares a name, in addition to conspicuous personality traits, with a character from his most celebrated book. Both are irresistibly drawn into a dangerous affair set against the backdrop of the Italian capital. "Uncle Spencer" is the story of an aging World War I veteran's quest for his lost love he met in a prison during the war, and "Two or Three Graces" is the tale of a passionate and destructive writer's abusive relationship with an impressionable, bourgeois housewife. This extraordinary story collection reveals Huxley at the height of his literary powers.
This book part of a special series from Harper Perennial called Olive Editions—exclusive small-format editions of some of our bestselling and celebrated titles, featuring beautiful and unique hand-drawn cover illustrations. All Olive Editions are available for a limited time only 
Praise for After the Fireworks: Three Novellas
"'After the Fireworks' is a major work and a turning point for Huxley, leading directly to Brave New World." — Gary Giddins
"The psychology of the two individuals is shrewdly mastered. . . . After the Fireworks displays on Huxley's part a rare but genuine if elusive sympathy as well as a sound perception of human shortcomings." — New York Times (on After the Fireworks)
"Brilliant. . . . I doubt if there is another living novelist as capable of taking in so much at a glance." — The Spectator UK (on After the Fireworks)
"Two or Three Graces is probably the thing nearest perfection of all that he has done." — New Statesman UK (on Two or Three Graces)
"It takes an artist of more than usual gifts to produce 137 quietly exquisite pages in order to lead up to such a delightfully ironical tiger-or-lady ending as that of 'Uncle Spencer.'" — Literary Review on (Uncle Spencer)
"Aldous Huxley endures as one of the most visionary and unusual minds of the twentieth century." — Maria Popova, Brain Pickings