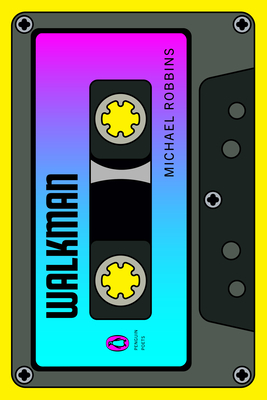 Walkman (Penguin Poets)
Publication Date:
June 1st, 2021
Description
A new collection from an audacious, humorous poet celebrated for his "sky-blue originality of utterance" (Dwight Garner, The New York Times)
Michael Robbins's first two books of poetry were raucous protests lodged from the frontage roads and big-box stores of off-ramp America. With Walkman, he turns a corner. These new poems confront self-pity and nostalgia in witty-miserable defiance of our political and ecological moment. It's the end of the world, and Robbins has listened to all the tapes in his backpack. So he's making music from whatever junk he finds lying around.
Praise for Walkman (Penguin Poets)
Praise for Walkman:
"Walkman works in the blunt, epic, bouillon ways of the pop song, unapologetically understandable and generally brief . . . demonstrative and good-natured . . . For Robbins, salvation is found more often in music than in any other vernacular construction with access to the transcendent." —Sasha Frere-Jones, Poetry Foundation
"Walkman displays a depth born out of experience . . . Robbins's quicksilver wit hasn't abandoned him . . . Walkman does have radically new notes, though. The tone is, like [James] Schuyler, more tender. Language still riots, but these poems offer the record of a lonesome, sad, at times hopeful soul." —Commonweal

"Robbins has perfected the art of Marxist miserabilism in verse, allowing himself a measure of self-pity and nostalgia (and even some unorthodox faith) in the face of political and ecological catastrophe. Still militantly funny, still the realest." —Drawn & Quarterly
"In Walkman, poetry and pop music do the job of sustaining some kind of attachment to life within an existence that often feels unsustainable." —Los Angeles Review of Books
"If you are a fellow devotee of the old Robbins, take heart: the new style only clarifies why the first books were so good. And if you have never read the guy before, start with this book—with this book, I insist, and not the first two books, because the new tone is as right for our time as the old one was for its time. A decade into the apocalypse, Robbins, God help him, has not yet averted his eyes." —Cleveland Review of Books
"If all you knew of Michael Robbins was his poem 'Walkman' [...] you'd know he was the author of a stupendously beautiful poem that's worth buying a whole book for . . . funny, tender, vulnerable, sad . . . Ultimately, poetic attention to our losses will not save us, and there is plenty of despair, bitterness, and disgust to go around in these poems. And yet Walkman shows us, too, that loss can be mysterious, and can occasionally make the world seem less threadbare and disenchanted." —Harvard Review
"Passages of lyrical coherence are built on a newly permeable, experiencing voice, capable both of ranging around and cutting through. They are still in competition with the desire not to seem a schmuck, but at their best these poems can say, as in "Equipment for Living," 'the world is broken, but this is one of the things we do about it.'" —The Baffler
"Robbins' ironic distance [is] a roundabout way of disarming the reader and allowing an incredibly potent voice to shine through. This voice carries the collection.... Walkman is a collection that's ready to address the events of the past year without feeling rooted in that time or place. You'll be able to come back to the collection in a decade, partly because the poems happen on a personal scale and won't age as poorly as directly political poems, but also because Robbins' oblique angle on our compounding crisis is both less urgent and more poignant." —American Microreviews
"[Walkman] isn't as nostalgic as its title might suggest. It's less noisy, a bit slower-paced, than [Robbins's] earlier work. Several of the longer poems sit somewhere between Wordsworth and Frank O'Hara, and they manage to be inward even when their gaze turns outward. Robbins knows about the trickiness of words, too: 'I'm / sorry language is a ship / that goes down / while you're building it.' Poetry like this helps keep us afloat." —Bill Manhire, New Zealand Herald
"Much of [Walkman] really is very funny, in a dour way. But it is also a gentler, more wounded book than I anticipated, and at times it gives wonderfully homely (in a good sense) voice to a sense of impending doom and a longing for a safe and quiet shelter from the storm. And yet, in the end, there's a hopefulness in these poems too—or at least a faith in the possibility of hope, and in fact of love. At times, I felt as if what I was reading was as much private prayer as public performance. It is a genuinely moving collection." —David Bentley Hart, author of That All Shall Be Saved and The Experience of God

"The title poem sets a wistful, reflective, almost spiritual tone in a collection that addresses such serious subjects as heaven, hell, and faith with humor and self-deprecation . . . Robbins is a master satirist, whether he's pontificating on the environment, the behavior of today's youth, or his allergies, and he does it with a nod to taking things less seriously even as the apocalypse approaches." —Booklist