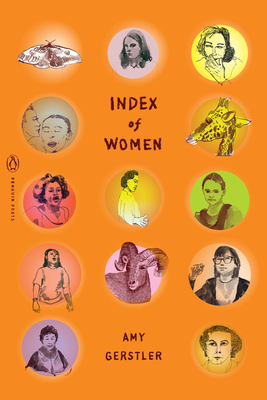 Index of Women (Penguin Poets)
Publication Date:
April 6th, 2021
Description
From a "maestra of invention" (The New York Times) who is at once supremely witty, ferociously smart, and emotionally raw, a new collection of poems about womanhood
Amy Gerstler has won acclaim for sly, sophisticated, and subversive poems that find meaning in unexpected places. Women's voices, from childhood to old age, dominate this new collection of rants, dramatic monologues, confessions and laments. A young girl muses on virginity. An aging opera singer rages against the fact that she must quit drinking. A woman in a supermarket addresses a head of lettuce. The tooth fairy finally speaks out. Both comic and prayer-like, these poems wrestle with mortality, animality, love, gender, and what it is to be human.
Praise for Index of Women (Penguin Poets)
Praise for Index of Women:

"Intimate, funny, poignant, present . . . true to the inner lives of so many women . . . beautifully crafted . . . what's miraculous […] is that this clamor of voices across continents and centuries somehow amounts to the experience of a single mortal: she contains our multitudes." —Los Angeles Review of Books
"Witty, conversational, ironic, Gerstler's poetry portrays everyday scenes with psychic depth . . . she mixes offbeat humor and dark observations . . . she uses minimal punctuation, which inserts a swirl of energy into the poems. As her impressions flow together, they add a surreal atmosphere, suggestive of art by Toulouse-Lautrec—as when his dancers, spectators, and settings enhance one another, contributing to a sense of mystery that […] is compelling." —Library Journal
"Gerstler brings her customary wit, playfulness, and emotional range to poems that expose the contradictions in ancient and contemporary concepts of femininity. These poems—some dramatic monologues, others more quiet lyrics—vividly render their chief thematic concern . . . This wonderfully intelligent and imaginative collection upends conventional gender norms in favor of illustrating womanhood in all its idiosyncrasy, complexity, and fullness." —Publishers Weekly
 
Praise for the poetry of Amy Gerstler:
"[Gerstler's poetry is] extremely rich. But not cluttered and not loud . . . the supernatural, the sexy mundane, the out-of-sight are simply her materials, employed as they might be in a piece of religious art." —Eileen Myles, author of Evolution
"[Gerstler's] poem has me crying in the airport." —Ada Limón, author of Bright Dead Things
"[Gerstler has been] one of my favorite poets since I read her book Bitter Angel. Now I have every book of hers on my shelves." —Maggie Smith, author of Good Bones
"[Gerstler's poems are] charming and smart and emotionally targeted . . . clever [and] emotionally resonant . . . Witty, irreverent, self-deprecating--fundamentally kind." —Los Angeles Review of Books