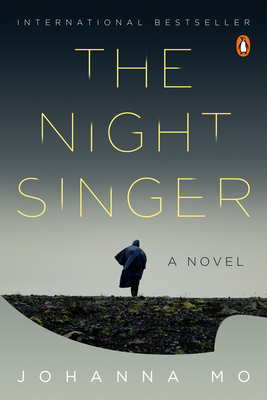 The Night Singer: A Novel (The Island Murders #1)
Publication Date:
August 3rd, 2021
Chop Suey Books
1 on hand, as of Feb 8 7:12pm
On Our Shelves Now
Description
The #1 international crime series from Sweden!
An island never forgets -- especially if you're the daughter of a murderer
Police detective Hannah Duncker didn't expect to return to her native Öland. She fled after her father's murder conviction and returns to make peace with her shame. She has a new job with the local police and a nosy new partner. A fifteen-year-old's death catapults her into a murder investigation that resurrects ghosts from her previous life. As she hunts for the truth, she must confront the people she abandoned. Not all are pleased to see her back home, and she soon learns that digging through the past comes with consequences.
Author Johanna Mo crafts a breakneck island noir where secrets linger, guilt stains, and collective memory is long and unforgiving. Propulsive and poignant, The Night Singer explores the fallout of when good people do bad things.
Praise for The Night Singer: A Novel (The Island Murders #1)
"…readers will readily engage with Hanna, a no-nonsense, dogged, and thoughtful investigator. Mo is off to a strong start."—Publishers Weekly
"Author Johanna Mo crafts a breakneck island noir where secrets linger, guilt stains, and collective memory is long and unforgiving. Propulsive and poignant, The Night Singer explores the fallout of when good people do bad things."-- Author Stories Podcast
"The start of Mo's series makes you want to read more." - Börsenblatt (Frankfurt)
"Highly suspenseful until the tragic case is solved."- Westfalen-Blatt (Germany)
"This book sucks you right in." - Delmenhorster Kreisblatt (Germany)
"Immensely thrilling psychological suspense." - Fränkische Nachrichten (Germany)
 
"Johanna Mo has established herself as one of Sweden's most reliable crime writers. Quality is guaranteed when you get one of her books in your hands. […] The characters are brimming with life and are of flesh and blood, it feels like they come straight out of real life. […] Johanna Mo really delivers. She's written good books before, but The Night Singer is her best one so far."
- Dast Magazine (Sweden)
 
"Johanna Mo wants more than to write a crime novel, she wants to examine atonement and forgiveness. She asks questions about what it's like to live with guilt and the crimes committed by someone else. […] This is a captivating journey into the minds and psyches of both victims and perpetrators, and it's so much more than just a clever crime mystery."
- SVT Sommaröppet (Sweden)
 
"Mo explores themes of bullying, infidelity, familial violence, discrimination based on sexuality and gender—in short, many of the bugbears that plague 21st-century Western culture. The Night Singer is just excellent and the perfect setup for a sequel, which I hope is in the offing imminently."—BookPage
"I'm extremely taken by how intimate this book is. Never before have I read a fictional novel that feels so real. […] It's also a page turner and I was urged to devour it in one sitting - just the right book to get me in holiday mood." - Kalmarposten (Sweden)
 
"The Night Singer centers around a trauma that is charged with anxiety. [...] The intensity is gruesome and consistent throughout the novel. From the beginning to the very last page, Hanna's thoughts are continuously centered on the crimes of her father. After sixteen years it's still ever present, with both her and the reader. It's distressing and thought-provoking. […] Hanna Duncker is a sombre police protagonist who will be interesting to follow." - Kristianstadsbladet (Sweden)
 
"The Night Singer is the first part in The Island Murders series. It centers on prejudices and relationships, and follows both the victim and the perpetrator closely. The characters are complex, and the setting is gorgeous. […] A crime novel about not being able to cut the ties to your hometown and past." - Sveriges Radio (Sweden)
"Instead of indulging in gory action, [Mo]creates suspense through the portrayal of people, relationships, and emotions."
- Stavanger Aftenblad, 5/6 Stars (Norway)
 
"Intrigues and complicated relationships that go back through generations come to light with a rich and credible cast of characters... This one will get you hooked!"
- Adresseavisen, 6/6 stars (Norway)
"Incredibly well-written."
- Solbryggen (Norway)
 
"... a smashing new book with an authentic plot and a believable cast of characters that captures the reader... The Night Singer is a crime novel that you just can't put down, and it deserves a big and loyal audience."
- POV International (Denmark)
"A very realistic crime story packed with engaging psychological aspects such as the relationship between spouses, infidelity, parents and children, the relationship between siblings, teenage life, he/she/they, the past versus the present"
- Findals Krimiside, 5/5 (Denmark)
 
"The plot is solid and extremely well thought-out. It is one those crime novels where the pages nearly turn themselves, that are impossible to put down."
- Litteratursiden (Denmark)