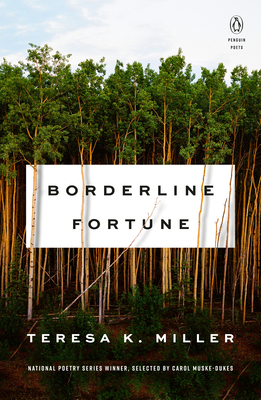 Borderline Fortune (Penguin Poets)
Publication Date:
October 5th, 2021
Description
A collection that explores inherited trauma on an individual and communal level, from a National Poetry Series–winning poet who "refus[es] the mind's limits" (Carol Muske-Dukes)
Borderline Fortune is a meditation on intangible family inheritance—of unresolved intergenerational conflicts and traumas in particular—set against the backdrop of our planetary inheritance as humans. As species go extinct and glaciers melt, Teresa K. Miller asks what we owe one another and what it means to echo one's ancestors' grief and fear. Drawing on her family history, from her great-grandfather's experience as a schoolteacher on an island in the Bering Strait to her father's untimely death, as well as her pursuit of regenerative horticulture, Miller seeks through these beautifully crafted poems to awaken from the intergenerational trance and bear witness to our current moment with clarity and attention.
Praise for Borderline Fortune (Penguin Poets)
Advance praise for Borderline Fortune:
"Borderline Fortune is a poetry book with a voice in a dying world." —NPR's Bookworm
 
"Though short, these poems haunt at length." —The Oregonian
"Full of meditative and sharp lyric moments, these poems are alive with complexity and critique. Acoustically, they enact the swell and crash of water: 'the wish/ you'd unwhisper,' 'friction/ on the flint.' Thematically, they prod the undercurrents of society and the expectations of American life . . . These are valuable, urgent poems of witness." —Publishers Weekly
"Miller will be a new and invigorating voice, fully conversant with the ambiguities of our present day." —Library Journal
"I'm so impressed with this new book, with the condensation of syntax, the music, the interior rhyme and off-rhyme, echoey sequences, and the ethical and aesthetic insistence on a lack of resolution. I'm fascinated by the way the 'you' to whom so many of the poems are directed begins to take on aspects of a landscape. In fact, all through the book, the nonhuman and the human seem to be merging. W. S. Merwin implied that elegy is always written for someone who can't read it, but Miller's poems suggest that elegy is a modality that can conjure presence again and that the poem resurrects the dead in some sense." —Forrest Gander, winner of the Pulitzer Prize, on Borderline Fortune at the Montana Book Festival
"Teresa K. Miller explores startling territories in Borderline Fortune. She addresses the lines we've drawn and erased for centuries on the earth—that conform to the borders we cross and uncross in the mind. Yet: 'I'm asking you to believe in what you've never seen or heard,' she writes, refusing the mind's limits. Here is the dark power of climate change where she finds 'the future all danger, heat, & scarcity.' Blake, Dickinson, and Hopkins' Terrible Sonnets hover ('birds build—but not I build'), above trees cut down and hope with feathers. The damage done to the earth echoes the damages to the protean mind of the poet—but Miller remains radiantly elusive, an escape artist in these marvelous poems of altered terra firma and revelation." —Carol Muske-Dukes, author of Blue Rose
"In Borderline Fortune, Teresa K. Miller claws her way to and through her subject—loss in the form of 'shrapnel and good intention.' Awareness: It's a hard journey. The human voice calls in ragged gasps, how did we get here? But unlike Rumi who blithely says, 'Whoever brought me here will have to take me home,' Miller's voice has been dragged to this shore and pressed under. To write is to imagine, and Miller discovers in the going, in the moment when we remember that 'every river had a first day to flow.' Through Miller's poems, we are given that first day, no matter what comes after. We find hope for another way of being in the world." —David Romtvedt, National Poetry Series–winning author of A Flower Whose Name I Do Not Know and Dilemmas of the Angels
"The poems in Teresa K. Miller's Borderline Fortune emphasize the greater context of our existence as individuals, as family members, and as cultures. Miller mines family as a construct, whether naturally related or collected. She interrogates relationships with the lens of a geologist, exploring the physical, chemical, and biological properties of the gravitational fields that pull us together and the elements that erode us. Several ages are explored by the poems, acknowledging the violence that must be present for eloquent transition and rebirth. The poems in Borderline Fortune are so sharply crafted, they serve as the pick and axe that dig deep into the granite of the past. Miller questions specific characters, many ghosts from the past that hold secrets to a history she is rebirthing. The poems shape a world created from the knowledge and the mythology Miller has extracted." —Elmaz Abinader, author of This House, My Bones and cofounder of VONA
"Borderline Fortune feels like a book that was written to save oneself, to enact through poetry a means of salvation. Teresa K. Miller weaves together transcendent astonishments, precise images of the natural world, histories of horrors still present in the land, & personal revelations as intimate as bruises, weaving them into a single, entangled whole. Borderline Fortune is not a book that solves a problem, but a book that creates a net, a thing made of both solidity & gaps, open enough to be pulled through the dangers, strong enough to haul a body up to the air. This salvation happens in the reading, how the reader creates the net along with the poem, hand-in-hand, each one pulling the other to the surface, ceaselessly, with every memory of beauty & of grief. The book is a reminder that salvation is an ongoing work, for, as Miller writes, 'In the end, there was no end.'" —Mathias Svalina, creator of the Dream Delivery Service and author of The Wine-Dark Sea
"In the sweeping expanses of Borderline Fortune, Teresa K. Miller grapples with the complexity of inheritance, the complicated legacies of family, history, and place. What created us, and what do we in turn create? How closely twined are belonging and betrayal? Here, history, identity, and the natural world meet and merge: 'a riven nausea in the cambium, / some needle-leafed private anguish.' Geography itself is sentient and responsive: 'lies twine into granite, brine / into mineral creatures made of lace.' In the end, the poems form a landscape we must immerse ourselves in, their movement as dark and unpredictable as the ocean or tectonic plates, and their story one we don't navigate as much as survive: 'Haul / yourself out, / one frozen leg at a time.'" —Laura Walker, author of swarm lure and psalmbook