Preorder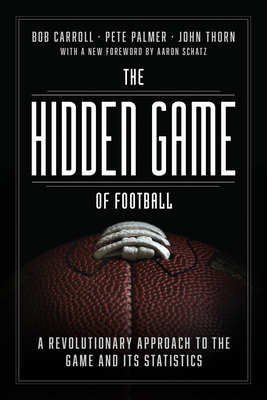 The Hidden Game of Football: A Revolutionary Approach to the Game and Its Statistics
Publication Date:
February 27th, 2023
Publisher:
University of Chicago Press
Description
The 1988 cult classic behind football's data analytics revolution, now back in print with a new foreword and preface.
Data analytics have revolutionized football. With play sheets informed by advanced statistical analysis, today's coaches pass more, kick less, and go for more two-point or fourth-down conversions than ever before. In 1988, sportswriters Bob Carroll, Pete Palmer, and John Thorn proposed just this style of play in The Hidden Game of Football, but at the time baffled readers scoffed at such a heartless approach to the game. Football was the ultimate team sport and unlike baseball could not be reduced to pure probabilities. Nevertheless, the book developed a cult following among analysts who, inspired by its unorthodox methods, went on to develop the core metrics of football analytics used today: win probability, expected points, QBR, and more. With a new preface by Thorn and Palmer and a new foreword by Football Outsiders's Aaron Schatz, The Hidden Game of Football remains an essential resource for armchair coaches, fantasy managers, and fans of all stripes.
Praise for The Hidden Game of Football: A Revolutionary Approach to the Game and Its Statistics
"The book that started it all. A visionary approach to football two decades ahead of its time."
— Brian Burke, ESPN sports data scientist, creator of expected points added, win probability, win rates
"Everyone who reads this seminal classic will see the game differently. The concepts are as important for football coaching and scouting veterans as they are for aspiring analysts."
— Patrick Ward & Brian Eayrs, Seattle Seahawks research and analytics
"Before this book, zero teams made the 'correct' choice to go for it on fourth down most of the time. Now, roughly half the league does. Football's significant shift toward analytics and the game's ever-growing popularity both owe a debt of gratitude to this book, which established some of the fundamental principles of how we think about the game today."
— Eric Eager, vice president of research and development at SumerSports, formerly at Pro Football Focus