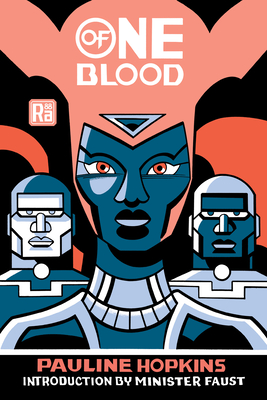 Of One Blood (MIT Press / Radium Age)
Publication Date:
August 2nd, 2022
Chop Suey Books
3 on hand, as of Feb 1 5:23pm
On Our Shelves Now
Description
A mixed-race Harvard medical student stumbles upon a hidden Ethiopian city, the inhabitants of which possess both advanced technologies and mystical powers.
Long before Marvel Comics gave us Wakanda, a high-tech African country that has never been colonized, this 1903 novel gave readers Reuel Briggs—a mixed-race Harvard medical student, passing as white, who stumbles upon Telassar. In this long-hidden Ethiopian city, the wise, peaceful inhabitants of which possess both advanced technologies and mystical powers, Reuel discovers the incredible secret of his own birth. Now, he must decide whether to return to the life he's built, and the woman he loves, back in America—or play a role in helping Telassar take its rightful place on the world stage. Considered one of the earliest articulations of Black internationalism, Of One Blood takes as its theme the notion that race is a social construct perpetuated by racists. 
 
Minister Faust is best known as author of The Coyote Kings of the Space-Age Bachelor Pad (2004) and 2007's Kindred Award-winning From the Notebooks of Dr. Brain (retitled Shrinking the Heroes, it also received the Philip K. Dick Award Special Citation). An award-winning journalist, community organizer, teacher, and workshop designer, Faust is also a former television host and producer, radio broadcaster, and podcaster. His 2011 TEDx talk, "The Cure For Death by Smalltalk," has been viewed more than 840,000 times.
 
Praise for Of One Blood (MIT Press / Radium Age)
"Hopkins was a pioneering Black intellectual, playwright and magazine editor who used her considerable literary talents to rally support for the cause of racial justice. In "Of One Blood," the last of her four novels, she blends multiple subgenres into what is an exceptionally entertaining work of popular fiction, albeit one with a serious subtext: race."
—Michael Dirda, The Washington Post Book World
"Hopkins … transports readers to a technologically advanced, hidden city in Ethiopia that's remained free of colonialist influences and oppression."
— Andrew Liptak, Transfer Orbit
"But it was her fourth and final novel, Of One Blood; Or, The Hidden Self, serialized over the course of 1902-03, that resonated across the next century. It would also be called, repeatedly, the first science fiction novel by a woman of color...To call Hopkins a science fiction writer, or a mystery writer, or a romance writer would be a vast oversimplification—akin to calling MIT a good school to go to for math. Hopkins' fiction innovated in its time with lasting impact. It planted imaginative seeds that sprouted far down the next century of storytelling. That impact is too vast and nuanced to excavate here: it stretches from a foundational use of the ghost story motif to address the horrors of slavery (Of One Blood) to the pioneering use of a romance plot to explore contentious political questions of racial equality (Contending Forces). But while she was a novelist, she was also a journalist, orator, activist and intellectual. In short, she was a powerhouse, an innovator and an intellectual dynamo."
—Ms.