Discounted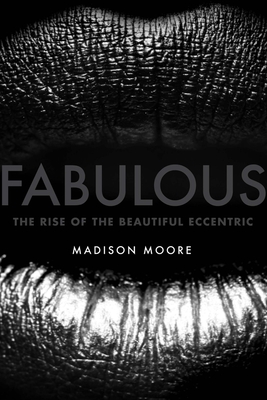 Fabulous: The Rise of the Beautiful Eccentric
Previous price:

$21.00
Current price:

$19.95
Publication Date:
April 17th, 2018
Publisher:
Yale University Press
Chop Suey Books
1 on hand, as of Jan 28 5:03pm
On Our Shelves Now
Description
An exploration of what it means to be fabulous—and why eccentric style, fashion, and creativity are more political than ever
"Fabulous does not simply track new club worlds, it takes us to them. The book does not just tell us about fashion and clubs, it is immersed in the scenes it conjures. This is engaging, relevant, and glamorous." —Jack Halberstam, author of Female Masculinity and The Queer Art of Failure
"Fabulous lives up to its title. Who knew there was such riveting sociopolitical drama behind those velvet ropes?"—New York Times Book Review
Prince once told us not to hate him 'cause he's fabulous. But what does it mean to be fabulous? Is fabulous style only about labels, narcissism, and selfies—looking good and feeling gorgeous? Or can acts of fabulousness be political gestures, too? What are the risks of fabulousness? And in what ways is fabulous style a defiant response to the struggles of living while marginalized? madison moore answers these questions in a timely and fascinating book that explores how queer, brown, and other marginalized outsiders use ideas, style, and creativity in everyday life. Moving from catwalks and nightclubs to the street, moore dialogues with a range of fabulous and creative powerhouses, including DJ Vjuan Allure, voguing superstar Lasseindra Ninja, fashion designer Patricia Field, performance artist Alok Vaid‑Menon, and a wide range of other aesthetic rebels from the worlds of art, fashion, and nightlife. In a riveting synthesis of autobiography, cultural analysis, and ethnography, moore positions fabulousness as a form of cultural criticism that allows those who perform it to thrive in a world where they are not supposed to exist.
Praise for Fabulous: The Rise of the Beautiful Eccentric
"Fabulous lives up to its title. Who knew there was such riveting sociopolitical drama behind those velvet ropes?"—New York Times Book Review
"This joyful cultural analysis looks at fabulousness as a queer aesthetic and political statement."—Francesca Carington, Tatler
"[A] revelatory study of one facet of LGBTQ culture and transgressive art and fashion."—Publishers Weekly
"moore speaks with a range of people—dancing icons, fashion designers, musicians—to chronicle how fabulousness, as a queer aesthetic, allows queer people not only to achieve greater visibility, but also to reclaim that flamboyance as a means of empowerment."—Pacific Standard
"Intriguing. . . . Part history of ballroom culture, part field notes from the world's most fabulous queer nightclubs."—New Inquiry
"madison moore offers the concept of fabulous as a critical resource for imaginative self-fashioning. . . . moore's writerly decisions fold readers into the gossip of something we cannot entirely experience or know, yet we feel we are there."—Lilian Mengesha, Drama Review
"Fabulous is an absorbing, engagingly written, and highly insightful study of how 'beautiful eccentrics' creatively self-fashion themselves to articulate identity, assert presence, and reclaim power on the streets and in the nightclub."—Harvey Young, author of Black Theater Is Black Life
"Fabulous does not simply track new club worlds, it takes us to them. The book does not just tell us about fashion and clubs, it is immersed in the scenes it conjures. This is engaging, relevant, and glamorous." —Jack Halberstam, author of Female Masculinity and The Queer Art of Failure
"Celebrating the joys of being beautifully eccentric in a bland world, Fabulous offers a theory of fabulousness as political glitter that's both deviant and defiant. This vivid account of queer motion through clubland's portals of possibility is a clarion call for a new and colorful consciousness that can collapse stale categories, confront privilege, and combat toxic Trumpism."—Victor P. Corona, author of Night Class: A Downtown Memoir