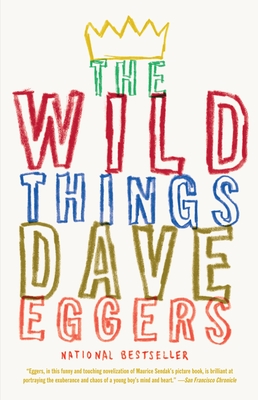 The Wild Things
Publication Date:
March 9th, 2010
Chop Suey Books
1 on hand, as of Nov 29 4:44pm
On Our Shelves Now
Description
Max is a rambunctious eight-year-old whose world is changing around him: His father is absent, his mother is increasingly distracted, and his teenage sister has outgrown  him. Sad and angry, Max dons his wolf suit and makes terrible, ruinous mischief, flooding his sister's room and driving his mother half-crazy. Convinced his family doesn't want him anymore, Max flees home, finds a boat and sails away. Arriving on an island, he meets strange and giant creatures who rage and break things,  who trample and scream. These beasts do everything Max feels inside, and so, Max appoints himself their king. Here, on a magnificent adventure with these funny and complex monsters, Max can be the wildest thing of all.
 
In this visionary adaptation of Maurice Sendak's classic work, Dave Eggers brings an imaginary world vividly to life, telling the story of a lonely boy navigating the emotional journey away from boyhood.
Praise for The Wild Things
"Eggers, in this funny and touching novelization of Maurice Sendak's picture book, is brilliant at portraying the exuberance and chaos of a young boy's mind and heart." —San Francisco Chronicle  
"[A] terrific new novel. . . . A fresh way to tell us a story we already know so well, about the monstrous forces of love and hate that mark every childhood—and pursue us howling into adulthood." —Boston Globe
"Dave Eggers has created a novel like childhood itself: sometimes weird, sometimes dark, and full of wonder." —The Independent (London) 
 
"Eggers strikes the perfect tone. . . . As Max navigates the politics of the island, the story gets progressively creepier, the Wild Things more impulsive, and the most dangerous thing Max can do is hurt someone's feelings. It's still Eggers, so that means the humor will always be there in the dark." —Time Out Chicago 
 
"Deeply imaginative, slightly strange, occasionally dark, and ultimately touching. . . . The writing is crisp and alive, and it works, perhaps better than an adaptation ever should." —Flavorwire
 
"Like the original, this is far from the cozy world kids are often fed, but it has real heart—Eggers uses simple but superbly effective prose to suggest that childhood has to be lived without cosseting for us to grow up with any semblance of a normal personality." —The Independent (London)
 
"A wonderful read. . . . Eggers makes us privy to Max's thoughts, fears and desires. He lets us feel the boy's confusion as anger results in shocking behavior (Max bites his mother's arm); we feel the rush of being the aggressor in battle and subsequent shame of having inflicted pain; the release of a full-throated howl; the fear of abandonment; the sadness of leaving; the joy of knowing you belong. And we get to know the Wild Things as individuals." —Montreal Gazette
 
"Eggers does a fine job portraying the chaotic existence of a very young boy, as well as the innumerable stresses the rest of the world places on him without even thinking." —The Guardian (London)
 
"There is probably no cooler figure in American letters than Eggers: his prose is luminous, playful, original." —The Times (London)
"Everything is in the spirit of Sendak's book. There are knowing nods—Max carves his name on the boat during the boring trip to the island—and the monsters retain their utter, incomprehensible difference. There is far more emotion: the monsters are petulant, panicky, selfish, vulnerable and violent. . . . The parting is affecting. It won't just be Max and the monsters that end in a mess of tears." —The Scotsman