Discounted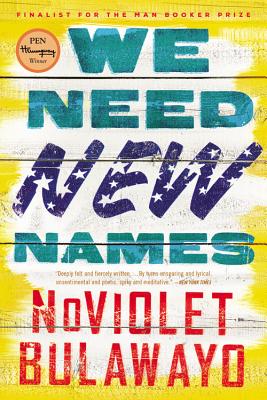 We Need New Names: A Novel
Previous price:

$17.99
Current price:

$16.99
Publication Date:
May 20th, 2014
Publisher:
Back Bay Books
Chop Suey Books
1 on hand, as of Nov 29 4:44pm
On Our Shelves Now
Bulawayo gives her character Darling an emotionally powerful voice while telling her story in such sparse and brilliantly crafted sentences, I had to put the book down just to savor the writing and take a break from the heartbreaking scenes of the strife in Zimbabwe. Bulawayo takes us on one young immigrant's journey from a country being destroyed by violence to one where the grandness and wealth are overwhelming and the Midwestern cold is piercing. This is a debut novel not to be missed!
June 2013 Indie Next List
Description
Finalist for the Booker Prize: the "deeply felt and fiercely written" story of a young girl's journey out of Zimbabwe and to America (New York Times Book Review), from the author of Glory. 
Darling is only ten years old, and yet she must navigate a fragile and violent world. In Zimbabwe, Darling and her friends steal guavas, try to get the baby out of young Chipo's belly, and grasp at memories of Before. Before their homes were destroyed by paramilitary policemen, before the school closed, before the fathers left for dangerous jobs abroad.
But Darling has a chance to escape: she has an aunt in America. She travels to this new land in search of America's famous abundance only to find that her options as an immigrant are perilously few. NoViolet Bulawayo's debut calls to mind the great storytellers of displacement and arrival who have come before her — from Junot Diaz to Zadie Smith to J.M. Coetzee — while she tells a vivid, raw story all her own.
"Original, witty, and devastating." —People
Praise for We Need New Names: A Novel
Winner of the 2014 PEN / Hemingway Award for Debut Fiction
Winner of the 2014 Los Angeles Times Book Prize for First Fiction
Shortlisted for the 2013 Man Booker Prize
Winner of the 2014 Zora Neale Hurston/ Richard Wright Legacy Award for fiction
Winner of the 2013 Etisalat Prize for Literature
Finalist for the 2013 Guardian First Book Award
One of the New York Times Notable Books of the Year for 2013
One of National Public Radio's Great Reads of 2013
"A deeply felt and fiercely written debut novel ... The voice Ms. Bulawayo has fashioned for [Darling] is utterly distinctive - by turns unsparing and lyrical, unsentimental and poetic, spiky and meditative." --- Michiko Kakutani, The New York Times
"Bulawayo describes all this in brilliant language, alive and confident, often funny, strong in its ability to make Darling's African life immediate ... She demonstrates a striking ability to capture the uneasiness that accompanies a newcomers arrival in America." -- Uzodinma Iweala, The New York Times Book Review
"Writing with poignant clarity and hard-hitting imagery, Bulawayo delivers this first work as an offering of hope." --The New York Daily News
"Bulawayo mixes imagination and reality, combining an intuitive attention to detail with startling, visceral imagery ... This book is a provocative, haunting debut from an author to watch." - Elle
"Bulawayo, whose prose is warm and clear and unfussy, maintains Darling's singular voice throughout, even as her heroine struggles to find her footing. Her hard, funny first novel is a triumph." -- Entertainment Weekly
"Nearly as incisive about the American immigrant experience as it is about the failings of Mugabe's regime [in Zimbabwe]." -- National Public Radio
"Bulawayo's first novel is original, witty and devastating." ---People Magazine
"Ms. Bulawayo's artistry is such that we can't help but see ourselves in that wider world ... Darling is a dazzling life force with a rich, inventive language all her own, funny and perceptive but still very much a child ... It would be hard to overstate the freshness of Ms. Bulawayo's language, with words put together in utterly surprising ways that communicate precisely." ---Judy Wertheimer, The Pittsburgh Post-Gazette
"How does a writer tell the story of a traumatised nation without being unremittingly bleak? NoViolet Bulawayo manages it by forming a cast of characters so delightful and joyous that the reader is seduced by their antics at the same time as finding out about the country's troubles." -- Leyla Sanai, The Independent
"Bulawayo has written a powerful novel. Her gift as a visual storyteller should propel her to a bright future -- a dream fulfilled, no matter the country"-- Korina Lopez, USA Today
"NoViolet Bulawayo is a powerful, authentic, nihilistic voice - feral, feisty, funny - from the new Zimbabwean generation that has inherited Robert Mugabe's dystopia." -Peter Godwin, betselling author of The Fear and When a Crocodile Eats the Sun
"NoViolet Bulawayo has created a world that lives and breathes - and fights, kicks, screams, and scratches, too. She has clothed it in words and given it a voice at once dissonant and melodic, utterly distinct." -Aminatta Forna, author of The Memory of Love and Ancestor Stones
"An exquisite and powerful first novel, filled with an equal measure of beauty and horror and laughter and pain. The lives (and names) of these characters will linger in your mind, and heart, long after you're done reading the book. NoViolet Bulawayo is definitely a writer to watch." -Edwidge Danticat, award-winning author of Brother, I'm Dying and Breath, Eyes, Memory
"Fans of Junot Díaz, who, as fiction editor of Boston Review, published NoViolet Bulawayo's early work, will love her debut novel, We Need New Names ...Bulawayo's use of contemporary culture (the kids play a game in which they hunt for bin Laden and, later, text like their lives depend on it), as well as her fearless defense of the immigrant experience through honoring the cadence of spoken language, sets this book apart-on the top shelf." -- Kristy Davis, Oprah.com
One of National Public Radio's Great Reads of 2013
One of the New York Times Notable Books of the Year for 2013
Finalist for the 2013 Guardian First Book Award
"[Bulawayo] shows the beaming promise of a young Junot Diaz. With a style all her own-one steeped in wit and striking imagination-she movingly details the complexities of the immigrant experience."—The American Prospect
"A stunning debut... The hyper-imaginative and often surreal ways Bulawayo's narrator describes people, places, and experiences almost sound like things imagined in her sleep."—Flavorwire