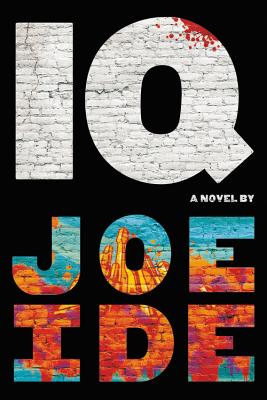 IQ (An IQ Novel #1)
Publication Date:
September 19th, 2017
Publisher:
Mulholland Books
Chop Suey Books
1 on hand, as of Jan 28 5:03pm
On Our Shelves Now
IQ is the nickname of Isaiah Quintabe, who, despite being a high-school dropout, is absolutely brilliant and has amazing deductive skills. Living on the rough side of Long Beach, California, he is an underground detective who takes on cases in the city's ghettoes that the LAPD refuses to handle. Beginning with a kidnapping and moving to a case involving the assassination attempt on a famous rapper, IQ represents a positive influence in this tough environment of gang warfare, drugs, murders, and prostitution. A mixture of Michael Connelly's The Lincoln Lawyer, the craziness of Don Winslow's Savages, and the classic mysteries of Sherlock Holmes, this debut will spark interest and open up this particular world to new readers.
November 2016 Indie Next List
Description
A resident of one of LA's toughest neighborhoods uses his blistering intellect to solve the crimes the LAPD ignores.
East Long Beach. The LAPD is barely keeping up with the neighborhood's high crime rate. Murders go unsolved, lost children unrecovered. But someone from the neighborhood has taken it upon himself to help solve the cases the police can't or won't touch.
They call him IQ. He's a loner and a high school dropout, his unassuming nature disguising a relentless determination and a fierce intelligence. He charges his clients whatever they can afford, which might be a set of tires or a homemade casserole. To get by, he's forced to take on clients that can pay.
This time, it's a rap mogul whose life is in danger. As Isaiah investigates, he encounters a vengeful ex-wife, a crew of notorious cutthroats, a monstrous attack dog, and a hit man who even other hit men say is a lunatic. The deeper Isaiah digs, the more far reaching and dangerous the case becomes.
Praise for IQ (An IQ Novel #1)
Winner of the Anthony, Macavity, and Shamus Awards
Nominated for the Edgar Award for Best First Novel
One of the Best Books of the Year - The New York Times, The Washington Post, The Guardian, Amazon, Suspense Magazine
"The start of a brand-new comedic crime franchise with a bright future. . . . Aggressively entertaining plotting is paired with the kind of dialogue for which readers love Don Winslow. This series is a Los Angeles classic right from the start."—Janet Maslin, The New York Times
"One of the most original thrillers of the year . . . [A] sometimes scary, often whimsical, off-the-wall delight . . . It's a mad world that late-blooming Joe Ide has brought forth from his past, a spicy mix of urban horror, youthful striving and show-business absurdity. His IQ is an original and welcome creation."—Patrick Anderson, Washington Post
"Wonderfully quirky . . . Exhilarating language and [an] oddball cast . . . A total laff-riot"—Marilyn Stasio, New York Times Book Review
"A crackling page-turner of a debut"—Entertainment Weekly
"Joe Ide introduces one of the coolest investigators working the mean streets of Los Angeles. . . . Ide emulates Walter Mosley, that great chronicler of South Central Los Angeles via the Easy Rawlins novels. That's some serious company with whom to be traveling."—Lloyd Sachs, Chicago Tribune
"This debut novel is going to splash the name Joe Ide across the crowded map of crime fiction and commercial fiction in general. Because it's that good, it's that unusual... Do your stretch of holiday reading time a favor by reading this hilarious and harrowing, starkly modern, strikingly American, inner-city sort of oblique homage to the adventures of Sherlock Holmes and Dr. Watson... It's one hell of a thrilling read."—Austin Chronicle
"I don't know how fast Joe Ide writes, but from now on he'll have to write faster. Everyone who reads IQ will be clamoring for the next book, and for the one after that. This is one of the most intriguing--and appealing--detective characters to come along in years."—Carl Hiaasen
"A few things I love about this... [IQ is] rooted in his community in a way that his inspiration never was...IQ is a small story in the way the best of Conan Doyle's were.... It's a detective story that plays out very close to home, on the streets and corners that Ide (who grew up in South Central) knows best. And Isaiah fits into those streets like they were made for him. A consulting detective for a time and a place that needs one."—Jason Sheehan, NPR
"IQ delivers a moving, yet action-packed plot that never disappoints as it looks at rap music, a community and a young man trying to find his place in the world... The brisk plot of IQ is balanced by the intriguing character of Isaiah, experienced in the ways of the world but with intelligence that makes him anything but naive.... Ide's storytelling skills don't waver."
—The Associated Press
"There's lots of profanity, enormous lethal dogs, and rippling dialogue in this debut of what will hopefully become a series."—Dayton Daily News
"With its fast-paced plots, energetic style, and vivid evocation of place, Ide's series both challenges and celebrates popular ideas of California."—CrimeReads
"One of the most energetic voices in mystery...Ide has also been drilling down to make more intimate, personally powerful stories. There's a dash of Conan Doyle, a dash of Elmore Leonard, and a whole lot of Los Angeles Noir ambience mixed in with this series, which is earning fans by the droves and has Ide set up for what we hope will be a long career in crime."—CrimeReads, The Rising Stars of Crime Fiction in the 2010s
"There are debuts that are talked about for a good long time after they come out; this is one of those books...IQ is a truly impressive character who could easily grow a huge fan base and be around just as long as that much beloved Sherlock Holmes."—Suspense
"Joe Ide. Remember that name. . . . Mystery aficionados will remember it as the breakout debut of a major new voice in the suspense genre."—BookPage
"[Ide] does here what few first novelists can manage: dexterously juggling multiple styles and tones to create a seamless, utterly entertaining blend of coming-of-age saga, old-school detective story, and comic-caper novel. . . . This is one of those rare debuts that leaves us panting for more--and soon."—Booklist (starred review)
"In his debut novel, Ide, a Japanese-American who grew up in the same neighborhood as his mercurial characters, flashes agility with streetwise lingo, facility with local color, and empathy with even the most dissolute of his characters... the roughhousing energy, vivid language, and serrated wit Ide displays throughout this maiden effort make Isiah Quintabe seem a potential rejuvenator of a grand literary tradition. The present day, with its high-strung social media and emotional overload, could use a contemporary hero like Ide's, more inclined to use his brain than his mouth (or fists) to vanquish evil and subdue dread."—Kirkus
"This L.A. crime story offers a gripping plot, an unconventional hero, and a huge heart... I expect to see a film or a series and I hope Ide is as prolific as his fellow L.A. crime novelist Connelly because I eagerly await his next book."—The San Bernadino Sun
"Joe Ide is the best new writer I've encountered in recent years. IQ is a terrific book with an unexpected story, whose lead character has great potential for a series."
—John Sandford, author of Extreme Prey
"Joe Ide is a bad man: IQ is so hellaciously entertaining, deeply moving, and electrifyingly alive that you'll want to read it twice."—Lou Berney, author of the Edgar Award-winning Long and Faraway Gone
"Ide successfully makes his detective's brilliance plausible in this gripping and moving debut."—Publishers Weekly
"Joe Ide has got all the pre-requisites of a great mystery writer: an acerbic wit, a craftsman's mastery of pace, and a clear-eyed but big-hearted view of humankind. His humble and low-key hero, a P.I. named IQ, is a joy to spend time with, and once you've hung out in this Los Angeles of two-bit thugs, half-baked capers, and big scary dogs, you'll be as excited as I am for a sequel."—Ben Winters, author of Underground Airlines
"Isaiah Quintabe--known as I.Q.--is an unconventional unlicensed, underground detective solving problems for the disenfranchised people of Los Angeles, and Joe Ide's superb novel--IQ--is the one of the freshest and liveliest crime novels I have read in years. His debut heralds an exciting new voice in American crime fiction."—Adrian McKinty, author of Gun Street Girl
"With its street poetics and truer-than-life characters, this beautifully spun first novel is gonna blow through the crime fiction world like a fire hose-blast of fresh air. Joe Ide has that rarest of writerly skills--a wholly unique voice, one that is at once irreverent and compelling, moving and incisive. IQ will become a reader favorite. It will get glowing reviews. It will be nominated for awards. Let me save you waiting around for the word of mouth to reach you--buy this book now."—Gregg Hurwitz, author of the New York Times bestselling Orphan X
"Joe Ide's IQ is a wondrous double-helix of mean-street savvy entwined with classical detection, like Conan Doyle as channeled through Martin Scorsese. It's a terrific book."—Stephen Hunter, author of G-MAN