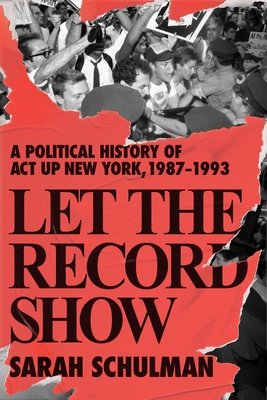 Let the Record Show: A Political History of ACT UP New York, 1987-1993
Publication Date:
May 18th, 2021
Publisher:
Farrar, Straus and Giroux
Chop Suey Books
2 on hand, as of Nov 26 5:11pm
On Our Shelves Now
Description
Winner of the 2022 Lambda Literary LGBTQ Nonfiction Award and the 2022 NLGJA Excellence in Book Writing Award. Finalist for the PEN/John Kenneth Galbriath Award for Nonfiction, the Gotham Book Prize, and the ALA Stonewall Israel Fishman Nonfiction Award. A 2021 New York Times Book Review Notable Book and a New York Times Book Review Editors' Choice. Longlisted for the 2021 Brooklyn Public Library Literary Prize.
One of NPR, New York, and The Guardian's Best Books of 2021, one of Buzzfeed's Best LGBTQ+ Books of 2021, one of Electric Literature's Favorite Nonfiction Books of 2021, one of NBC's 10 Most Notable LGBTQ Books of 2021, and one of Gay Times' Best LGBTQ Books of 2021.
"This is not reverent, definitive history. This is a tactician's bible." --Parul Sehgal, The New York Times

Twenty years in the making, Sarah Schulman's Let the Record Show is the most comprehensive political history ever assembled of ACT UP and American AIDS activism
In just six years, ACT UP, New York, a broad and unlikely coalition of activists from all races, genders, sexualities, and backgrounds, changed the world. Armed with rancor, desperation, intelligence, and creativity, it took on the AIDS crisis with an indefatigable, ingenious, and multifaceted attack on the corporations, institutions, governments, and individuals who stood in the way of AIDS treatment for all. They stormed the FDA and NIH in Washington, DC, and started needle exchange programs in New York; they took over Grand Central Terminal and fought to change the legal definition of AIDS to include women; they transformed the American insurance industry, weaponized art and advertising to push their agenda, and battled—and beat—The New York Times, the Catholic Church, and the pharmaceutical industry. Their activism, in its complex and intersectional power, transformed the lives of people with AIDS and the bigoted society that had abandoned them.
Based on more than two hundred interviews with ACT UP members and rich with lessons for today's activists, Let the Record Show is a revelatory exploration—and long-overdue reassessment—of the coalition's inner workings, conflicts, achievements, and ultimate fracture. Schulman, one of the most revered queer writers and thinkers of her generation, explores the how and the why, examining, with her characteristic rigor and bite, how a group of desperate outcasts changed America forever, and in the process created a livable future for generations of people across the world.
Praise for Let the Record Show: A Political History of ACT UP New York, 1987-1993
"I understand but can't quite accept that this book is about 700 pages long — not when I tore through it in a day; still now, while fact-checking this review, I can scarcely skim it without being swallowed back into the testimonies . . . Let the Record Show doesn't seek to memorialize history but to ransack it, to seize what we might need . . . This is not reverent, definitive history. This is a tactician's bible." --Parul Sehgal, The New York Times
"An outstanding chronicle . . . an expansive portrait of the people, principles, and campaigns that made ACT UP the most formidable political organization to emerge from the AIDS crisis . . . Schulman writes as a witness to and a survivor of a catastrophe, clear-eyed and committed to remembering the dead . . . Let the Record Show serves as both history and handbook of how a small coalition can achieve fundamental political change . . . an invigorating work." --Dagmawi Woubshet, The Atlantic
"A masterpiece tome: part sociology, part oral history, part memoir, part call to arms . . . Medical inequity continues not only with Covid but also with H.I.V./AIDS still, and it will repeat until we manage to learn from the past — about survival, and about the fight. Here is a primer, a compendium of what one group learned and struggled with and accomplished. Here is a book to start a mighty shelf." --Rebecca Makkai, The New York Times Book Review
"An in-depth and fully realized account . . . a text that offers younger queer activists a rare study of their own history." --Emma Specter, Vogue
"Let the Record Show is invaluable as both an archive and a blueprint for contemporary organizers of all stripes." — Sascha Cohen, NPR
"Let the Record Show is profoundly moving, as most [AIDS histories] are, but also does the important work of reasserting the place of women and people of colour in the history of Act Up." --Megan Nolan, The Guardian
"In a time when activism is more necessary than ever and politicians continue to make false claims about the AIDS epidemic, let Schulman, in her distinctively gripping voice, tell you how it really went down." --David Vogel, Buzzfeed
"A stunning achievement . . . The expanse and generosity given in Let the Record Show — the integrity of giving people a platform to tell their own story and to showing the messiness and complexity of the truth — reflects the commitment not only of Schulman but of the hundreds of people in the ACT UP movement." --Marcie Bianco, The Advocate
"Monumental . . . Schulman doesn't replace one set of heroes with another; rather, she destroys the idea of singular heroes at all. This is a political choice that creates a more honest representation of ACT UP . . . The most salient thread we can draw from Let the Record Show is an understanding of how mass movements can succeed and fail, all at the same time, depending on which part of the 'mass' you're in." --Hugh Ryan, Boston Review
"A necessarily expansive and bombastic corrective of modern history . . . Let the Record Show is as righteous and revelatory as its subject matter." --Hillary Kelly, Vulture
"Let the Record Show is a corrective intervention in AIDS historiography, attempting to revise the popular understanding of ACT UP to make it both more democratic and more accurate . . . [Let the Record Show] paints a picture of activists not as martyrs, but as real people, living out the full spectrums of their emotional lives while also trying to meet the demands of history." --Moira Donegan, Bookforum
"Schulman paints an honest portrait of the complexities of coalitional politics, adding nuance and depth to an often-flattened period of history. The result is both an engrossing tribute to the past and a crucial handbook for activists who hope to leave their own lasting mark on the future." --Daniel Spielberger, them.
"Remarkable . . . [Schulman's] book is made up of testimony, exposition and analysis, not blended but artfully layered . . . [a] rich and amazing book." --Adam Mars-Jones, London Review of Books
"From the human perspective, it's simply satisfying to consume Schulman's fulsome demonstration that ACT UP was not the work of heroic straights or the clean-cut and mostly white men whose names are now synonymous with the group, such as Larry Kramer, but in fact always relied on the many people of color, incarcerated people, women, and drug users who devoted their labor." --Jo Livingstone, The New Republic
"The remarkable, timely capstone to [Schulman's] decades-long labor of documenting the improbable miracle that was and is ACT UP . . . Without polemic or resentment, the book is explicit in its corrective intent . . . a powerful document of a harrowing and enduring tragedy, and of the relentless determination to act up, fight back, and fight AIDS." --FT, 4Columns
"A resounding rebuttal to exclusionary versions of AIDS history . . . Not merely a matter of representation, Schulman's recontextualization serves as an intervention in the political analysis of ACT UP." --Joshua Gutterman Tranen, The Baffler
"Sarah Schulman's vital survey of a terrifying time reminds us that queer people have long known a thing or two about living through a devastating plague." --Keely Weiss, Harper's Bazaar
" Schulman approaches her political history with a novelist's understanding of the complexities of character, action, and consequence . . . Let the Record Show preserves the spirit of ACT UP's single statement of unity and purpose . . . [Schulman] is one of our most formidable contemporary intellectuals and an essential recorder of queer and activist histories." --Kelly Roberts, Hazlitt
"The way I feel about Sarah Schulman's book LET THE RECORD SHOW mirrors how I felt the first time I read THE WARMTH OF OTHER SUNS by Isabel Wilkerson: deeply grateful for the author's work, stunned at the pervasive erasure we endure AND desperate to put a copy in everyone's hands." --Saeed Jones, author of How We Fight for Our Lives
"Even though Let the Record Show is somewhere close to 800 pages, you'll read it urgently. The fight for the public's attention still feels alive in the way Schulman writes. This is a book that looks backwards and forwards at once." --Emily Shapiro, Lambda Literary
"Meticulously, thoughtfully, and lovingly compiled . . . Let the Record Show feels like the peak of [Schulman's] achievement, a standard for how this history should be presented . . . Let the Record Show is a sprawling encyclopedia on art and action, humming with so much vitality that the book practically breathes.." --Conor Williams, Art in America
"[Let the Record Show] comes to us when we most need it. It offers an archive of silenced voices; a record of bravery and struggle; and even perhaps a handbook for grassroots organizing and protest in a time of racial and medical injustice. Unconsciously conditioned, as we are, to the narrative as much as the political comforts of survival—that is, of closure—Let the Record Show may well be the book that we don't want, but that we very much need." --Travis Alexander, PopMatters
"A history of AIDS activism that is both more inclusive and complicated than previously told . . . [Schulman's] project is therefore as much an addition to the historical record as it is a necessary ethical revision." --Natalie Adler, Lux Magazine
"Iconic and epic are such hackneyed words, that I blush to write them. But there's no other way to describe Sarah Schulman's new book . . . a mesmerizing history." --Kathi Wolfe, Washington Blade
"[Schulman] movingly evokes what the group meant personally in the lives of thousands who refused to be "bystanders" in the face of the AIDS catastrophe . . . her goal in highlighting the group's unprecedented grassroots achievements as well as its weaknesses is part of a larger mission to inform social change efforts today, whether on healthcare access or transgender rights, systemic racism or police reform." --Paul Schindler, Gay City News
"A deeply generous platform for nearly every ACT UP member's personal story, motives, and recollections to be told in one place, adding up to an enthralling mosaic of biography, collaboration, and, often, conflict." --Tim Murphy, TheBody
"A masterful work twenty years in the making . . . Schulman holds a unique position to chronicle this critical history and connect it with our own chaotic moment." --Lauren LeBlanc, Observer
"A monumental achievement, the culmination of decades of work, and almost unbelievable in its scope and scale." --Corinne Segal, Lit Hub
"Let the Record Show is simultaneously memoir and oral history, bringing to life the AIDS crisis in all of its horrifying, painful complexity . . . Her commentaries enrich and enliven this documentary history of what another activist described as "'the last of the great new social movements of the 20th century.'" --Cathy Corman, The Provincetown Independent
"Remarkable . . . One is left with an overwhelming sense of gratitude—not only for the incredible amount of labor that it took to remember, collect, preserve, narrate, and interpret the events of this book, but for the world-changing activism from which we have all benefitted in such incalculable ways." --Nino Testa, Women's Review of Books
"These portraits, together with the historical context offered throughout, prove the lasting influence of ACT UP and have a lot to teach readers about activism today. . .This engaging, accessible book will find a wide audience among readers interested in activism from the ground up. It will also be a foundational document for historians for generations to come. A must-read." --Library Journal (starred review)
"A significant boots-on-the-ground account . . . Readers are right there with activists, hearing their stories from them but also others who knew them . . . Vital, democratic truth-telling." --Kirkus (starred review)
"Schulman presents ACT UP not as a heroic, sanitized institution made up of exclusively white gay men, but as what it actually was: an organization that managed to improve the lives of people living with HIV and AIDS despite its own racism and sexism."--Booklist
"[A] fine-grained history . . . [Schulman's] firsthand perspective and copious details provide a valuable testament to the courage and dedication of many unheralded activists." --Publishers Weekly
"Sarah Schulman has written more than an authoritative history of ACT UP NY here-- it is a masterpiece of historical research and intellectual analysis that creates many windows into both a vanished world and the one that emerged from it, the one we live in now. I can't think of a book like this--it is an almost entirely new model, uniquely possible as the result of Schulman's life's work. As one of our only genuinely intellectual iconoclasts, she returns to us with this story of a movement that changed the world at least once, now a part of the work to change that world again. Any reader will be changed, I think, by the stories here--radicalized and renewed, which to me is something better than just hope." --Alexander Chee, author of How to Write an Autobiographical Novel
"Characteristically forthright, Sarah Schulman gives us the most comprehensive history of the ACT UP movement in New York to date through a wide range of interviews, a trenchant commentary, and a sustained testament to collaborative action and its history. From this extraordinary history told with the multiple voices of participants, Schulman makes clear that the history of HIV and AIDS in this country has been marred by popular narratives and bouts of grandstanding that largely failed to acknowledge the thousands of lives still lost annually from AIDS, the schisms that opened up serious issues of power within the movement, and the specific ways that people of color and poor people remained unserved by the scientific advances widely celebrated. This book lets us know that neither our sorrow nor our rage is finished, and that the work of acknowledgement of all who struggled and suffered remains our task." --Judith Butler