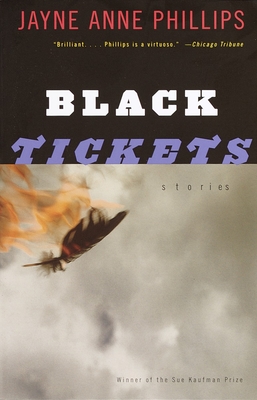 Black Tickets: Stories (Vintage Contemporaries)
Publication Date:
September 11th, 2001
Chop Suey Books
3 on hand, as of Nov 29 4:44pm
On Our Shelves Now
Description
Jayne Anne Phillips's reputation-making debut collection paved the way for a new generation of writers. Raved about by reviewers and embraced by the likes of Raymond Carver, Frank Conroy, Annie Dillard, and Nadine Gordimer, Black Tickets now stands as a classic.
With an uncanny ability to depict the lives of men and women who rarely register in our literature, Phillips writes stories that lay bare their suffering and joy. Here are the abused and the abandoned, the violent and the passive, the impoverished and the disenfranchised who populate the small towns and rural byways of the country. A patron of the arts reserves his fondest feeling for the one man who wants it least. A stripper, the daughter of a witch, escapes from poverty into another kind of violence. A young girl during the Depression is caught between the love of her crazy father and the no less powerful love of her sorrowful mother. These are great American stories that have earned a privileged place in our literature.
Praise for Black Tickets: Stories (Vintage Contemporaries)
"Brilliant... Phillips is a virtuoso."
--Chicago Tribune Book World
"Extraordinary... Phillips shines brightly... This is a sweetheart of a book."
--John Irving, The New York Times Book Review
"[Phillips] knows how to write about the way dreams live with us... Genius is the word for her."
--The Boston Globe