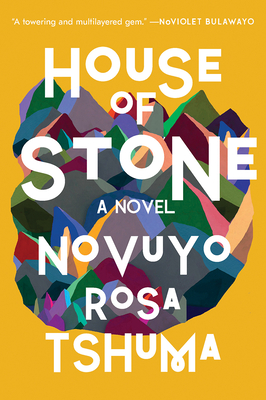 House of Stone: A Novel
Publication Date:
January 21st, 2020
Publisher:
W. W. Norton & Company
Chop Suey Books
1 on hand, as of Jan 28 5:03pm
On Our Shelves Now
Description
"A towering and multilayered gem." —NoViolet Bulawayo
Amid the turmoil of modern Zimbabwe, Abednego and Agnes Mlambo's teenage son has gone missing. Zamani, their enigmatic lodger, seems to be their only hope for finding him. As he weaves himself closer into the fabric of the grieving community, it's almost like Zamani is part of the family.…
Zamani—one of the great unreliable narrators of contemporary world literature—knows that the one who controls the narrative inherits the future. As Abednego wrestles with alcoholism and Agnes seeks solace in a deep-rooted love, each must confront the burdens of history. Written with dark humor, wit, and seduction, House of Stone is a sweeping epic that spans the fall of Rhodesia through Zimbabwe's turbulent beginnings, exploring the persistence of the oppressed in a nation seeking an identity.
Praise for House of Stone: A Novel
Be prepared to laugh, shed tears, and marvel.
— Yiyun Li - Vanity Fair
A gripping account of revolution and its aftermath.
— Viet Thanh Nguyen, author of The Sympathizer
Ambitious and ingenious.
— Dinaw Mengestu - New York Times Book Review
House of Stone is the novel devastated Zimbabwe needed to have written. Now Novuyo Tshuma has written it. Bayethe to her scintillating talent! In the most original and fearless prose I've read in years, Tshuma's scheming narrator, Zamani, reveals the personal and political disintegration that was Zimbabwe's undoing.
— Tsitsi Dangarembga, author of Nervous Conditions
House of Stone is that rare thing, a truly original work of art whose author's risk-taking pays off on the page. Zamani is a complex, compelling, and ambiguous narrator. Utterly stunning.
— Tendai Huchu, author of The Maestro, the Magistrate and the Mathematician
Tshuma's House of Stone is a devastating and inviting piece of fiction that is earning its raves as a beyond notable first novel.… Her book slips like sand through fingers through time and voice, masterfully condensing the history of Zimbabwe to the point where the back story is informative and provocative but not cumbersome.… Tshuma deftly tells a story of colonization and decolonization both with a wide focus on the nation and the tight focus on a few people. The latter serves as a tragic microcosm of the former.… Her balance between the tightest and broadest focus is admirable and efficient.
— Andrew Dansby - Houston Chronicle
To call [House of Stone] clever or ambitious is to do it a disservice—it is both, but also more than that.… Tshuma is incapable of writing a boring sentence.… By the end she has managed to not only sum up Zimbabwean history, but also all of African colonial history: from devastating colonialism to the bitter wars of independence to the euphoria of self-rule and the disillusionment of the present. It is an extraordinary achievement for a first novel.
— Helon Habila, author of Oil on Water, for the Guardian
An enthralling novel that has it all: pathos, humour, and an insightful engagement with the history of Zimbabwe. With audacious style, Tshuma manages to step over the pitfalls that would swallow a lesser talent, and in so doing announces herself as a huge talent.
— Brian Chikwava, author of Harare North
Novuyo Rosa Tshuma's epic satire House of Stone (2018) is driven by one Zamani's almost pathological desire to replace the missing son of the Mlambo family. In Tshuma's beautiful interweaving of personal and national history, we learn of successive generations burdened by sins of their fathers.
— Panashe Chigumadzi - Guardian
Reading House of Stone is like being punched in the stomach and tickled at the same time.
— Ranka Primorac, author of The Place of Tears