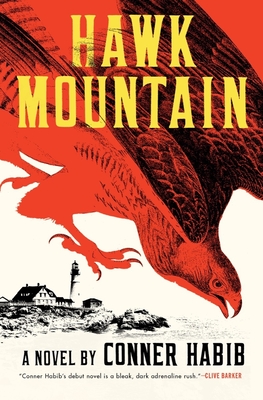 Hawk Mountain: A Novel
Publication Date:
July 5th, 2022
Publisher:
W. W. Norton & Company
Chop Suey Books
2 on hand, as of Jan 28 5:03pm
On Our Shelves Now
Description
Named a a Best Crime and Thriller of 2002 by The Guardian and Irish Times
An English teacher is gaslit by his charismatic high school bully in this tense story of deception, manipulation, and murder. 
Single father Todd is relaxing at the beach with his son, Anthony, when he catches sight of a man approaching from the water's edge. As the man draws closer, Todd recognizes him as Jack, who bullied Todd relentlessly in their teenage years but now seems overjoyed to have "run into" his old friend. Jack suggests a meal to catch up. And can he spend the night?
What follows is a fast-paced story of obsession and cunning. As Jack invades Todd's life, pain and intimidation from the past unearth knife-edge suspense in the present. Set in a small town on the New England coast, Conner Habib's debut introduces characters trapped in isolation by the expansive woods and the encroaching ocean, their violence an expression of repressed desire and the damage it can inflict. Both gruesome and tender, Hawk Mountain offers a compelling look at how love and hate are indissoluble, intertwined until the last breath.
Praise for Hawk Mountain: A Novel
Habib ramps up the paranoia to Highsmithian levels.
— Laura Wilson - Guardian
A supremely tense debut, Conner Habib's Hawk Mountain channels Patricia Highsmith by way of Hitchcock....Habib builds the sense of dread with slow, carefully meted out notes of obsession and intuition.
— CrimeReads
So, so dark. I loved it. Pure tension. A great book.
— Anthony Jeselnik - The Jeselnik & Rosenthal Vanity Project
A menacing page-turner....Habib has created a small but visceral world, terrifying in its realism and heartbreaking in its portrayal. Gaslighting, masculinity and cycles of abuse are all skillfully handled in a story that is, to put it lightly, not for the faint of heart.
— Andrea Cleary - Business Post Ireland
This masterful debut explores the darkest matter with a surprising and unnerving relatability and is a page-turner in the most classic sense.
— Lisa Connell - Gay Community News
There's a lot going on here and Habib skilfully manages to juggle it all, entangling the reader in a gripping narrative, one we can identify more with as each page turns.
— Pat Carty - Hot Press
Impossible to put down....Conner Habib has written a debut novel which has the style, elevated prose and assurance of a much more experienced novelist.
— Susan McKeever - Books Ireland
Conner Habib's debut novel is a bleak, dark adrenaline rush.
— Clive Barker
Dripping with menace from the first page, this story of childhood enemies meeting up fifteen years later is utterly enthralling.… [C]ompelling, shocking, and beautiful.
— Liz Nugent, author of Lying in Wait
Tender, horrifying, utterly transfixing.
— Kelly Link, author of Get in Trouble
A deeply disturbing yet, somehow, soaring novel I won't soon forget. It plumbs the depths of traumatized characters trapped within our damaging culture. I couldn't look away, even when I was looking from between my fingers.
— Paul Tremblay, author of A Head Full of Ghosts and The Pallbearers Club
The opening lines of Hawk Mountain plummet you into an atmosphere of creeping dread and precarious restraint that won't let up until the final, shocking moments.
— Caitlin Doughty, bestselling author of Smoke Gets In Your Eyes
Hawk Mountain is deft horror, made of precise strikes into our most vulnerable psychic terrain… Finally, a horror story that knows cisheteropatriarchy is the villain!
— Andrea Lawlor, author of Paul Takes the Form of a Mortal Girl
Conner Habib writes with [a] hallucinatory precision, and a kind of merciless humanity, about the poisonous work of repression. His forebears—Poe, Highsmith, even classical tragedy—are clear, but his originality is clearer still. Hawk Mountain is a work of strange, glittering darkness.
— Mark O'Connell, author of Notes from an Apocalypse
A brilliantly disturbing, expertly crafted literary noir that will stick with you long after you put it down. Conner Habib has written a flawless meditation on the fruitless, but eternally human, effort to kill off the parts of ourselves we cannot love—literally and metaphorically. I love this book.
— Sara Gran, author of The Infinite Blacktop
A moving and unflinching portrayal of a man caught in a trap of his own making, but willing to do almost anything—to almost anybody—if it will keep him from having to face up to himself. Hawk Mountain is a wonderfully bleak and beautifully written debut.
— Brian Evenson, author of Song for the Unraveling of the World
Habib's unique examination of his flawed and fascinating characters as the victims and sources of violence is both disturbing and insightful. ...With haunting prose and deeply atmospheric descriptions, Hawk Mountain is a disturbing descent into the convulsions of the human mind and heart.
— Maya Fleischmann - BookPage
Habib brings rich psychological insight to his characters, expertly observing how the conflicts of youth persist into Todd and Jack's present. …[T]his dramatic tale soars.
— Publishers Weekly
The tension is palpable on every page, and Habib skillfully illustrates the complexity of relationships and the pain of unmet desires, both queer and otherwise. His prose is as brutal as it is profound and beautiful. …A brutal and gorgeous tale of manipulation, control, and desire.
— Kirkus Reviews (starred review)
This heart-pounding thriller will have readers furiously turning pages…this gorgeous debut affirms [Habib's] stunning gift for dissecting humanity.
— Booklist (starred review)