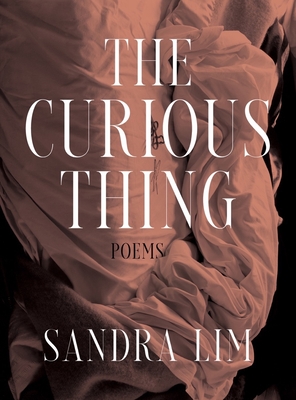 The Curious Thing: Poems
Publication Date:
September 14th, 2021
Publisher:
W. W. Norton & Company
Chop Suey Books
1 on hand, as of Jan 28 5:03pm
On Our Shelves Now
Description
In this gorgeous third collection, Sandra Lim investigates desire, sexuality, and dream with sinewy intelligence and a startling freshness.
Truthful, sensuous, and intellectually relentless, the poems in The Curious Thing are compelling meditations on love, art making, solitude, female fate, and both the mundane and serious principles of life. Sandra Lim's poetry displays stinging wit and a tough-minded approach to her own experiences: She speaks with Jean Rhys about beauty, encounters the dark loneliness that can exist inside a relationship, and discovers a coiled anger on a hot summer day. An extended poem sequence slyly revolves the meanings of finding oneself astray in midlife. A steely strength courses through the volume's myriad discoveries—Lim's lucidity and tenderness form a striking complement to her remarkable metaphors and the emotional clamor of her material.
Animated by a sense of reckoning and a piercing inwardness, these anti-sentimental poems nevertheless celebrate the passionate and empathetic subjective life.
Praise for The Curious Thing: Poems
Lim's voice, which is fiercer and more dexterous than ever, brings into being a collection of powerful, dark, and inscrutable poems that defy gravity.
— Aria Aber - Los Angeles Review of Books
What is fun about these poems and delightful is the way that they have this very interior elliptical quality, as if they're being narrated by the very wise, very wry protagonist of a Russian novel.
— Tess Taylor - NPR
These are poems of passion and self-scrutiny and female rage, but Sandra Lim is not a poet of explosive feeling. The poems have a prose elegance; they are cool, detached, ruminative, with a kind of whistle-in-the-dark bravado. Here is a mind studying itself and its ambivalence, exact at every turn and, by the end, breathtaking.
— Louise Glück, Nobel Prize–winning author of Faithful and Virtuous Night
I stop my life when I see Sandra Lim's name and enter her little worlds with big feelings. In her hands, precision and audacity meld into a performance of quiet, implacable force. This collection, too, is a force. It has its own gravity. It shows us what can be revealed when we're pulled so close to language we can't look away, language where the sentence is clear, concussive, and reigning.
— Ocean Vuong, author of On Earth We're Briefly Gorgeous
Stunning... Part of the power [of this collection] is in the brutal, quick associations, the way the poet moves so efficiently and fearlessly, bewildering pronouns and opening delicious ambiguities. Understatement combined with precision.
— Jesse Nathan - McSweeney's
The Curious Thing…beguiles… The collection itself is a curious thing wherein restraint belies a charged underbelly, and surface clarity shimmers over ideological depths.
— Aumaine Rose Smith - Kenyon Review
To read Sandra Lim's poetry is to witness feats of naming as exhilarating and daring as creation itself. You encounter states of perception, shades of emotion that are so elusive as to have escaped your attention but that call forth deep echoes of recognition. Her poems are a series of quiet miracles, inspiring both pleasure and awe.
— Monica Youn, author of Blackacre
Rarely does one find a contemporary poet quite as instructive in the consistent employment of finely-constructed, rich abstraction.
— Ploughshares
In this stark, steely, and beautiful third book of poems, Sandra Lim evokes the spectacular feeling of being unmoored and unshaped. Filled with declaratives and surprising illogical logic, these poems glitter with the lights of thinking.
— Victoria Chang, author of Obit
Reading these poems, one capitulates to their ferocity of expression and precision of sentiment.
— Nathan Blansett - Poetry Northwest