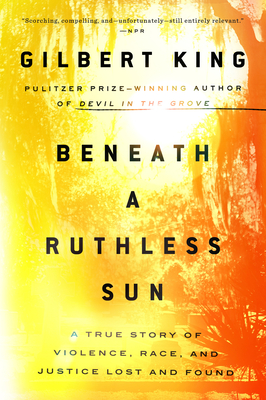 Beneath a Ruthless Sun: A True Story of Violence, Race, and Justice Lost and Found
Publication Date:
April 23rd, 2019
Publisher:
Riverhead Books
Chop Suey Books
2 on hand, as of Feb 4 11:13pm
On Our Shelves Now
Description
"Exposes the sinister complexity of American racism... King tells this... story with grace and sensitivity, and his narrative never flags." --Jeffrey Toobin, New York Times Book Review
From the author of the Pulitzer Prize-winning bestseller Devil in the Grove comes the story of a small town with a big secret. In December 1957, the wife of a Florida citrus baron is raped in her home while her husband is away. She claims a "husky Negro" did it, and the sheriff, the infamous racist Willis McCall, does not hesitate to round up a herd of suspects. But within days, McCall turns his sights on Jesse Daniels, a gentle, mentally impaired white nineteen-year-old. Soon Jesse is railroaded up to the state hospital for the insane, and locked away without trial.
But crusading journalist Mabel Norris Reese cannot stop fretting over the case and its baffling outcome. Who was protecting whom, or what? She pursues the story for years, chasing down leads, hitting dead ends, winning unlikely allies. Bit by bit, the unspeakable truths behind a conspiracy that shocked a community into silence begin to surface.
Beneath a Ruthless Sun tells a powerful, page-turning story rooted in the fears that rippled through the South as integration began to take hold, sparking a surge of virulent racism that savaged the vulnerable, debased the powerful, and roils our own times still.
Praise for Beneath a Ruthless Sun: A True Story of Violence, Race, and Justice Lost and Found
"Exposes the sinister complexity of American racism …King tells this … story with grace and sensitivity, and his narrative never flags. His mastery of the materials is complete." —Jeffrey Toobin, New York Times Book Review
"Riveting...King recounts this perplexing story with compassion and a vibrant sense of time and place…[a] sobering but expertly told saga." —Washington Post

"Chilling...Truth oftentimes beggars belief, and the 'true' in 'true crime' can be a promise that betrays as much as it entices. Not so with Gilbert King's scorching, compelling, and — unfortunately — still entirely relevant new work."—NPR
"A gripping tale of entrenched racism and complicity… King's reporting defies cliché with depth and specificity. He holds to verifiable facts and knows how to let a story and characters evolve… [Beneath a Ruthless Sun] haunts as an uncurtained stare into history."—Minneapolis Star-Tribune
"Remarkable… Beneath a Ruthless Sun is multiple books in one – a gripping true-crime narrative, a deeply wrenching story of American bigotry and corruption, and an inspiring tale of heroes fired by love and righteous fury… King reminds us of its not-so-distant history as a stronghold of Southern racism and bigotry, a state that produced both horrific violence and courageous protest."—Christian Science Monitor
 
"Timely and important."—New York Times

"Pulitzer Prize winner King returns with a new nonfiction story for those craving a Serial-esque fix… King provides a glimpse into the past that is equal parts enlightening, frustrating, and invariably un-put-downable."  —Harper's Bazaar
"A true-crime masterwork." —Men's Journal

"A first-rate crime thriller, built on shocking plot twists and vivid characters … This extraordinary book's story might have begun more than half a century ago, but it isn't history."  —Tampa Bay Times
"Painstakingly reported… King excels at weaving in the larger social context of the Ruthless story."—Dallas Morning News

"Prepare to read Beneath a Ruthless Sun more than once — several stories are woven through this meticulously-researched nonfiction account of how justice cheated 19-year-old Jesse Daniels… [King's] style is gentle but insistent. It's laid out cleanly, with precision and without condemnation...And there lies the secret to the power behind King's books: Truth. He speaks truth to a community that has kept its lips pursed together for the last 60 years, and we know it." —Orlando Sentinel
"Fascinating and shocking...King's new book… reveals how twisted the ideology of white supremacy is and how injustice to one minority can easily justify injustice to all minorities." —Wichita Eagle
 
"A powerful page-turner." —Garden & Gun

"A book for true-crime aficionados as well as anyone interested in criminal justice reform.. .King delves into a complicated rape case that is rife with corruption, and in doing so, he shines a light on issues of sex, race, and class." —Bustle
"Pulitzer Prize winner Gilbert King continues his extraordinary historical autopsy of 1950s and '60s Lake County, Florida, and its infamous racist sheriff Willis McCall… a fascinating look at the South and its people in an era many today fondly remember as when America was 'great.'"—Florida Times-Union
"Tense and stunning...[Beneath a Ruthless Sun's] taut focus on a single case also shines a light onto larger issues of racial profiling, police corruption and the condition of Florida's mental institutions." —Book Page
"The perversions of justice under Jim Crow chart a devious path in this labyrinthine true crime saga… Packed with riveting characters and startling twists, King's narrative unfolds like a Southern gothic noir probing the recesses of a poisoned society." —Publisher's Weekly (starred)
"A spellbinding true story of racism, privilege, and official corruption...By turns sobering, frightening, and thrilling, this meticulous account of the power and tenacity of officially sanctioned racism recalls a dark era that America is still struggling to leave behind." —Kirkus Reviews (starred)
 "This book is every bit as gripping as the author's Pulitzer-winning Devil in the Grove...Gripping history, vividly told." —Booklist (starred)

"Compelling, insightful and important, Gilbert King exposes the corruption of racial bigotry and animus that shadows a community, a state and a nation.  A fascinating examination of an injustice story all too familiar and still largely ignored, an engaging and essential read." —Bryan Stevenson, author of Just Mercy
 
"In the tradition of Harper Lee, Gilbert King tells the story of a small southern town corrupted by racism, a perverse genteel honor, and utter disdain for poor "crackers."  Three women stand out in this gripping tale of a falsely accused man: an unrelenting reporter, a mother, and a victim doubly victimized as a pawn of others' ambitions.  In deftly unraveling a tragic mixture of lies, violence, and hatred, King powerfully reminds us how the unpalatable beliefs of 1957 haunt us still." —Nancy Isenberg, author of White Trash
"Gilbert King's stunning chronicle of race, sex and power in fatal combination yields so many truly tragic turns that it's almost uncanny when goodness endures. With breakneck drama and cold clarity, Beneath a Ruthless Sun captures the sultry particulars of a uniquely charged place and time as well as a universal truth about how difficult it is for humans in the aggregate to do the right thing." 
—Diane McWhorter, Pulitzer Prize-winning author of Carry Me Home: Birmingham, Alabama—the Climactic Battle of the Civil Rights Revolution
Praise for Devil in the Grove:
"Must read, cannot put down history." –The New York Times
"A taut, intensely readable narrative." –Boston Globe
"A powerful and well-told drama of Southern injustice." –The Chicago Tribune