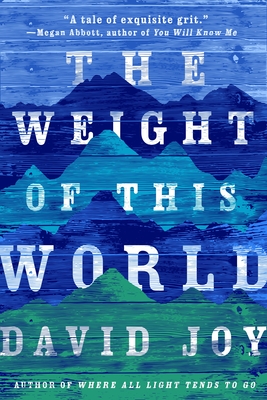 The Weight of this World
Publication Date:
June 5th, 2018
Publisher:
G.P. Putnam's Sons
Chop Suey Books
1 on hand, as of Jan 28 5:03pm
On Our Shelves Now
Description
Critically acclaimed author David Joy, whose debut, Where All Light Tends to Go, was hailed as "a savagely moving novel that will likely become an important addition to the great body of Southern literature" (The Huffington Post), returns to the mountains of North Carolina with a powerful story about the inescapable weight of the past.

A combat veteran returned from war, Thad Broom can't leave the hardened world of Afghanistan behind, nor can he forgive himself for what he saw there. His mother, April, is haunted by her own demons, a secret trauma she has carried for years. Between them is Aiden McCall, loyal to both but unable to hold them together. Connected by bonds of circumstance and duty, friendship and love, these three lives are blown apart when Aiden and Thad witness the accidental death of their drug dealer and a riot of dope and cash drops in their laps. On a meth-fueled journey to nowhere, they will either find the grit to overcome the darkness or be consumed by it.
Praise for The Weight of this World
Praise for The Weight of This World

"Bleakly beautiful. . . [a] gorgeously written but pitiless novel about a region blessed by nature but reduced to desolation and despair."—Marilyn Stasio, The New York Times Book Review
"Darkly stunning Appalachian noir."—Huffington Post
"Scenes unfold at a furious pace, yet contain such rich description that readers will do well to read slowly, savoring Joy's prose. . . .  Joy's work perfectly aligns with the author's self-described 'Appalachian noir' genre, as a sticky film of desperation and tragedy cloaks everything his characters touch. April, Aiden and Thad are hopelessly conflicted, dripping with history and heartache, yet they cling to unique dreams about what life could look like if they carried a bit less weight of the world upon their shoulders."—Associated Press
"Joy is a remarkably gifted storyteller. The life he fuels into his characters is so high-test that if they are not lying face down in a pool of blood by novel's end, they keep rambling through the mind. . . . How these characters deal with their demons gives redemption a new dimension."—Charlotte Observer
"Reeks of authenticity; this world is grisly and bleak. . . [Joy] tells a hell of a story."—Shelf Awareness
"Joy kicks the doors wide open with The Weight Of This World, a rollicking, methamphetamine fueled drug-deal-gone-bad odyssey through the backwoods and back roads of Western North Carolina. It's that line between what is right under the eyes of God and what is rightfully your — perhaps — one and only chance for something more. . . [Joy is] one of the bright flames of this next generation of southern noir novelists."—Smoky Mountain News
 
"Joy explores the darkness of an area that many people experience only through tourism, where characters ravaged by addiction, domestic violence, and an economy that refuses to rebound scramble to change their lives. It's a tough, but beautiful and perhaps necessary, read."—WNC Magazine
 
"Beautifully destructive . . . There's a purpose to every sentence and every line of dialogue Joy writes. He's searching for answers to deeper truths about violence, trauma, and family; it just so happens that his path to answers tends to lead down the barrel of a gun. . . . Features one of the best, and most satisfying, endings to a crime fiction novel I've ever read."—WritersBone.com
"David Joy got our attention in 2015 with his debut Where All Light Tends To Go. The searing rural noir proved there was still a lot to mine from the subgenre. Now Mr. Joy picks up his tools and goes down even deeper into that dark hole with The Weight Of This World. . .  Joy takes the blueprint for a crime fiction plot done many times and spins something unique and poignant through his damaged characters."—MysteryPeople 
"Appalachia provides the evocative setting for this tale of a brutal world filled with violence and drugs. . . Lyrical prose, realistic dialogue, and a story that illuminates the humanity of each character make this a standout."—Publishers Weekly (starred review)
"Joy neither condescends to his characters nor excuses them but simply depicts them amid the crushing poverty and natural beauty of their environment. With prose as lyrical as it is hard-edged, he captures men still pining for childhood and stunned to find themselves as grownups with blood on their hands. Joy is one to watch—and read."—Booklist
"Readers of Southern grit lit will enjoy Joy's excellent sophomore outing, which is both dark and violent. Ron Rash aficionados will appreciate Joy's strong sense of place in his vivid depiction of rural Appalachia."—Library Journal (starred review)
"Not a single word is wasted in The Weight of This World, a dark and violent literary page-turner that burns with a white hot intensity rarely found in fiction today.  A perfectly executed novel, this is a book that will endure."—Donald Ray Pollock, author of The Heavenly Table
"David Joy's The Weight of This World is a tale of exquisite grit. A fearless writer, Joy is willing to go to all the dark places, but his voice and his heart serve as such strong beacons that we'll follow him and take our chances. Those chances pay off in a story that is as tense and harrowing as it is achingly tender. Don't miss this book."—Megan Abbott, author of You Will Know Me

"The Weight of This World is a savage and heartbreaking tragedy. David Joy writes with a deep wisdom, compassion, and respect for the psychic and physical wounds, the pain and anger and sadness that at once shackle his broken characters and hurl them toward choices and outcomes that linger with the reader long after the last page is read. Most impressive, Joy has written about the cost of loyalty based in childhood friendships that no longer exist in the adult world, and how sacrifices made out of the love for another can lead to the ruin of the self."—Eric Rickstad, New York Times-bestselling author of Lie in Wait
"The Weight of This World is a beautiful nightmare of lives battered by the forces of serendipity and inevitability. Of lives swirling down the drain in a haze of meth, abuse, blood, and, of all things, love."—Reed Farrel Coleman, New York Times-bestselling author of Where It Hurts
Praise for Where All Light Tends to Go
 
"[A] remarkable first novel . . . This isn't your ordinary coming-of-age novel, but with his bone-cutting insights into these men and the region that bred them, Joy makes it an extraordinarily intimate experience."—Marilyn Stasio, The New York Times Book Review
 
"A savagely moving novel that will likely become an important addition to the great body of Southern literature."—Huffington Post
 
"[An] accomplished debut . . . In Appalachia, a young outlaw, Jacob McNeely, struggles to escape what Faulkner called that "old fierce pull of blood," a violent meth-dealing father, the dark legacies of an unforgiving place and the terrible miseries it breeds. [A] beautiful, brutal book."—Minneapolis Star-Tribune
 
"Bound to draw comparisons to Daniel Woodrell's Winter's Bone...[Joy's] moments of poetic cognizance are the stuff of fine fiction, lyrical sweets that will keep readers turning pages...Where All Light Tends To Go is a book that discloses itself gradually, like a sunrise peeking over a distant mountain range...If [Joy's next] novel is anything like his first, it'll be worth the wait."—Atlanta Journal-Constitution
 
"This beautiful brutal book begins with despair but ends in defiance."—Milwaukee Journal-Sentinel (Best of 2015)
 
"Joy's grim but satisfying story of the McNeely family faithfully echoes the language and atmosphere of this largely lawless mountain culture . . . a story skillfully written."—Shelf Awareness (starred review)