Discounted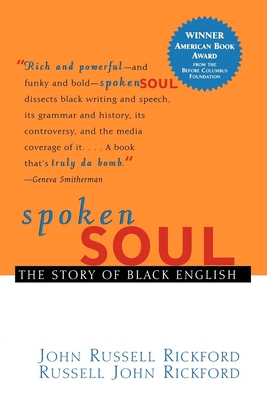 Spoken Soul: The Story of Black English
Previous price:

$17.95
Current price:

$15.95
Publication Date:
December 1st, 2000
Usually Arrives in 3 to 5 Days
Description
In Praise of Spoken Soul: The Story of Black English
"Spoken Soul brilliantly fills a huge gap. . . . a delightfully readable introduction to the elegant interweave between the language and its culture." --Ralph W. Fasold, Georgetown university
"A lively, well-documented history of Black English . . . that will enlighten and inform not only educators, for whom it should be required reading, but all who value and question language." --Kirkus Reviews
"Spoken Soul is a must read for anyone who is interested in the connection between language and identity." --Chicago Defender
Claude Brown called Black English "Spoken Soul." Toni Morrison said, "It's a love, a passion. Its function is like a preacher's: to make you stand out of your seat, make you lose yourself and hear yourself. The worst of all possible things that could happen would be to lose that language."
Now renowned linguist John R. Rickford and journalist Russell J. Rickford provide the definitive guide to African American vernacular English--from its origins and features to its powerful fascination for society at large.