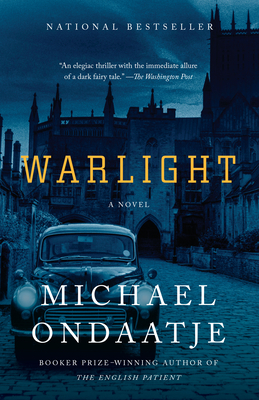 Warlight (Vintage International)
Publication Date:
April 2nd, 2019
Chop Suey Books
1 on hand, as of Nov 26 5:11pm
On Our Shelves Now
With his usual virtuosity, master storyteller Michael Ondaatje delivers a mysterious, shimmering new coming-of-age novel. Warlight is the unexpected story of two teenagers abandoned by their enigmatic parents in post-war London. Casually watched over by a dodgy cast of characters - petty criminals, opera singers, and panting greyhounds - Nathaniel and Rachel try to make sense of their new world while struggling to define their parents' shadowy wartime pasts. Years later, Nathaniel embarks on a quest to discover the disturbing truth, and his own unwitting part in it. Balancing poignance with surprising comic touches, Warlight is a stellar addition to the Ondaatje canon.
May 2018 Indie Next List
Ondaatje's new book, Warlight, is brilliant. The reader is drawn in by a perfect first sentence hinting at the intrigue that will unfold in the novel: 'In 1945 our parents went away and left us in the care of two men who may have been criminals.' Teenage Nathaniel and his older sister, Rachel, are left by their parents for reasons that quickly become suspect. The novel is told in parts, beginning with Nathaniel's teen years, then jumping ahead to his adult years and filling in the histories of the story's most important characters. The immature voice of teenage Nathaniel is masterfully written as the foreshadowing of the man he will become.
Summer 2019 Reading Group Indie Next List
Description
Longlisted for the Man Booker Prize
 
A New York Times Notable Book
A Washington Post Notable Book
 
An NPR Best Book of the Year
 
It is 1945, and London is still reeling from years of war. Fourteen-year-old Nathaniel and his older sister, Rachel, seemingly abandoned by their parents, have been left in the care of an enigmatic figure they call The Moth. They suspect he may be a criminal and grow both more convinced and less concerned as they come to know his eccentric crew of friends: men and women with a shared history, all of whom seem determined now to protect and educate (in rather unusual ways) the siblings. But are they really what and who they claim to be? And how should Nathaniel and Rachel feel when their mother returns without their father after months of silence—explaining nothing, excusing nothing? A dozen years later, Nathaniel begins to uncover all he didn't know or understand during that time, and it is this journey—through reality, recollection, and imagi­nation—that is told in this magnificent novel.
Praise for Warlight (Vintage International)
"An elegiac thriller [with] the immediate allure of a dark fairy tale." —The Washington Post
"[Ondaatje] casts a magical spell, as he takes you into his half-lit world of war and love, death and loss, and the dark waterways of the past." —The New York Review of Books
"Mr. Ondaatje has stepped into John le Carré's world of spies and criminals. . . . His novel views history as a child would, in ignorance but also in innocence and wonder." —The Wall Street Journal

"[An] intricate and absorbing novel. . . . Brings alive a time and a place." —The New York Times Book Review

"A rare and beautiful thing—a deeply retrospective novel about war secrets that feels neither overstated nor overly ethereal. . . . One of the most absorbing books I've read all year." — Esi Edugyan, The Times Literary Supplement (London)
"Wonderfully atmospheric, beautifully paced, subtle storytelling. . . . Tells the hidden, barely spoken, tale of war, especially as it impacts on children. Ondaatje skilfully moves back and forth through time, finally offering an extraordinary narrative twist that feels as earned as it is unexpected." —2018 Man Booker Prize Jury citation
"A meditation on the lingering effects of war on family." —Barack Obama (personal pick for recommended summer reading)
"Our book of the year—and maybe of Ondaatje's career. . . . A terrifically tense spy thriller and a delicate coming-of-age tale." —The Telegraph (London)
"A superb wartime mystery. . . . Ondaatje's is an aesthetic of the fragment. His novels are constructed, with intricate beauty, from images and scenes that don't so much flow together as cling together in vibrating, tensile fashion." —The Boston Globe
"A masterpiece of shifting memory." —Los Angeles Times

"An intricate ballet of longing and deception. . . . If writers are cartographers of the heart, Michael Ondaatje's oeuvre could fill an atlas." —O, The Oprah Magazine

"An entrancing and masterfully crafted story." —The New Republic

"With the force of something familiar, intimate, truthful . . . Warlight sucked me in deeper than any novel that I can remember; when I looked up from it, I was surprised to find the 21st century still going on about me. . . . A work of fiction as rich, beautiful, as melancholy as life itself, written in the visionary language of memory." —Alex Preston, The Guardian

"Lyrical. . . . Ondaatje illuminates the rubble-strewn landscape [of post-war London] from angled sidelights. . . . His prose matches a mood of mystery and suspicion that tantalizes." —The Economist
"Fascinating. . . . Lyrical. . . . A mournful, impressionistic memory of all the things that never were." —Entertainment Weekly

"The author's prose is as bright and startling as we've seen it since The English Patient." —Condé Nast Traveler

"A haunting mystery. . . . By turns lyrical and wrenching. . . . A rich, satisfying read." —People
"A tender coming-of-age story . . . warmly delivered. . . . [Ondaatje's] elegant prose is a pleasure." —Minneapolis Star Tribune

"Eloquently told and heartbreakingly believable. . . . No other writer builds a world with the delicacy and precision of Michael Ondaatje. You enter it, fall under its spell and never want to leave." —The Seattle Times

"Exquisite. . . . Elegant, melancholy. . . . Ondaatje keeps the reader in thrall to the story through the sheer excellence of his writing." —The Dallas Morning News

"[A] quiet, lushly shaded and haunting novel. . . . Immensely rich and rewarding." —Pittsburgh Post-Gazette

"Gorgeously written. . . . A fog of wonder, fear, tenderness and melancholy." —Richmond Times-Dispatch 

"Warlight is mesmerising, and powerfully sad. . . . This novel dives into the darkness, and finds small miracles among the shattered glass, the ruins." —Financial Times

"A novel of shadowy brilliance." —The Times (London)
"Wonderful. . . . This elegiac novel combines the stealth of an espionage thriller with the irresolute shifts of a memory play, purposefully full of fragments, loss and unfinished stories." —The Daily Mail

"Surprising, delightful, heartbreaking and written as only Ondaatje could write it." — Kamila Shamsie, The Guardian

"Majestic. . . . Show-stoppingly magnificent. . . . Golden? Adamantine." —The New Statesman

"Mesmerizing. . . .  One of Ondaatje's most successful and satisfying novels." —The Globe and Mail (Toronto)
"Irresistible. . . . An exceptionally entertaining literary journey." —The Irish Times
"Compulsively and grippingly readable. . . . Michael Ondaatje is a marvellous writer, and Warlight is a novel which will continue to play in the reader's imagination." —The Scotsman