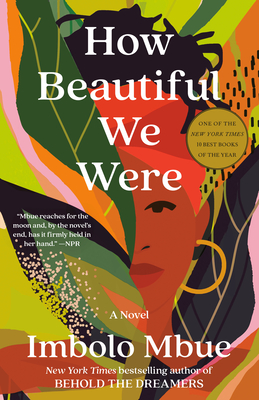 How Beautiful We Were: A Novel
Publication Date:
February 1st, 2022
Publisher:
Random House Trade Paperbacks
Chop Suey Books
1 on hand, as of Jan 28 5:03pm
On Our Shelves Now
Description
A fearless young woman from a small African village starts a revolution against an American oil company in this sweeping, inspiring novel from the New York Times bestselling author of Behold the Dreamers.
ONE OF THE TEN BEST BOOKS OF THE YEAR: The New York Times, People • ONE OF THE BEST BOOKS OF THE YEAR: The New York Times Book Review, The Washington Post, Esquire, Good Housekeeping, The Christian Science Monitor, Marie Claire, Ms. magazine, BookPage, Kirkus Reviews
"Mbue reaches for the moon and, by the novel's end, has it firmly held in her hand."—NPR
We should have known the end was near. So begins Imbolo Mbue's powerful second novel, How Beautiful We Were. Set in the fictional African village of Kosawa, it tells of a people living in fear amid environmental degradation wrought by an American oil company. Pipeline spills have rendered farmlands infertile. Children are dying from drinking toxic water. Promises of cleanup and financial reparations to the villagers are made—and ignored. The country's government, led by a brazen dictator, exists to serve its own interests. Left with few choices, the people of Kosawa decide to fight back. Their struggle will last for decades and come at a steep price.
 
Told from the perspective of a generation of children and the family of a girl named Thula who grows up to become a revolutionary, How Beautiful We Were is a masterful exploration of what happens when the reckless drive for profit, coupled with the ghost of colonialism, comes up against one community's determination to hold on to its ancestral land and a young woman's willingness to sacrifice everything for the sake of her people's freedom.
Praise for How Beautiful We Were: A Novel
"Sweeping and quietly devastating . . . How Beautiful We Were charts the ways repression, be it at the hands of a government or a corporation or a society, can turn the most basic human needs into radical and radicalizing acts. . . . Profoundly affecting."—The New York Times Book Review

"What a stunningly beautiful writer Mbue is, and how lucky we are to have her stories in the world."—USA Today

"It's a heartbreaking and relevant story that seeps into your bones, quickly engulfs you and doesn't let go."—The Seattle Times
"Superb."—Pittsburgh Post-Gazette

"Tragic, wrenching . . . The people of Kosawa sear themselves into your consciousness."—The Boston Globe
"Imbolo Mbue crafts an aching narrative about greed, community and perseverance."—Time
"Mbue's remarkable storytelling makes this book shine."—Ms.
"This epic and empathetic saga shines a truthful albeit unflattering light on globalization."—Shelf Awareness
"Insightful, heart-stirring."—The Philadelphia Inquirer

"A generation of narrative voices, many of them children, shape this sweeping, elegiac story of capitalism, colonialism, and boundless greed, reminding us of the myriad ways we fail to make a better world for our children."—Esquire
"A David and Goliath story for our times, a riveting tale of how people coming together to make change can topple even the fiercest, best-financed foe."—O: The Oprah Magazine
 
"Imbolo Mbue's revelatory novel of a fictional African village ruined by Big Oil is a mighty addition to the stacks."—Elle
 
"Among the many virtues of Mbue's novel is the way it uses an ecological nightmare to frame a vivid and stirring picture of human beings' asserting their value to the world, whether the world cares about them or not. One can both grieve for Kosawa and be inspired by its determined fight for life."—Kirkus Reviews (starred review)
 
"How Beautiful We Were will enthrall you, appall you, and show you what is possible when a few people stand up and say, 'This is not right.' It is a masterful novel by a spellbinding writer engaged with the most urgent questions of our day."—David Ebershoff, bestselling author of The Danish Girl
"Imbolo Mbue has given us a novel with the richness and power of a great contemporary fable, and a heroine for our time."—Sigrid Nunez, author of The Friend, winner of the National Book Award
"Imbolo Mbue is a storyteller of astonishing gifts. How Beautiful We Were reminds me of how interconnected we remain, no matter who or where we are."—Tracy K. Smith, author of Life on Mars, winner of the Pulitzer Prize