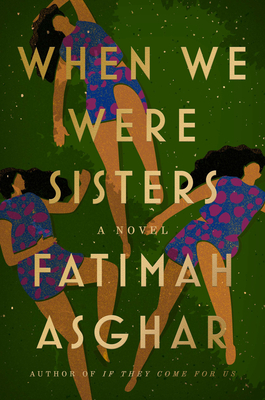 When We Were Sisters: A Novel
Publication Date:
October 18th, 2022
Chop Suey Books
2 on hand, as of Jan 28 5:03pm
On Our Shelves Now
Description
LONGLISTED FOR THE NATIONAL BOOK AWARD • "This exquisite debut wrestles with gender, siblinghood, family, and what it means to be Muslim in America—all through the lens of love."—Time
 
"Haunting . . .  a knife-sharp story of self-discovery."—People

ONE OF THE BEST BOOKS OF THE YEAR: The New Yorker, NPR, Time, Vox, PopSugar, Autostraddle
In this heartrending, lyrical debut work of fiction, the acclaimed author of If They Come for Us traces the intense bond of three orphaned siblings who, after their parents die, are left to raise one another. The youngest, Kausar, grapples with the incomprehensible loss of their parents as she also charts out her own understanding of gender; Aisha, the middle sister, spars with her "crybaby" younger sibling as she desperately tries to hold on to her sense of family in an impossible situation; and Noreen, the eldest, does her best in the role of sister-mother while also trying to create a life for herself, on her own terms.
As Kausar grows up, she must contend with the collision of her private and public worlds, and choose whether to remain in the life of love, sorrow, and codependency that she's known or carve out a new path for herself. When We Were Sisters tenderly examines the bonds and fractures of sisterhood, names the perils of being three Muslim American girls alone against the world, and ultimately illustrates how those who've lost everything might still make homes in one another.

LONGLISTED FOR THE ASPEN WORDS LITERARY PRIZE • LONGLISTED FOR THE CENTER FOR FICTION FIRST NOVEL PRIZE
Praise for When We Were Sisters: A Novel
"Haunting . . .  a knife-sharp story of . . . self-discovery."—People
"Braids lyric and narrative vignettes into a tender, vivid, heart-aching story of three orphaned sisters and the world they create together, the great beauty and stunning pain of that belonging… captured . . . with a poet's ear for language. The characters are so thoughtfully rendered, so three-dimensional in their . . . infinite complications."—Electric Literature
"Threaded with vignettes and poetic interludes, the novel constantly morphs into the shape of . . . new families."—The Cut
"[Asghar's] debut lyrical novel, When We Were Sisters, explores sisterhood, orphaning, and alternate family building . . . At the heart . . . is Fatimah's unique voice, insistence on creating alternate possibilities of identity, relationships and humanity . . . and a deep play and joy embedded in the craft."—PEN America
"Asghar's debut . . . is a 300-pager that you can't put down—a typographically experimental work that maintains its focus on the humanity of its characters."—Vulture
"Compelling . . . sometimes lyrical, sometimes heartbreaking . . . skillfully crafted . . . a moving journey. . . An assured first novel explores the bonds and divides among three orphaned sisters."—Kirkus Reviews (starred review)
"Difficult to put down . . . A much-needed shattering of domestic myths, complication of diaspora literature, and challenge to entrenched class assumptions."—Kajal Magazine
"[Asghar] gorgeously weaves the themes of grief and community, along with queerness and love, into prose that is compulsively readable and heart-wrenching at the same time."—WBEZ Chicago
 
"Pop culture will have us believe that all parentless pain must be channelised into greatness in a Potter world or a Gotham City. Asghar's triumph lies in completely reclaiming identities from any such stereotypical lens."—Vogue India
 
"Not to be missed . . . an achingly lovely story of sisterhood, loss, violence, and redemption."—Ms. Magazine
"Beautiful . . . Asghar's lyrical writing sings on every page."—Debutiful
"Lyrical, heartrending."—Autostraddle
"Stunning."—She Does the City
"A lyrical Bildungsroman."—The Millions
"When We Were Sisters is a stunning accomplishment in form, storytelling, and heart. This novel works language into its most jeweled form."—Safia Elhillo, author of Home Is Not a Country and Girls That Never Die

"Propulsively readable and experimental in form, this is an unflinching look at family, grief, and reclamation—of self and other."—Hala Alyan, author of Salt Houses and The Arsonists' City
"A beautiful, richly layered exploration of the generosity that is required to raise oneself, to raise others, to build a world where the people you love can feel safe and whole . . . Brilliant lyricism, narrative sharpness, and vibrant characters."—Hanif Abdurraqib, author of A Little Devil in America
"Spellbinding . . . A fearlessly raw and heart-stopping portrait of the intimacy of violence, it pulses with poetic lyricism and raw beauty. Asghar has written a truly dazzling story, a journey into the dark crevices of childhood trauma and loneliness."—Julián Delgado Lopera, author of Fiebre Tropical