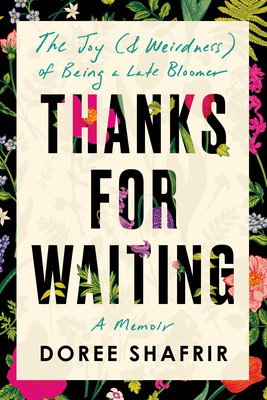 Thanks for Waiting: The Joy (& Weirdness) of Being a Late Bloomer
Publication Date:
June 29th, 2021
Publisher:
Ballantine Books
Usually Arrives in 3 to 5 Days
Description
An honest, witty, and insightful memoir about what happens when your coming-of-age comes later than expected
"Thanks for Waiting is the loving, wise, cuttingly funny older sister we all need in book form."—Tara Schuster, author of Buy Yourself the F*cking Lilies
Doree Shafrir spent much of her twenties and thirties feeling out of sync with her peers. She was an intern at twenty-nine and met her husband on Tinder in her late thirties, after many of her friends had already gotten married, started families, and entered couples' counseling. After a long fertility struggle, she became a first-time mom at forty-one, joining Mommy & Me classes where most of the other moms were at least ten years younger. And while she was one of Gawker's early hires and one of the first editors at BuzzFeed, she didn't find professional fulfillment until she co-launched the successful self-care podcast Forever35—at forty.
 
Now, in her debut memoir, Shafrir explores the enormous pressures we feel, especially as women, to hit particular milestones at certain times and how we can redefine what it means to be a late bloomer. She writes about everything from dating to infertility, to how friendships evolve as you get older, to why being pregnant at forty-one is unexpectedly freeing—all with the goal of appreciating the lives we've lived so far and the lives we still hope to live.
 
Thanks for Waiting is about how achieving the milestones you thought were so important don't always happen on the time line you imagined. In a world of 30 Under 30 lists, this book is a welcome reminder that it's okay to live life at your own speed.
Praise for Thanks for Waiting: The Joy (& Weirdness) of Being a Late Bloomer
"Tender, funny, and endlessly reassuring, Thanks for Waiting is a much-needed reminder that certain things take time. This is a keen-eyed, heartfelt memoir about ambition, expectation, and the sweet surrender of relinquishing a schedule. . . . A coming-of-age story that's truly of the moment and spectacularly good for morale."—Mary H. K. Choi, New York Times bestselling author of Emergency Contact and Permanent Record
"Vulnerable, hilarious, and wise, Doree Shafrir's Thanks for Waiting is a wonderful reminder that life is not a race, and its obstacles can be just as affirming as its triumphs."—Meredith Talusan, author of Fairest
"This book is a hug for every single person who has ever felt like they were falling behind; a beautiful reminder that you're right on time, wherever you are, and that the wait isn't your life being delayed . . . it is your life!"—Nora McInerny, author of No Happy Endings and It's Okay to Laugh
"Armed with brutal honesty and a great sense of humor about her own moments of self-deception, Shafrir's story offers a gentle reminder that it's never too late to pursue the life you want, boldly and unapologetically."—Heather Havrilesky, "Ask Polly" columnist and author of What If This Were Enough?
"With incredibly readable and succinct prose, Shafrir dissects the messy bits that romantic comedies have always left out, and instead gives the reader a candid memoir about a complicated woman who ultimately triumphs on her own time line."—Glynnis MacNicol, author of No One Tells You This
"In a society where women are told to arrange their lives on a certain time line, Doree Shafrir's memoir is a welcome reality check. Thanks for Waiting is an honest look at the ups and downs of creating the life you really want and a must-read for anyone wondering, Am I doing this right? An empowering, deeply relatable, deeply resonant look at being in charge of your own fate."—Kayleen Schaefer, author of Text Me When You Get Home and But You're Still So Young
"Thanks for Waiting is the loving, wise, cuttingly funny, older sister we all need in book form. In it, Doree offers us the comfort of knowing that there is no such thing as being too late; rather, if we pay attention to our lives and evolve, we are always right on time. Thank you, Doree, for helping us put less pressure on ourselves."—Tara Schuster, author of Buy Yourself the F*cking Lilies
"Heartwarming and witty . . . While Shafrir's droll sarcasm is perfectly calibrated, it's her vulnerability and writing about more difficult experiences—such as her struggle with infertility—that will keep readers rapt. This coming-of-age story raises the bar."—Publishers Weekly (starred review)