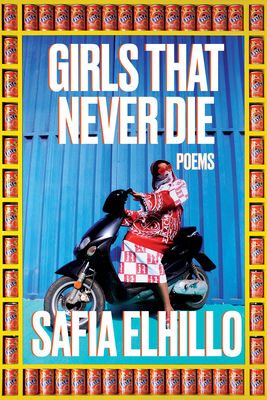 Girls That Never Die: Poems
Publication Date:
July 12th, 2022
Chop Suey Books
2 on hand, as of Jan 28 5:03pm
On Our Shelves Now
Description
NATIONAL BESTSELLER • Intimate poems that explore feminine shame and violence and imagine what liberation from these threats might look like, from the award-winning author of The January Children 

"Incredibly moving . . . Every single poem is stellar."—Roxane Gay, author of Difficult Women and Hunger
In Girls That Never Die, award-winning poet Safia Elhillo reinvents the epic to explore Muslim girlhood and shame, the dangers of being a woman, and the myriad violences enacted and imagined against women's bodies. Drawing from her own life and family histories, as well as cultural myths and news stories about honor killings and genital mutilation, she interlaces the everyday traumas of growing up a girl under patriarchy with magical realist imaginings of rebellion, autonomy, and power. 
Elhillo writes a new world: women escape their stonings by birds that carry the rocks away; slain girls grow into two, like the hydra of lore, sprouting too numerous to ever be eradicated; circles of women are deemed holy, protected. Ultimately, Girls That Never Die is about wrestling ourselves from the threats of violence that constrain our lives, and instead looking to freedom and questioning: 
[what if i will not die]
 
[what   will govern me then]
Praise for Girls That Never Die: Poems
"Fearless . . . has the makings of a breakthrough."—Los Angeles Times
"Amidst moments of personal trauma . . . [Elhillo's] poems dig deep into how shame is passed down generations of women. . . . With these conversations comes power. And the title of Elhillo's new book sings of the autonomy she imagines for her girls."—NPR
"Rebellion, liberation, multitudes."—Ms. Magazine
"Girls That Never Die is an incredibly moving, and well-structured collection of poetry about being a Muslim girl, about shame, about the silent hurts women carry, about the pressures of cultural expectations, about dangerous silences. The writing here is incisive and intimate and eloquent. Truly, a stunning collection of poems. I particularly appreciated the range of forms across the poems and the structure of the book as a whole. Many of the poems end in ways that will leave you gasping. Loved this book. Some standout poems: Ode to My Homegirls, Zamalek, and Orpheus but really every single poem is stellar, no skips as the kids say. Also, A+ cover."—Roxane Gay, author of Difficult Women and Hunger
"When I open a new book by Safia Elhillo, I know there will be fearlessness and beauty. There will be a voice that contains multitudes and yet is original and memorable in its daring. There is always lyricism and nuance, and memorable speech that knows how poetry opposes history. Indeed, Girls That Never Die is a book that gives us courage, despite all the despairing records of history. How does Elhillo do this? Perhaps by letting these pages be the space where witness and a new kind of mythology meet. And this meeting gives us strength. Why? Because there is in these poems an endlessly compelling voice that is unafraid to be vulnerable in order to tell the truth, a voice that walks against the current, walks between cultures, between languages, bridging them with honesty. Elhillo's is a voice that walks into the future."—Ilya Kaminsky, author of Dancing in Odessa and Deaf Republic
"Safia Elhillo traces the ongoing devastations of patriarchy while simultaneously making a refuge out of language, kinship, and sound. Electric, violet, plural with girls, this work pulses with memory and refusal, awakening language with its lucid imagination. Girls That Never Die is a book of resuscitations. Brilliant. And fierce."—Aracelis Girmay, author of The Black Maria
"I am rapt, finding here the hurt and the heft of girlhood. All the old silences, all the unuttered shames are ruptured, tended to, and—finally—named. Elhillo is a poet of wisdom, rigor, and vindicating care. Girls That Never Die is an astonishment."—Tracy K. Smith, author of Ordinary Light and Wade in the Water