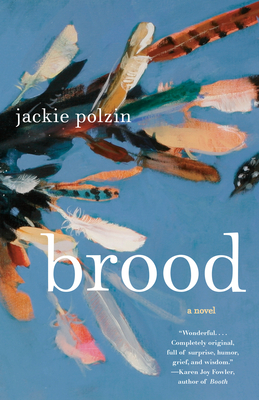 Brood: A Novel
Publication Date:
July 26th, 2022
Chop Suey Books
3 on hand, as of Feb 8 9:12pm
On Our Shelves Now
Over the course of a year, told in a collection of snapshots, Brood shows the life of a woman grieving by doing anything but. She gives herself purpose by taking care of a small flock of chickens, as well as finding small but kind, funny, or wry ways of interacting with her neighbors, eccentric mother-in-law, and caring husband, Percy. There are plenty of clever and funny moments from scene to scene (not to mention the odd and interesting analyses of a chicken's life and point of view), but the beauty in this book lies in the narrator's acceptance of the everyday, and of all the things — bad, good, but mostly in-between — that come therein.
March 2021 Indie Next List
Description
An exquisite new literary voice—wryly funny, nakedly honest, beautifully observational, in the vein of Jenny Offill and Elizabeth Strout—depicts one woman's attempt to keep her four chickens alive while reflecting on a recent loss.
 
"Full of nuance and humor and strangeness…[Polzin] writes beautifully about everything." —The New York Times

Over the course of a single year, our nameless narrator heroically tries to keep her small brood of four chickens alive despite the seemingly endless challenges that caring for other creatures entails. From the forty-below nights of a brutal Minnesota winter to a sweltering summer which brings a surprise tornado, she battles predators, bad luck, and the uncertainty of a future that may not look anything like the one she always imagined. 
 
Intimate and startlingly original, this slender novel is filled with wisdom, sorrow, and joy. As the year unfolds, we come to know the small band of loved ones who comprise the narrator's circumscribed life at this moment. Her mother, a flinty former home ec teacher who may have to take over the chickens; her best friend, a real estate agent with a burgeoning family of her own; and her husband, whose own coping mechanisms for dealing with the miscarriage that haunts his wife are more than a little unfathomable to her.
 
A stunning and brilliantly insightful meditation on life and longing that will stand beside such modern classics as H Is for Hawk and Gilead, Brood rewards its readers with the richness of reflection and unrelenting hope.
Praise for Brood: A Novel
Winner of the Los Angeles Times Book Prize • Winner of the Sue Kaufman Prize for First Fiction from the American Academy of Arts and Letters • Center for Fiction's First Novel Prize Finalist • Minnesota Book Award Finalist

"Wondrous…Her observation of the fragility and loveliness of daily life is so sharp and her commentary so droll, trenchant and precise, that the modest world she describes becomes almost numinous."
—Washington Post
"A debut novel about chickens? Yes, indeed. And it's full of nuance and humor, not to mention the very human travails of their grieving owner. Polzin has a gift for detail and an eye for the way little creatures can absorb and sometimes erase our worries."
—New York Times Book Review

"The story is acutely observed [with] metaphors of the world at large."
—The New Yorker
"You will love this book…The voice is wry and rare…As with Sigrid Nunez or Jenny Offill, one feels that the narrator of Brood is very close to the author."
—Minneapolis Star Tribune
"Brood, which chronicles a year of grief subsumed through care, abounds in wit, charm, and the very mystery of being."
—Joy Williams, author of The Visiting Privilege
"Darkly funny and poignant, Jackie Polzin's Brood, a novel about friendship, motherhood, grief, and chickens, is a witty delight."
—Paula Hawkins, author of Into The Water and The Girl on The Train

"Oh, did I love this book and its magnificent cast of characters—human and avian alike. Brood is the most vibrant and compelling slice of life I've been privy to in a great while—it's generous, original, and witty, an absolute treasure of a novel."
—Claire Lombardo, bestselling author of The Most Fun We Ever Had
"I have never read a book like this one. So much is unsaid, and that is where the true beauty of this novel lies, between the lines, even as the lines themselves sing. Written with such delicacy, such elegance, the prose made me feel that the narrator has opened her heart to me, even as she withholds so much. This was a book about everything—joy and love and beauty and loss. Marriage and motherhood and friendship and grief. All brought to life through the story of a little backyard flock. I was surprised at every turn, moved to laughter and tears both—I could not put it down."
—Emily Ruskovich, author of Idaho
"This is the most wonderful book! Acutely observed and flawlessly conveyed. Completely original, full of surprise, humor, grief, and wisdom and just the right amount of chickens. I am hugely on board with Brood."
—Karen Joy Fowler, author of We Are All Completely Beside Ourselves
"A book about caretaking, about trauma and loss, about keeping others and one's self alive, with sentences so confident and exact they continually took my breath away, Brood is that rare book that lives inside of you long after it's over, that reminds you of the vast amounts of life that language is capable of conjuring."
—Lynn Steger Strong, author of Want

"Witty and profound...Told in short vignettes studded with breath-catching wisdom, this novel feels both delicate and sustaining from beginning to end."
—Publishers Weekly

"Calling to mind the cerebral works of Olivia Laing and Jenny Offill, Polzin's story has a quiet intensity that churns throughout. It's in the tension she builds within her narrator's isolated world, navigating the paradox of domestic intimacy, the comfort and terror it sows, and the unexpected shapes motherhood can take...A moving meditation on loss, solitude, and the hope that can rise from both."
—Kirkus Reviews