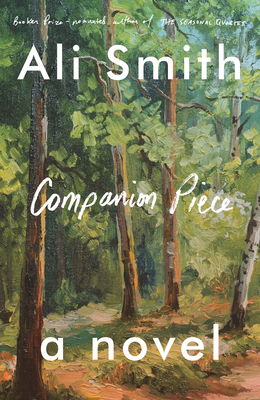 Companion Piece: A Novel
Publication Date:
May 3rd, 2022
Chop Suey Books
1 on hand, as of Nov 29 4:44pm
On Our Shelves Now
Description
Award-winning author Ali Smith again lights a way for us through the nightmarish now with a provocative novel grounded both in the contemporary era and in the uncannily familiar era of the Black Plague. Companion Piece stands apart from her astonishing Seasonal Quartet, which remains discrete unto itself. But like Smith's groundbreaking series, this new novel boldly captures the spirit of the times.

"A woman receives an unexpected call from a former classmate asking for help deciphering a puzzling interaction, and from there, Smith spins out a broader story about loneliness, refuge and freedom." —The New York Times Book Review

"Lyrical and timely . . . Smith's novel will push readers to consider what it means to let people into your life, even when you don't want to."
—TIME

"A story is never an answer. A story is always a question."
Here we are in extraordinary times.
Is this history?
 
What happens when we cease to trust governments, the media, each other?
What have we lost?
What stays with us?
What does it take to unlock our future?
 
"Every hello, like every voice, holds its story ready, waiting."
Praise for Companion Piece: A Novel
A BEST BOOK OF MAY: New York Times, Time Magazine, Esquire, LitHub, Philadelphia Inquirer

"It is remarkable to be alive at the same time as Scottish writer Ali Smith. No one else, I would argue, captures our ongoing contemporary nightmare in a manner that is both expansively imaginative and the perfect mirror of its abrupt absurdity. . . . A novel both enigmatic and inviting, begging to be read and reread. . . . A clever, erudite and humane portrait of our intense contemporary moment. Leaping from mythology to etymology, history to literature, she also makes the granular elements of daily movement the stuff of life-sustaining art. She shows, again, what exceptional fiction can do in troubled times that nothing else can." 
—Lauren LeBlanc, Los Angeles Times

"Companion Piece is a novel for people who love language. . . . Coming on the heels of Smith's seasonal quartet, which somehow kept up with the blitzkrieg of current events, Companion Piece takes place in our pandemic-inflected world, an all-too-familiar territory that Smith characteristically renders wonderfully strange. This she does, in part, by blending Sandy's 21st-century story with another set in the plague-haunted England of the late Middle Ages." 
—Ellen Atkins, The Washington Post
"Superb. . . . Martina was held and questioned while transporting the centuries-old Boothby Lock for the museum where she works. "It's really beautiful," Martina tells Sandy. "It's really cunning too. You could never tell by looking at it that it's even a lock, or that it has any mechanism at all inside it, never mind find how or where the key goes into it to open it." Which is, of course, a fine description of this novel, itself a lock, crafted by a smith, that is, by A. Smith, demanding in the engagement it requires, and rewarding of that engagement, as one picks away at the words she has used to build it. . . . [A] remarkable novel." 
—Mohsin Hamid, The New York Times Book Review

  "In her latest novel, wordsmith nonpareil Ali Smith once again shows herself to be a master of forging inventive connections. Companion Piece helps us see our world in a different light by finding points of contact between two plagues and two female artists, five centuries apart. . . . Ever intent on expanding our understanding of others and the world we share, Smith's work is brainy and moving, thoughtful and playful — and never irrelevant. But timely though her work may be, Smith is not one to eschew the long view: History matters to her, and so do artists and artisans from the past — almost as much as words. . . . One of Smith's great gifts as a writer is verbal playfulness — a joy of lex — even in dark times. . . . Smith, on fire, welds so many elements into this short novel . . . that the result is as intricate as that artisanal lock."
—Heller McAlpin, NPR

"Lyrical and timely . . . Smith's novel will push readers to consider what it means to let people into your life, even when you don't want to."
—TIME

"Smith, whose recent Seasonal Quartet novels took on real-life events like Brexit, the election of Donald Trump and the wildfires in Australia, has now written a pandemic-era story. A woman receives an unexpected call from a former classmate asking for help deciphering a puzzling interaction, and from there, Smith spins out a broader story about loneliness, refuge and freedom."
—The New York Times Book Review
"Companion Piece [is] a distinct but worthy addition full of jokes, puns, and parables to make sense of the modern pandemic age."
—The Philadelphia Inquirer
"Smith's sensational twelfth novel, like the eleven before it, defies easy categorization. The chaser to her extraordinary Seasonal Quartet centers on Sandy Gray, here a painter struggling to endure Covid-19 lockdown in England. . . . Like Smith's other novels, Companion Piece is a formally dazzling story, constructed from a découpage of funny, messy, beautifully disparate elements."
—Esquire
"Companion Piece is shapely, but not conclusive. It doesn't feel like a coda to the Four Seasons tetralogy, rather an addition to a book sequence for all seasons, with no end in sight. Smith could carry on adding to the writerly collage she is creating through many more volumes. I hope she does."
—Lucy Hughes-Hallett, The Guardian
 
"[A] dialogue-driven, deeply imagined, hilarious, and affecting tale of unexpected companionship during a plague . . . Smith follows her award-winning Seasonal Quartet with a bristling yet tender, richly layered, brilliant, and dynamic novel of connections forged and love affirmed."
—Donna Seaman, Booklist (starred review)
 
"Linguistic fireworks? Check. Ingenious structure? Check. Moral indignation? Check . . . A novel set on the edge of the moment . . . It wouldn't be an Ali Smith novel without linguistic fireworks; increasingly nor would it be one without a sense of moral indignation. Companion Piece is, to use the Smith cliché lexicon, "characteristically unclassifiable", "predictably unpredictable" and "as freewheeling as a rollercoaster." She is in grave peril of becoming a national treasure."
—The Scotsman
  
"Companion Piece is a fitting title for Ali Smith's 12th novel, her first after the extraordinary Seasonal Quartet. It's a book that springs from the same source as its predecessors, written and published swiftly, it is about as real-time as novels get . . . It feels as if Smith so enjoyed the breakneck speed of writing her quartet that she has produced this: a companion piece . . .  The two parts of the novel reflect upon and enlarge each other, collapsing time and illustrating the way that problems . . . are rooted deeply in our collective histories . . .  Smith constructs her novels, with scenes and stories accreting over time, generating a vast but insidious power . . . Companion Piece, like life, is messy, funny, sad, beautiful and mysterious."
—Alex Preston, The Guardian
 
"Ali Smith's seasonal quartet of novels is one of the most interesting enterprises in recent fiction . . . They are quizzical, often very funny, and their apparently relaxed and voluble style cunningly disguises just what a high-wire act this is. We want these novels to go on talking, and not every writer achieves that . . . It's all beautifully human, and the opposite of polemic. It understands the other point of view, as novels always have, and in the end shrugs off any idea that it might know best . . . A glorious, entertaining and expert portrayal of the world we live in, seen by the most beguiling and likeable of novelistic intelligences."
—The Telegraph (UK)
 
"Smith's serious intentions never dim her playful ingenuity. . . . Fusing polemic, poetry and disquisitions on nature and the arts, Smith creates a framework with which to dissect some of the most critical themes of our times . . . Smith is a celebrator of the paradox, of the cyclical nature of death and birth, endings and beginnings . . . Yet the implicit and explicit messages Smith is delivering through Companion Piece, as with the Seasonal Quartet, are that interconnectedness and community can triumph over disaffection and disconnection. Those are themes that do not date; a reminder in perilous times of the need for Smith's wise, humane and generous voice—and the angry consolation her work provides." 
—Financial Times (UK)
"Intricate . . . Expansive and tantalizing . . . As ever, Smith's flawless stream-of-conscious narration is at once accessible and transforming, and with it she manages to contain eye-blinking hallucinatory images, such as a shattered clock that reconstitutes itself. This is a captivating Rubik's cube of fiction."
—Publishers Weekly (starred review)
"[T]his touching entertainment . . . is Smith's pandemic land, where myth and reality converse, where lockdown might evoke medieval artisanry, and where wordplay is more than playful. The Scottish author's 12th novel displays once again her ingenuity in pulling together disparate narrative strands . . . With art and humor, Ali is the smith who forges links for her idiosyncratic narrative, one of which is the value of acts of kindness amid distress. A truly marvelous tale of pandemic and puns and endurance." 
—Kirkus Reviews (starred review)