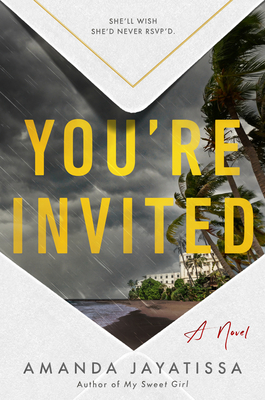 You're Invited
Publication Date:
August 9th, 2022
Chop Suey Books
3 on hand, as of Nov 26 5:11pm
On Our Shelves Now
Description
"Absolutely addictive…it's like Agatha Christie meets Crazy Rich Asians. Amanda Jayatissa is an author you want to watch."—Brad Thor
What could be worse than your ex-boyfriend marrying your childhood best friend? Getting accused of her murder… From the award-winning author of My Sweet Girl comes a dangerously addictive new thriller about a lavish Sri Lankan wedding celebration that not everyone will survive.
When Amaya is invited to Kaavi's over-the-top wedding in Sri Lanka, she is surprised and a little hurt to hear from her former best friend after so many years of radio silence. But when Amaya learns that the groom is her very own ex-boyfriend, she is consumed by a single thought: She must stop the wedding from happening, no matter the cost. But as the week of wedding celebrations begin and rumors about Amaya's past begin to swirl, she can't help but feel like she also has a target on her back. When Kaavi goes missing and is presumed dead, all evidence points to Amaya. However, nothing is as it seems as Jayatissa expertly unravels that each wedding guest has their own dark secret and agenda, and Amaya may not be the only one with a plan to keep the bride from getting her happily ever after…
Praise for You're Invited
"Filled with kaleidoscope twists and turns I could not turn the pages fast enough in this delicious follow-up to My Sweet Girl. When Amaya receives an invitation to the lavish Sri Lankan wedding of her ex-boyfriend and her ex-best friend, her decision to attend is only the first mystery at the heart of this unputdownable thriller." 
—Greer Hendricks, #1 New York Times bestselling co-author of The Wife Between Us
"Whip smart and expertly plotted with perfectly arranged clues and an explosive finale…will have readers guessing who they can trust and who the real villain is in this wickedly good thriller."
—Mary Kubica, New York Times bestselling author of Local Woman Missing
"You're Invited reads like Crazy Rich Asians' deranged, bloodthirsty sister—slick, twisted, and relentlessly juicy. Amanda Jayatissa's sophomore thriller is both a dizzying hall-of-mirrors pageturner and a cutting examination of privilege, power, and complex female friendships. I couldn't put it down."
—Andrea Bartz, New York Times bestselling author or We Were Never Here and The Herd

"This story is deliciously messy...Buckle up. This is a psychological thriller with corkscrew-tight twists and surprising depth as the novel explores issues of class, identity, and friendship."
—Oprah Daily
"You're Invited is in a league of its own. The writing is captivating, the pacing perfect, and Jayatissa never fails to give you just enough to draw your own conclusions, that will most likely be wrong." 
—Seattle Times
"My Best Friend's Wedding-esque tale gone very, very wrong…Wicked and expertly plotted, we highly recommend bringing this one to your best friend's wedding or bachelorette party this season."
—Fodors
"[T]he perfect summer thriller." 
—Shondaland
"[A] thoroughly satisfying and beautifully plotted thriller that deconstructs the trope of the crazy ex-girlfriend."
—Bookpage (starred review)
"Self-aware, suspenseful and scandalously witty, You're Invited is one of my favorite reads this year so far. It's the homicidal version of Kevin Kwan's Crazy Rich Asians, and deserves to be just as much of a blockbuster."
—Criminal Element
"[A] diverse twist on Ruth Ware's In a Dark, Dark Wood. "
—Buzzfeed
"So. Much. Wedding. Drama! This is bound to be one of the best psychological thrillers out this year."
—CrimeReads
"A brilliant dissection of the powers and pitfalls of maintaining a good reputation in a world where influence means everything – and on top of that, it's red-hot, wicked fun. Jayatissa's signature sly, darkly funny voice shines in this arresting thriller that manages to skewer influencer and ruling class culture while giving readers all the vicarious pleasures of life among the Sri Lankan elite."
—Ashley Winstead, author of The Last Housewife
"A rollercoaster of a thrill-ride that will have you guessing at every corkscrew turn. Richly layered and told through multiple points of view...this heady thriller is Knives Out meets The Guest List and will leave a Gillian Flynn-shaped hole daggered through your heart."
—May Cobb, author of The Hunting Wives
"In addition to offering unapologetically strong, vividly imperfect female characters, the novel offers commentary on social privilege in Sri Lanka and on the gaudy, illusion-filled world of social media influencers…Crazy Rich Asians meets Gone Girl with a mostly all-female cast."
—Kirkus
"Darkly humorous and impeccably plotted, Your'e Invited comes to life thanks to the compelling and irreverent characters who fill its pages."
—Crime by the Book
"Sinister and twisted, Amanda Jayatissa's You're Invited is an unsettling meditation on just how horribly wrong love and friendship can go."
—Portland Book Review

"Brilliant."
—Book Riot