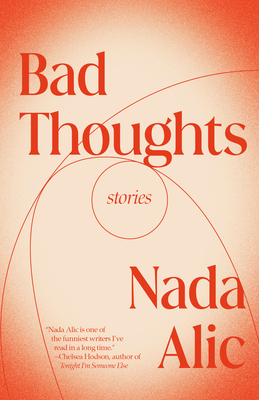 Bad Thoughts: Stories
Publication Date:
July 12th, 2022
Chop Suey Books
1 on hand, as of Jan 28 5:03pm
On Our Shelves Now
Description
An exhilarating and delightfully deviant debut story collection that, with comedic precision and compulsive irreverence, explores the most surreal and inadmissible fantasies of contemporary women.
"Nada Alic's Bad Thoughts is lit up with the perception, wit, and cunning of Miranda July and Sally Rooney." —T. Kira Madden, author of Long Live the Tribe of Fatherless Girls
Nada Alic's women—the perverts, nobodies, reality TV stars, poetic hopefuls, shameless party girls, and self-help addicts of Los Angeles and its environs—are all wrestling with a shared stark reality: the modern world. To cope, they live in their baddest thoughts: the lush, strange landscape of female make-believe.
In "Earth to Lydia," a support group meets to enjoy earthly pleasures after achieving "too much enlightenment," engaging in bizarre exercises that escalate to a point of violence and fear. The narrator of "Ghost Baby"—the spirit of a proto-child assigned to a couple whose chemistry is waning—writhes in disembodied frustration as its parents fail to conceive it. In "Daddy's Girl," the daughter of Eastern European immigrants tries to connect to her distant and difficult father through the invention of increasingly elaborate home maintenance repairs. And in "The Intruder," a lonely woman's break-in fantasy quickly builds to a full-blown obsession, until she finds an unwitting partner with whom to act it out.
Though each of Alic's characters thrive and ache in different circumstances, they all grapple with the most painful equations of modern life: love, trust, power, loneliness, desire, violation, and vengeance. And she conjures them all with a voice that is instantly arresting, unexpectedly hilarious, and absolutely unforgettable.
 
A VINTAGE ORIGINAL
Praise for Bad Thoughts: Stories
EDITORS' CHOICE, THE NEW YORK TIMES BOOK REVIEW • One of the 10 Best California Books of the Year by The New York Times
"Throughout Nada Alic's debut fiction collection, Bad Thoughts, sunny facades belie strange, dark interiors. . . . Carefully observed. . . . Each story pushes into weirder, more vulnerable territory. . . . Alic depicts contemporary womanhood with a wry, uncensored voice reminiscent of those in Miranda July's off-kilter SoCal tales." —A. Cerisse Cohen, The New York Times
"Some of the stories are dark and unsettling, while others are delightfully ridiculous. But throughout, Alic's deeply funny voice carries us through the total absurdity of today's world." —Katja Vujić, The Cut
"Darly funny. . . . Comic and absurd. . . . Alic's collection seems like one potential answer to a widely acknowledged problem: what Lauren Oyler called 'the self-conscious drama of morality in contemporary fiction'. . . . I'd like to interpret the book itself as the shimmering promise of change on the literary horizon." —Kate Shannon Jenkins, Gawker
"Alic's sharp and funny debut story collection follows women—who party, obsess, dream, desire, and cope—within and against the confines of the modern world." —Carolyn Quimby, The Millions
"Enchanting. . . . Delightful and realistic. . . . [A] dazzling debut." —Mallory Smart, Maudlin House
"In Alic's candid and humorous debut collection, women explore their darkest thoughts and fears. . . . As the characters wrestle with what's missing from their lives, the author finds mordant hilarity. The more Alic leans into the weirdness, the more addictive this becomes." —Publishers Weekly
"Nada Alic is one of the funniest writers I've read in a long time, but she also writes extremely well about the melancholic, detached, and disillusioned aspects of her characters. These stories find beauty in the absurd and poignancy in the mundane, which feels just right for the time we're living in. Bad Thoughts is a very special, memorable book that I'll be thinking about for a long time." —Chelsea Hodson, author of Tonight I'm Someone Else
"Nada Alic's Bad Thoughts is lit up with the perception, wit, and cunning of Miranda July and Sally Rooney. Alic offers a collection tracing the brutal and hilarious contours of humanity, with every sentence engined on the current between the two. Astute and unpredictable without ever veering into kitsch, Alic is a vital voice of our time." —T Kira Madden, author of Long Live the Tribe of Fatherless Girls
 
"The stories in Nada Alic's Bad Thoughts will make you laugh in every paragraph, yet are so grounded in the foibles of human existence that they will also leave you feeling immensely wiser. It's Alic's rare gift to carefully observe what we're too embarrassed to notice and minutely point out human flaws we take great pains to hide, so that she can unpack the absurdity of American existence even as it's hidden in plain sight. Bad Thoughts will leave you preening less yet wanting more, as you marvel at this astounding new voice in contemporary fiction." —Meredith Talusan, award-winning journalist and author of Fairest
 
"This book makes modern life feel poetic, funny, and absurd. A beautiful absurdity, as if all the shit that happens to us has meaning. If you are human, and have private thoughts that make you feel wild, Alic's words will make you feel at home on this planet." —Jedidiah Jenkins, New York Times bestselling author of To Shake the Sleeping Self
"I raced through this book, reveling in its dark wit and unexpected sexiness. It's easy to see myself in Alic's characters—dripping with directionless desire, aching for meaning and connection. In reading this book, I found both." —Leah Dieterich, author of Vanishing Twins