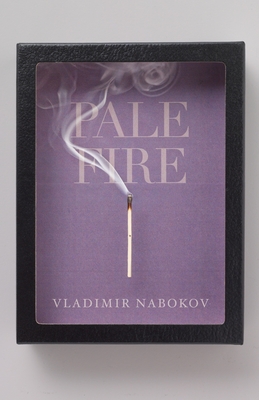 Pale Fire (Vintage International)
Publication Date:
April 23rd, 1989
Description
A darkly comic novel of suspense, literary idolatry and one-upmanship, and political intrigue from one of the leading writers of the twentieth century, the acclaimed author of Lolita.
"Half-poem, half-prose...a creation of perfect beauty, symmetry, strangeness, originality and moral truth. One of the great works of art of this century." —Mary McCarthy, New York Times bestselling author of The Group
 
An ingeniously constructed parody of detective fiction and learned commentary, Pale Fire offers a cornucopia of deceptive pleasures, at the center of which is a 999-line poem written by the literary genius John Shade just before his death. Surrounding the poem is a foreword and commentary by the demented scholar Charles Kinbote, who interweaves adoring literary analysis with the fantastical tale of an assassin from the land of Zembla in pursuit of a deposed king. Brilliantly constructed and wildly inventive, Vladimir Nabokov's witty novel achieves that rarest of things in literature—perfect tragicomic balance.
Praise for Pale Fire (Vintage International)
"Nabokov writes prose the only way it should be written, that is, ecstatically."—John Updike
"This centaur work, half-poem, half-prose ... is a creation of perfect beauty, symmetry, strangeness, originality and moral truth.  Pretending to be a curio, it cannot disguise the fact that it is one of the great works of art of this century." —Mary McCarthy