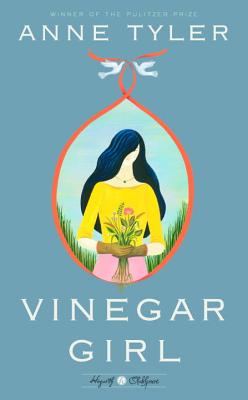 Vinegar Girl: A Novel (Hogarth Shakespeare)
Publication Date:
June 21st, 2016
Chop Suey Books
2 on hand, as of Feb 8 9:12pm
On Our Shelves Now
Tyler's latest offering is part of the Hogarth Shakespeare Project, in which Shakespeare's works are retold by contemporary authors. In this retelling of The Taming of the Shrew, Kate Battista keeps house for her scientist father and her younger sister, Bunny. When Dr. Battista's lab assistant, Pyotr, is in danger of being deported, a plan is hatched to marry him to Kate so he can stay in the country. The story that follows is a thought-provoking look at the role of women in society, with questions that are just as relevant today as they were more than 400 years ago, all addressed with the same insightful humor that readers have come to expect from Tyler.
July 2016 Indie Next List
Description
Pulitzer Prize winner and American master Anne Tyler brings us an inspired, witty and irresistible contemporary take on one of Shakespeare's most beloved comedies.
 
Kate Battista feels stuck. How did she end up running house and home for her eccentric scientist father and uppity, pretty younger sister Bunny? Plus, she's always in trouble at work – her pre-school charges adore her, but their parents don't always appreciate her unusual opinions and forthright manner. 
Dr. Battista has other problems. After years out in the academic wilderness, he is on the verge of a breakthrough. His research could help millions. There's only one problem: his brilliant young lab assistant, Pyotr, is about to be deported. And without Pyotr, all would be lost.
When Dr. Battista cooks up an outrageous plan that will enable Pyotr to stay in the country, he's relying – as usual – on Kate to help him. Kate is furious: this time he's really asking too much. But will she be able to resist the two men's touchingly ludicrous campaign to bring her around?
Praise for Vinegar Girl: A Novel (Hogarth Shakespeare)
New York Times Bestseller
"Shakespeare... would be pleased, I am sure... Novels such as Anne Tyler's, which are so precise and current, are like photographs or digital clock faces that tell us where we are and where we are coming from at the same time. 'Vinegar Girl' is an earthy reflection of this fleeting moment, both lively and thoughtful."
--Jane Smiley, New York Times Book Review
"[A] screwball comedy of manners that actually channels Jane Austen more than Shakespeare. It's clear that [Tyler] had fun with Vinegar Girl, and readers will too…A fizzy cocktail of a romantic comedy, far more sweet than acidic, about finding a mate who appreciates you for your idiosyncratic, principled self — no taming necessary."
--NPR.org
 
"[An] ingenious resetting... with considerably more humor and gentleness than in the Bard's version."
--Washington Post
"An effective retelling, while nodding to the original text, stands on its own as a story in the way Iris Murdoch's 'The Black Prince' responds to 'Hamlet' and Aldous Huxley's 'Brave New World' plays with 'The Tempest.' Tyler succeeds in creating a world we believe in...Charming...Clever."
--Boston Globe
"A perfect read."
--New York Post
"Vinegar Girl" is a fast, easy read…Held side-by-side against Shakespeare's Shrew, the story of Kate and Pyotr is full of hidden treasures."
--Houston Chronicle
 
"Vinegar Girl has the requisite Tyler trademarks…the characters populating Vinegar Girl are flawed, quirky, likable, self-indulgent and astute."
--St. Louis Post-Dispatch
"Is there any living American writer who has written as well about marriage as Anne Tyler? Or who has consistently been as honest about the disconnect between fantasies of lovebirds living happily ever after and the often sad but also funny miracle of two separate people actually staying together? In Vinegar Girl Tyler brings these talents to the altar of the Hogarth Shakespeare series…it's fun, lighthearted, clever, compassionate and filled with Tyler's always extraordinary love for her characters, liberating them here to love each other."
--Milwaukee Journal-Sentinel
"[A] great success; Vinegar Girl is funny and endearing, the quirky characters vintage Tyler."
--Minneapolis Star Tribune
"A very funny retelling of Shakespeare's The Taming of the Shrew."
--The Sacramento Bee
"Family drama meets rom-com in a modern version of The Taming of the Shrew. Pushy dad plus entitled little sister, cute but clueless suitor, and Pulitzer Prize-winning author equals must-read."
--Cosmopolitan
"A quirky tale that transports Shakespeare's The Taming of the Shrew to Tyler's modern-day Baltimore, where a father's attempt to shoehorn his daughter into a green-card marriage has, of course, an unintentionally happy ending."
--W Magazine
"Tyler's smooth prose makes Vinegar Girl, one of a series of renowned authors' Shakespearean updates, a light, summer read."
--Baltimore Magazine
 
"Readers unfamiliar with The Taming of the Shrew will have no problem enjoying this novel, which is funny, fun-loving and uplifting. Those who know the original well will be intrigued by Tyler's riffs: Is the new Kate less shrewish, or simply better characterized, her motives and anxieties better understood? In either case, the surprising ending, which deviates from Shakespeare's in important ways, makes for a heartwarming conclusion to a quirky, timeless tale."
--Shelf Awareness
 
"The Taming of the Shrew meets Green Card in this delightful reinvention that owes as much to Tyler's quirky sensibilities as it does to its literary forebear. Come for the Shakespeare, stay for the wonderful Tyler."
--Library Journal (starred review)
"Resplendent storyteller Tyler (A Spool of Blue Thread, 2015) is perfectly paired with The Taming of the Shrew…Deeply and pleasurably inspired by her source, Tyler is marvelously nimble and effervescent in this charming, hilarious, and wickedly shrewd tale of reversal and revelation."
--Booklist (starred review)
 
"Anne Tyler's Vinegar Girl, based on The Taming of the Shrew, gives readers a modern, witty, wonderful Kate."
--Lithub.com
 
International Praise for VINEGAR GIRL:
 
"This sparky, intelligent spin on Shakespeare's controversial classic demolishes the old saw that you can catch more flies with honey than vinegar." 
--The Guardian   
 "[A] modern take on The Taming of the Shrew."
--Good Housekeeping 

"Tyler's deepest purpose is to challenge the premises of Shakspeare's comedy... Her gentle, funny novel insists that it is possible, in spite of our customarily blind perversities, to find unexpected ways of breaking free from self-destruction."
--Times Literary Supplement
"[Vinegar Girl is] knockabout comedy at its best, genuinely laugh-out-loud funny and, indeed, may be [Tyler's] funniest book to date."
--Daily Mail

"Funny, thought-provoking, essential."
--The Sunday Telegraph

"[A] hilarious contemporary take on the play."
--Frankie McCoy, Evening Standard 

"Tyler is uniquely capable of handling a rebarbative character like Kate with generosity and imagination ... she consistently finds good in unpromising people and is a sharp and very funny observer of day-to-day life… A joy."
--Literary Review
"Excellent."
--Glamour
"A reflective, engaging twist on Shakespeare's unfashionable play."
--Daily Express
More Praise for Anne Tyler and Her Work: 
"Everyone loves Anne Tyler."
--San Francisco Chronicle
 
"Without Anne Tyler, American fiction would be an immeasurably bleaker place."
--Newsday
 
"Tyler's characters are thoroughly three-dimensional. They are our own families; they are ourselves; and it is our own desperate desire to understand the people we love, as well as the people who hurt us and whom we hurt, that keeps us reading with fervor."
--The Boston Globe
"You are involved before you even notice you were paying attention . . . Her feel for character is so keen that even hardened metafictionalists [who] would happily fry the whole notion of 'character' for breakfast are reduced to the role of helpless gossips, swapping avid hunches about the possible fates of the characters."
--Tom Shone, The New Yorker
"Tyler's eye and ear for familial give and take is unerring, her humanity irresistible. You'll want to turn back to the first chapter the moment you finish the last."
--People
"[A] novel by Anne Tyler is cause for celebration."
--Caroline Moore, The Sunday Telegraph 
"Tyler reveals, with unobtrusive mastery, the disconcerting patchwork of comedy and pathos that marks all our lives."
--Michael Dirda, Wall Street Journal
"Over five decades of exuberant shape-shifting across the fictional landscape, Anne Tyler has cut the steady swath of a literary stalwart, writing novel after novel whose most memorable characters inhabit a cosmos all their own."
--Julia Glass, New York Times Book Review 
"Anne Tyler never disappoints . . . Her insights about life, love, aging, marriage, siblings, grief, and unexpected happiness grow richer and deeper with each passing year and book."
--Pittsburgh Post-Gazette
"Anne Tyler has no peer. Her books just keep getting better and better."
--Anita Shreve
"The wonder of Anne Tyler is how consistently clear-eyed and truthful she remains about the nature of families and especially marriage."
--Los Angeles Times