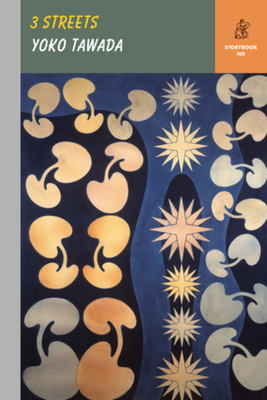 Three Streets (Storybook ND Series)
Publication Date:
September 27th, 2022
Publisher:
New Directions
Chop Suey Books
2 on hand, as of Feb 8 7:12pm
On Our Shelves Now
Description
Yoko Tawada—winner of the National Book Award—presents three terrific new ghost stories, each named after a street in Berlin
The always astonishing Yoko Tawada here takes a walk on the supernatural side of the street. In "Kollwitzstrasse," as the narrator muses on former East Berlin's new bourgeois health food stores, so popular with wealthy young people, a ghost boy begs her to buy him the old-fashioned sweets he craves. She worries that sugar's still sugar—but why lecture him, since he's already dead? Then white feathers fall from her head and she seems to be turning into a crane . . . Pure white kittens and a great Russian poet haunt "Majakowskiring": the narrator who reveres Mayakovsky's work is delighted to meet his ghost. And finally, in "Pushkin Allee," a huge Soviet-era memorial of soldiers comes to life—and, "for a scene of carnage everything was awfully well-ordered." Each of these stories opens up into new dimensions the work of this magisterial writer.
Praise for Three Streets (Storybook ND Series)
Tawada's stories agitate the mind like songs half-remembered or treasure boxes whose keys are locked within.
— The New York Times
Tawada is reminiscent of Nikolai Gogol, for whom the natural situation for a ghost story was a minor government employee saving up to buy a fancy coat, the natural destiny of a nose to haunt its owner as an overbearing nobleman.
— Rivka Galchen - The New York Times Magazine
Tawada's strange, exquisite book toys with ideas of language, identity, and what it means to own someone else's story or one's own.
— The New Yorker
These stories reinvent familiar landmarks and artworks, giving readers an imaginative and hopeful way to grapple with the history that's written into the urban landscape.
— Publishers Weekly
Three Streets is one of the most explicitly dialectical works in Tawada's oeuvre. It pursues a left project not only in form but also in content—an engagement with the plight of the poor, the disenfranchised, the forgotten—and leaves her readers no doubt that, at the end of the day, her project has political stakes.
— Reed McConnell - The Baffler
"The mystery of what it means to be human"—this phrase, which pops up early in "Kollwitz Strasse," is an apt description of what Tawada aims to explore in these stories. From one moment to the next, her narratives can be mystifying. In time, though, they cohere into engrossing meditations on historical memory and the oft-baffling nature of life in this century." 
— Kevin Canfield - World Literature Today
In her latest work of fiction Three Streets, Tawada brings her remarkable intelligence and linguistic playfulness to bear on the cityscape of Berlin itself – or, more specifically, its former East. On Kollwitzstraße, Majakowskiring and Puschkinallee, Tawada conjures a series of ghostly encounters with the past, present and supernatural possibilities of our history-heavy city. This klein aber fein addition to Tawada's oeuvre, translated elegantly by Margaret Mitsutani, compresses plenty of its author's trademark offbeat brilliance into a pleasingly short format.
— Alexander Wells - Exberliner
Each 'street' in the volume, translated by Margaret Mitsutani, is both charming and unnerving...This may well be Tawada's finest work, partly because of how moving it is when someone capable of so much wit knows when to be reverent. A perfect story.
— J.W. McCormack - The New Left Review