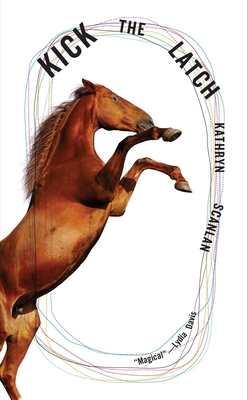 Kick the Latch
Publication Date:
September 27th, 2022
Publisher:
New Directions
Chop Suey Books
4 on hand, as of Dec 1 5:16pm
On Our Shelves Now
Description
About one woman's fine, hard life at the racetrack, Kick the Latch–with its ruthless concision and artful mysteries–is lightning in a bottle
Kathryn Scanlan's Kick the Latch vividly captures the arc of one woman's life at the racetrack—the flat land and ramshackle backstretch; the bad feelings and friction; the winner's circle and the racetrack bar; the fancy suits and fancy boots; and the "particular language" of "grooms, jockeys, trainers, racing secretaries, stewards, pony people, hotwalkers, everybody"—with economy and integrity.
Based on transcribed interviews with Sonia, a horse trainer, the novel investigates form and authenticity in a feat of synthesis reminiscent of Charles Reznikoff's Testimony. As Scanlan puts it, "I wanted to preserve—amplify, exaggerate—Sonia's idiosyncratic speech, her bluntness, her flair as a storyteller. I arrived at what you could call a composite portrait of a self." Whittled down with a fiercely singular artistry, Kick the Latch bangs out of the starting gate and carries the reader on a careening joyride around the inside track.
Praise for Kick the Latch
I have been following Kathryn Scanlan's original voice for years. In her new venture—an unusually intimate, clear-eyed portrait of a tough and engaging woman conveyed in revelatory vignettes—every word is essential.
— Amy Hempel
Kathryn Scanlan has performed a magical act of empathic ventriloquy in Kick the Latch. This immediate, engrossing immersion in another life and world, so personally and passionately told, is compulsively readable.
— Lydia Davis
Scanlan's inventive novel documents a woman's hardscrabble yet jubilant life and her dedication to working with racehorses. Shaped from interview transcripts with a real-life trainer named Sonia (no last name given), Scanlan's vignettes carry readers across the arc of Sonia's life...but the most beautiful moments are quiet ones, in which Sonia processes the choices she and others have made, and of the consequences she faces in a field dominated by men. With this sharp and lovely tribute to a singular woman, Scanlan continues to impress. 
— Publishers Weekly
Reviews of Kathryn Scanlan's The Dominant Animal:
Their mood and imagery are lasting, and reflective of brutal truths of the commerce of human civilization . . . chilling, finely tuned pieces on power and survival.
— The Los Angeles Times
Lean and mean: the young American author's audacious deployment of lacunae is a measure of her singular artistry. These are sentences written in stone—to be read out loud or learned by heart.
— Andrew Gallix - The Irish Times
A deeply enjoyable book, atmospheric with fear and shock, threat and disorientation. Through the power of her vision, Scanlan takes hold of the world and gives it to the reader with an intensity that is, paradoxically, both strange and familiar . . . Scanlan requires that the reader remain sharply vigilant: a feeling that lingers long after finishing the book and will, perhaps, be part of what draws people back.
— David Hayden - The Guardian
Scanlan writes about ordinary life in extraordinary ways by compacting it radically, like pressurizing carbon into diamonds. When Sonia describes the force absorbed by a single hoof in every stride of a horse's gallop—"a thousand pounds of pressure held up by that one thin leg"—she could also be describing Scanlan's syntax: compact phrases holding so much pressure. The work is structured by recurring themes: the violence and pleasures of intimacy, the balm and exhaustion of hard work, our bonds with animals and with our own animal natures—those surges of desire and aggression that unseat and rearrange us.
— Leslie Jamison - The New Yorker
Kick the Latch, a short, absorbing novel about a racetrack horse trainer...is informed by a series of conversations with the real Sonia, who Scanlan met through her mother, and it has a blunt, vivid idiom that renders gore and beauty with similar clarity. That idiom is informed by Sonia's own voice: "I wanted to preserve — amplify, exaggerate — Sonia's idiosyncratic speech," Scanlan says. The book feels like an interview, and it's impressive what Scanlan does within that frame, especially with animals that serve as proxies for humans in their embodiment of power, independence, and humiliation.
— Erin Schwartz - Vulture
Kathryn Scanlan's words will mark you. Her work is sharp, deliberate, and poised—rife with subtly peculiar language. 
— Crow Jonah Norlander - Bomb Magazine
I thought I knew everything there was to know about the track, by living it, by writing it, until I read Kathryn Scanlan's dazzling novel, Kick the Latch—which is another thing altogether and an extraordinarily accurate picture of a life based on the love of racehorses.
— Michael Klein - Book Post