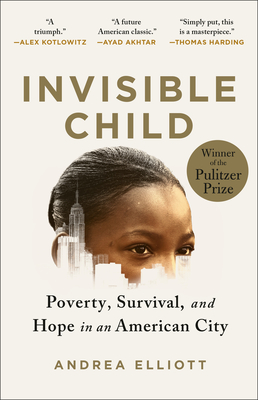 Invisible Child: Poverty, Survival & Hope in an American City (Pulitzer Prize Winner)
Publication Date:
May 17th, 2022
Publisher:
Random House Trade Paperbacks
Description
PULITZER PRIZE WINNER • NATIONAL BESTSELLER • A "vivid and devastating" (The New York Times) portrait of an indomitable girl—from acclaimed journalist Andrea Elliott
"From its first indelible pages to its rich and startling conclusion, Invisible Child had me, by turns, stricken, inspired, outraged, illuminated, in tears, and hungering for reimmersion in its Dickensian depths."—Ayad Akhtar, author of Homeland Elegies
ONE OF THE TEN BEST BOOKS OF THE YEAR: The New York Times • ONE OF THE BEST BOOKS OF THE YEAR: The Atlantic, The New York Times Book Review, Time, NPR, Library Journal
In Invisible Child, Pulitzer Prize winner Andrea Elliott follows eight dramatic years in the life of Dasani, a girl whose imagination is as soaring as the skyscrapers near her Brooklyn shelter. In this sweeping narrative, Elliott weaves the story of Dasani's childhood with the history of her ancestors, tracing their passage from slavery to the Great Migration north. As Dasani comes of age, New York City's homeless crisis has exploded, deepening the chasm between rich and poor. She must guide her siblings through a world riddled by hunger, violence, racism, drug addiction, and the threat of foster care. Out on the street, Dasani becomes a fierce fighter "to protect those who I love." When she finally escapes city life to enroll in a boarding school, she faces an impossible question: What if leaving poverty means abandoning your family, and yourself?
A work of luminous and riveting prose, Elliott's Invisible Child reads like a page-turning novel. It is an astonishing story about the power of resilience, the importance of family and the cost of inequality—told through the crucible of one remarkable girl. 

Winner of the J. Anthony Lukas Book Prize • Finalist for the Bernstein Award and the PEN/John Kenneth Galbraith Award • Longlisted for the Baillie Gifford Prize
Praise for Invisible Child: Poverty, Survival & Hope in an American City (Pulitzer Prize Winner)
"A vivid and devastating story of American inequality."—The New York Times
"A classic to rank with Orwell."—The Sunday Times
"From its first indelible pages to its rich and startling conclusion, Invisible Child had me, by turns, stricken, inspired, outraged, illuminated, in tears, and hungering for reimmersion in its Dickensian depths. This book is so many things: a staggering feat of reporting, an act of profound civic love, an extraordinarily moving tale about the fierceness of family love, and above all, a future American classic."—Ayad Akhtar, author of Homeland Elegies
"A wonderful and important book."—Tracy Kidder, author of Strength in What Remains and Mountains Beyond Mountains
"Andrea Elliott's Invisible Child swept me away. Filled with unexpected twists and turns, Dasani's journey kept me up nights reading. Elliott spins out a deeply moving story about Dasani and her family, whose struggles underscore the stresses of growing up poor and Black in an American city, and the utter failure of institutions to extend a helping hand. Invisible Child is a triumph."—Alex Kotlowitz, bestselling author of There Are No Children Here
"Elliott's book is a triumph of in-depth reporting and storytelling. It is a visceral blow-by-blow depiction of what 'structural racism' has meant in the lives of generations of one family. But above all else it is a celebration of a little girl—an unforgettable heroine whose frustration, elation, exhaustion, and intelligence will haunt your heart."—Ariel Levy, author of The Rules Do Not Apply
"With her Invisible Child, Andrea Elliott has achieved a towering feat of reporting that paints, layer by layer, an extraordinary portrait of a child, a family, a city, and the nation that produced them. From start to finish, she sustains an insatiably curious and deeply empathetic focus on worlds that so many people work hard, if mostly unconsciously, to never really see."—Howard W. French, author of Born in Blackness: Africa, Africans, and the Making of the Modern World, 1471 to the Second World War

"Invisible Child is hands down the best book I have read in years. This is a profoundly moving investigation into what it means to truly love other human beings. . . . A masterpiece."—Thomas Harding, bestselling author of Hanns and Rudolf and Blood on the Page
"Stunning . . . a remarkable achievement that speaks to the heart and conscience of a nation."—Publishers Weekly (starred review)
"A heartbreaking story of a family . . . This important book packs a real gut punch."—Booklist (starred review)