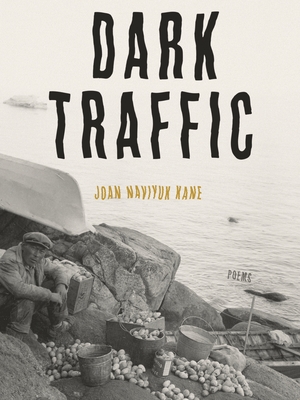 Dark Traffic: Poems (Pitt Poetry Series)
Publication Date:
September 14th, 2021
Publisher:
University of Pittsburgh Press
Usually Arrives in 3 to 5 Days
Description
Dark Traffic creates landmarks through language, by which its speakers begin to describe traumas in order to survive and move through them. With fine detail and observation, these poems work in some way like poetic weirs: readers of Kane's work will see the artic and subarctic, but also, more broadly, America, and the exigencies of motherhood, indigenous experience, feminism, and climate crises alongside the near-necropastoral of misogyny, violence, and systemic failures. These contexts catch the voice of the poems' speakers, and we perceive the currents they create.
Praise for Dark Traffic: Poems (Pitt Poetry Series)
"Dark Traffic mourns the disruption and erasure of the Indigenous people and culture of the North. . . . Their history was overrun by ours, and in our history books, largely erased and replaced by ours. . . . This is the landscape that the Inupiaq poet Joan Naviyuk Kane explores in her newest collection." —Anchorage Daily News
 
"Through both her poetry and her prose, Kane writes of and through myth and storytelling, offering a landscape built on narrative itself, a landscape that is still learning how to continue to thrive, or even sustain, despite and through such outside interference, including the ongoing and destructive bludgeon and erasures of American imperialism." —Rob McLennan, author of The Uncertainty Principle
"Dark Traffic is masterfully imagined on the page . . . Kane clearly has subject matter within this book, but she's presenting it in a way that doesn't spoon-feed the white gaze. . . . [She] is subverting traditional notions of suffering and voyeurism." —Dean Rader and Victoria Chang, Los Angeles Review of Books
"This book's scattered, honest communications are lyric and concrete and rooted in place, in the body, in violence, in reckoning, and in truth." —Orion
"A brutal and beautiful book whose poems strain the lyric through concrete and confessional modes, translation, and unforgettable evocations of land and people burdened with—but not defined by—the legacies of colonial atrocity. The speaker/s of Kane's poems know the power and limitation of the human body tested, the mercy of a relentless wind, and the familiar agonies of desire both thwarted and realized—how much can be sacrificed in the name of precious nothing. Dark Traffic is a ravishing achievement—one of our best poets, at the height of her powers." —Melissa Febos, author of Girlhood
 
"Whether by intellect shot through with feeling, or feeling sharp with intellect, Joan Naviyuk Kane's Dark Traffic is a vigorous account of [Cold War] communication systems, complicity, and [self] inquiry. Rich with experimentation and a clear ethic of attentiveness, Dark Traffic is an indomitable, resonant book." —Shara Lessley, author of The Explosive Expert's Wife
"Oscillating between presence and absence, mother, daughter, woman, inhabiting the 'rift into language and grit,' Kane reveals the ways we are made and unmade and made again. Dark Traffic is the poet at her most vulnerable—and most powerful."  —Abigail Chabitnoy, author of How to Dress a Fish