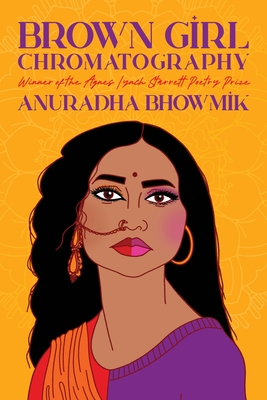 Brown Girl Chromatography: Poems (Pitt Poetry Series)
Publication Date:
October 4th, 2022
Publisher:
University of Pittsburgh Press
Usually Arrives in 3 to 5 Days
Description
Anuradha Bhowmik's life as a Bangladeshi-born American girl growing up as a first-generation immigrant in the United States gives shape to this debut collection. Brown Girl Chromatography interrogates issues of race, class, gender, and sexuality in a post-9/11 America while navigating the poet's millennial childhood, adolescence, and adulthood. The poems follow Bhowmik as she learns about the cruelties in both American and Bangladeshi worlds without any guidance or instruction on how to survive these conflicting spheres. Any visible traces of her Bangladeshi life result in racial ridicule from her peers, while participating and assimilating into American culture is met with violence and abuse at home. As language and memory intersect, Bhowmik draws on pop culture and free association to examine her displacement from many angles and make meaning out of hurt.
Praise for Brown Girl Chromatography: Poems (Pitt Poetry Series)
"Brown Girl Chromatography is a wise manual of immigrant coming of age—a journey of ancestry and longing, an embrace of the past and a love song to the future. Anuradha Bhowmik speaks for all the brown girls who 'couldn't have/crushes in fourth grade,' all of us who weren't 'white women/wearing lingerie in the glossy Macy's ad.' The speaker's journey through the minefield of popular culture, family responsibility, and maturation into an unmapped womanhood is handled with deft precision." —Allison Joseph, author of Confessions of a Barefaced Woman
 
"Brown Girl Chromatography is pure fire, a slow burn to the center of desire. This is a book of longing, of brokenness, of makeup ('my second art, the perfect counterpart to my alter ego'), of wanting what you're not supposed to want and then constructing a world from it: 'This is my kingdom. / this is something I can control.' This is the most inventive book I've read in ages." —Aaron Smith, author of The Book of Daniel
"Brown Girl Chromatography sparkles with multiple intelligences and sharp, sharp wit. Any brown person who has had to put on a flesh-colored Band-Aid knows that American society mostly wasn't built for us, wasn't expecting us, and kind of doesn't know what to do with us. Bhowmik's book is a book that is not only aware of this alienation but travels deep into it, undoes it, and depicts a life I recognize; I'm not a stranger in this book. I know this world. Bhowmik is a smart and skilled handler. It's like she found my letters. And read each one out loud." —Kazim Ali, author of The Voice of Sheila Chandra and Inquisition