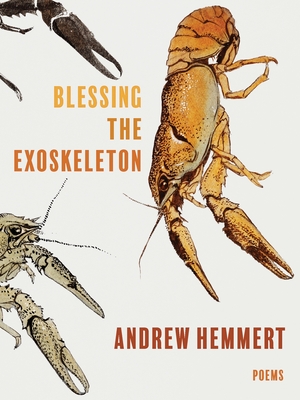 Blessing the Exoskeleton: Poems (Pitt Poetry Series)
Publication Date:
November 1st, 2022
Publisher:
University of Pittsburgh Press
Usually Arrives in 3 to 5 Days
Description
Blessing the Exoskeleton is a southerner's book about Michigan. Written over a two-year period in Kalamazoo, Andrew Hemmert's poems address climate change, labor, love, and his attempts to live joyfully in a deteriorating world. Though the majority of these poems are narrative, they approach their stories in roundabout and slanted ways. A meditation on job seeking begets a story about the author's father attempting to catch an owl in a fishing net. A fire down the road from the author's apartment begets a meditation on telemarketing. Personal histories collide with headlines, resulting in poems that convey everyday experience and seek to praise it. Despite the northern cold and the tyranny of the news, Hemmert develops his own theories for navigating his life, finding beauty in an unfamiliar landscape and climate.
Praise for Blessing the Exoskeleton: Poems (Pitt Poetry Series)
"Blessing the Exoskeleton reveals a poet in conversation with the remnants of post-industrial America where scientific theory collides with mythos—a speaker navigating familiar towns and themes stretched from the Upper Peninsula to Florida and all that runs and rusts between. From its rivers and cars to its factories and churches, Hemmert's poems are hymns to deliverance. They are landmarks on a map of a disappearing world." —Kerry James Evans, author of Bangalore
 
"Andrew Hemmert's Blessing the Exoskeleton comes to us from a speaker geographically uprooted from his home for the sake of love. It turns out that here, homesickness is good for poetry, hones the blade of perception, activates and opens exploratory pathways to the self and the body, mines its theories, and intensifies its hungers. 'Barbeque restaurants should be illegal / or else they should be churches,' he writes, one of many moments in the book that perform the friction between desire and its counterpart, suppression, where the glory hole cut into the stall divider in a library's bathroom is covered over with sheet metal, where the speaker finally tells us directly: 'I don't know / exactly how to be good.' And yet, in this light-leaning, love-aligned book of the potential for poetry to bless and renew, legitimate goodness shines." —Diane Seuss, author of frank: sonnets
"Andrew Hemmert's brilliant Blessing the Exoskeleton finds its pleasures in the margins of collapse. The news, the runaway climate—it's all an onslaught. And yet, with 'extinction hovering directly overhead,' Hemmert writes, 'we take whatever closeness we can get.' Hemmert is a poet hellbent on the theory that love is, ultimately, resilient. He proves it again and again with remarkable images and unforgettable lines." —Keith Leonard, author of Ramshackle Ode