New Release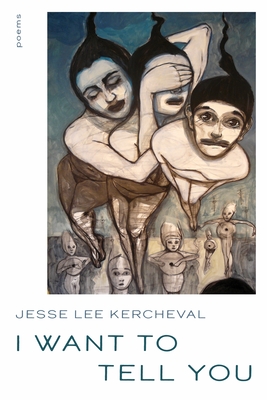 I Want to Tell You: Poems (Pitt Poetry Series)
Publication Date:
January 31st, 2023
Publisher:
University of Pittsburgh Press
Usually Arrives in 3 to 5 Days
Description
In Jesse Lee Kercheval's sixth collection, I Want To Tell You, her searching, incantatory poems speak directly and forcefully to the reader in a voice that is by turns angry, elegiac, wry, or witty but always sharply alive. Crossing through the bewildering territory of grief, Kercheval argues with god and the universe about the deaths of people she loves. She also writes movingly about the complications of family life and love, the messy puzzle of life itself. 
Praise for I Want to Tell You: Poems (Pitt Poetry Series)
"Ecstatic, bounding, electric, I Want To Tell You plumbs the elegy while still sizzling with life—a contradiction made right in Jesse Lee Kercheval's deft hands. Wading through the pools of grief, Kercheval wrestles with God to find meaning in the wake of loss, but not without her characteristic wit, wisdom, and candor. In the tradition of our earliest poets, carving their poems into the clay with a reed, Kercheval's work declares, 'My name is Jesse. I write this to remember.'"—Jacques J. Rancourt, author of Broken Spectre 
"We readers love Jesse Lee Kercheval's many books in many genres, her precise and brilliant translations, her memoir/novels/nonfiction, her visual art, her connection to early silent film and her public life as a maker who serves writers through decades. But here, in her sixth collection of poems, she has cut open her heart to call out our human grief and love. And yes, she gives words to death. Please read this magnificent book. There can be no other for our times." —Hilda Raz, author of Letter from a Place I've Never Been: New and Collected Poems 
"Jesse Lee Kercheval has traveled from her original French to the English of the United States, which has become the language of her poetry. Like a fruit—like a tangerine that peels itself—she sheds layers of language and accesses a poetry with enormous vitality, sincerity, and transparency."—Circe Maia, author of The Invisible Bridge / El puente invisible: Selected Poems of Circe Maia