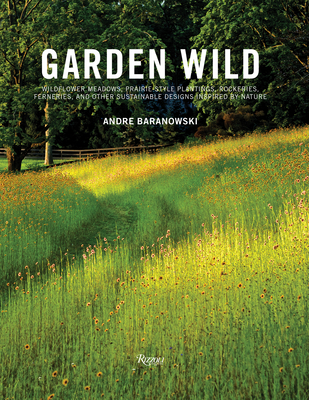 Garden Wild: Wildflower Meadows, Prairie-Style Plantings, Rockeries, Ferneries, and other Sustainable Designs Inspired by Nature
Publication Date:
March 5th, 2019
Description
This book is a survey of 12 breathtakingly beautiful gardens by award-winning photographer Andre Baranowski, whose eye for beauty will embolden readers the world over to embrace their inner instincts and create their own garden wild.
The new movement in contemporary gardening is about going back to the wilderness, creatively landscaping with native plants to enrich their environments and seamlessly merge with their natural surroundings. Politely rejecting traditional manicured, hedged and pruned gardening aesthetics to invite an alternative kind of beauty: wildly bursting with indigenous plants, old-growth trees, vibrant patches of wildflowers and perennials, succulents, un-pruned bushes and ornamental grasses. New York City's Highline is a famous example and this landscaping approach is becoming increasingly popular for private homeowners. This book surveys twelve such breathtaking gardens captured by award winning photographer Andre Baranowski. The featured gardens range from small private residencies to large properties, by renowned landscapers such as Oehme van Sweden, Fernando Caruncho, Jorge Sanchez, and Piet Oudolf. The texts detail each project's approach and the hurdles presented by its landscape, providing the reader with an array of instructional ideas from an insider's mindset. Guaranteed to be a boundless source of inspiration and treasured by lovers of gardens worldwide.
Praise for Garden Wild: Wildflower Meadows, Prairie-Style Plantings, Rockeries, Ferneries, and other Sustainable Designs Inspired by Nature
 "Now comes a new book called Garden Wild: Meadows, Prairie-Style Plantings, Rockeries, Ferneries, and Other sustainable Designs Inspired by Nature, magnificently photographed by Andre Baranowski." —LITCHFIELD COUNTY TIMES