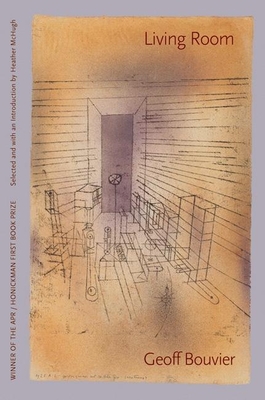 Living Room
Publication Date:
September 1st, 2005
Publisher:
Copper Canyon Press
Chop Suey Books
5 on hand, as of Dec 1 5:16pm
On Our Shelves Now
Description
"The narrating voice in Living Room is insistent but quiet, though it sometimes achieves loudness without any apparent effort. At other times it seems to continue in the -reader's mind even after stopping for the day. It is an important new presence, faintly disturbing and endlessly attractive."--John Ashbery
Readers may be voyeurs, but the subtler gifts are not for the fast glancers. Take a good slow second look at Geoff Bouvier's Living Room . . . bravura performances, both accessible and elegant, both immediate and subtle, both hilarious and serious. . . . With virtuoso reversals, switches of vantage, changes of scale, inside-outings, they accomplish metaphysical, not only physical, effects.--from the introduction by Heather McHugh
Each of Geoff Bouvier's prose poems brims with industry and restless attention, and the dramas they contain are manifold. Here a solitary mind and there a whole social sphere are cross-sectioned for observation at moments rife with emotional collisions--awesome tediums, mad reliefs. In style and substance, Living Room enacts the urgency one feels to stretch out against cramped quarters. Introduced by Heather McHugh.
From Savings Plan
To save things, collect them in an unremarkable place--behind a row of history books, in the corner of the garage--where you wouldn't usually look. Then forget about these things completely.
When you remember what you're saving--a photograph of an ex, the fattening candy bars--but forget where you're saving it, you may worry, even curse yourself. But remember how this is your plan, and how the plan is succeeding.
The savings are protected, hidden away, even if you can't find them until many days after a rainy day.
Geoff Bouvier holds degrees from the University of Connecticut and from Bard College. He lives in San Diego, where he waits tables at Tapenade Restaurant and publishes journalistic prose with the San Diego Reader.