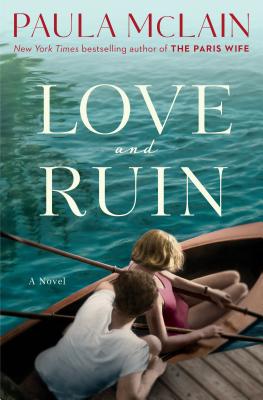 Love and Ruin: A Novel
Publication Date:
May 1st, 2018
Publisher:
Ballantine Books
Chop Suey Books
8 on hand, as of Jan 28 5:03pm
On Our Shelves Now
The Paris Wife and Circling the Sun were two of the most successful titles of the last decade for Alabama Booksmith, and Love and Ruin is more proof for the pudding that Paula McLain is a member of the master class of historical fiction writers. This exciting page-turner follows Martha Gellhorn as she reports from the center of the action of the Spanish Civil War, then jeopardizes her reputation and very existence by falling in love with the greatest literary giant of the day, Ernest Hemingway. This spectacular read is fact-based and deliciously entertaining.
May 2018 Indie Next List
Description
NEW YORK TIMES BESTSELLER • The bestselling author of The Paris Wife brings to life the story of Martha Gellhorn—a fiercely independent, ambitious woman ahead of her time, who would become one of the greatest war correspondents of the twentieth century.
NAMED ONE OF THE BEST BOOKS OF THE YEAR BY The Washington Post • New York Public Library • Bloomberg • Real Simple
In 1937, twenty-eight-year-old Martha Gellhorn travels alone to Madrid to report on the atrocities of the Spanish Civil War and becomes drawn to the stories of ordinary people caught in the devastating conflict. It's her chance to prove herself a worthy journalist in a field dominated by men. There she also finds herself unexpectedly—and unwillingly—falling in love with Ernest Hemingway, a man on his way to becoming a legend.
On the eve of World War II, and set against the turbulent backdrops of Madrid and Cuba, Martha and Ernest's relationship and careers ignite. But when Ernest publishes the biggest literary success of his career, For Whom the Bell Tolls, they are no longer equals, and Martha must forge a path as her own woman and writer.
Heralded by Ann Patchett as "the new star of historical fiction," Paula McLain brings Gellhorn's story richly to life and captures her as a heroine for the ages: a woman who will risk absolutely everything to find her own voice.

Praise for Love and Ruin
"In this heart-tugging follow-up [to The Paris Wife], we meet Martha Gellhorn, a correspondent during the Spanish Civil War, who was the third—and perhaps most intriguing—of [Hemingway's] wives. The title says it all."—People
"Propulsive . . . highly engaging . . . McLain does an excellent job portraying a woman with dreams who isn't afraid to make them real. . . . Her work around the world . . . is presented in meticulous, hair-raising passages. . . . The book is fueled by her questing spirit, which asks, Why must a woman decide between being a war correspondent and a wife in her husband's bed?"—The New York Times Book Review
"[The] scenes of professional rivalry and seesawing imbalance are some of McLain's best. . . . McLain's legions of fans will relish the inspiration of a gutsy woman who discovers she doesn't need a man at her side, after all."—The Boston Globe
Praise for Love and Ruin: A Novel
"In this heart-tugging follow-up [to The Paris Wife], we meet Martha Gellhorn, a correspondent during the Spanish Civil War, who was the third—and perhaps most intriguing—of [Hemingway's] wives. The title says it all."—People
"Propulsive . . . highly engaging . . . McLain does an excellent job portraying a woman with dreams who isn't afraid to make them real, showing [Gellhorn's] bravery in what was very much a man's world. Her work around the world . . . is presented in meticulous, hair-raising passages. . . . The book is fueled by her questing spirit, which asks, Why must a woman decide between being a war correspondent and a wife in her husband's bed?"—The New York Times Book Review
"[The] scenes of professional rivalry and seesawing imbalance are some of McLain's best. . . . McLain's legions of fans will relish the inspiration of a gutsy woman who discovers she doesn't need a man at her side, after all."—The Boston Globe
"McLain successfully turns Martha's story into a romantic quest and Martha into a romantic heroine—though not a traditional one."—The Washington Post
"Romance, infidelity, war—Paula McLain's powerhouse novel has it all."—Glamour
"If you loved McLain's 2011 blockbuster The Paris Wife, you're sure to adore her new novel, which is just as good, if not better."—AARP
"McLain's strengths as a novelist are formidable, especially her ability to evoke a strong sense of time and place. . . . This novel is important not only as historical fiction but also as a reminder of the challenges that faced career-minded women such as Gellhorn in the mid-twentieth century. . . . McLain is also a master at ending chapters that make you want to turn the page and see what happens next."—Houston Chronicle
"If love and war are two of the greatest themes in literature, they're both here. . . . McLain's dialogue, is, as Hem might say, good and true. She captures the passion Gellhorn and Hemingway feel for each other, and the slow erosion of trust on both sides."—USA Today
"McLain takes another successful trip into historical fiction. . . . Readers will have to remind themselves that this is fiction as McLain draws a finely detailed portrait of the chaos and destruction spreading across Spain."—St. Louis Post-Dispatch
"Engrossing . . . [Love and Ruin] spotlights a woman ahead of her time—a fearless reporter who covered the major conflicts of the twentieth century."—Real Simple
"McLain's ability to base a work of fiction on real people is nothing short of superb."—BookPage

"Wonderfully evocative . . . This is historical fiction at its best, and today's female readers will be encouraged by Martha, who refuses to be silenced or limited in a time that was harshly repressive for women."—Library Journal (starred review)