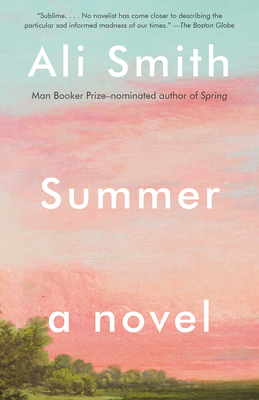 Summer: A Novel (Seasonal Quartet)
Publication Date:
May 11th, 2021
Chop Suey Books
1 on hand, as of Nov 29 4:44pm
On Our Shelves Now
Description
The fourth novel in the Seasonal Quartet by Man Booker Prize Finalist Ali Smith is "a prose poem in praise of memory, forgiveness, getting the joke, and seizing the moment" (The New York Times).
In the present, Sacha knows the world's in trouble. Her brother Robert just is trouble. Their mother and father are having trouble. Meanwhile, the world's in meltdown­—and the real meltdown hasn't even started yet. In the past, a lovely summer. A different brother and sister know they're living on borrowed time.
This is a story about people on the brink of change. They're family, but they think they're strangers. So: Where does family begin? And what do people who think they've got nothing in common have in common?
Summer.
Praise for Summer: A Novel (Seasonal Quartet)
A Best Book of the Year: NPR • The Guardian • Kirkus Reviews
Winner of the Orwell Prize for Fiction
"Sublime. . . . Smith has completed what must be considered both one of modern fiction's most elusive and most important undertakings. . . . No novelist has come closer to describing the particular sad informed madness of our times." 
—The Boston Globe
"A prose poem in praise of memory, forgiveness, getting the joke and seizing the moment." 
—The New York Times
"Rich with references, characters quick to share stories about artists and their work, and the misfits and heroes of history, Summer is more than a perennial season. It is the bravura performance of a writer, poised at the edge of the day's vast darkness, gathering all the warmth and light of our inner summer. " 
—The Washington Post
  
"A revelation of endurance and a balm even in the worst of times." 
—Los Angeles Times
"Written under time pressure and fueled by dismay, outrage, hope, heart, wit, and serious talent, the books span four years. . . . What will keep them fresh long after the news cycle has moved on is their passionate engagement with universal issues such as grief, injustice, human warmth and cruelty, and the life-enhancing powers of love, art, and decency. . . . Brilliant." 
—NPR
  
"Ms. Smith has crafted something that speaks to this moment, but the impression it leaves will similarly unsettle and last." 
—The Wall Street Journal
 
"A thrilling crescendo. . . . Incantatory." 
—O, The Oprah Magazine
 
"Triumphant. . . . Smith's visionary series, ambitious in its scale and towering in its achievements, will be studied and imitated for decades to come." 
—Esquire
 
"A project that questions the fragile, unbreakable role of art in making sense of a world that is always slightly beyond our comprehension. . . . An intergenerational patchwork illustrating both the trends of our times and a meditation on time itself. . . . Few authors can match [Smith's] playful, wrenching prose."
—Los Angeles Review of Books
 
"A shimmering tapestry of rage and redemption. . . . [Smith is] a magnanimous stylist with an ear like none other, a command of both mania and poise that feels beautifully tailored to our time. . . . Smith will be studied for decades to come, a beacon to future readers eager to wrest meaning from our turbulent moment." 
—Minneapolis Star Tribune
 
"In Ali Smith's Summer, the present, like the past, both exists and does not exist, adds up to the same thing, and proves inexorably different. . . . A miracle." 
—Ploughshares
 
"Deeply affecting. . . . Powerfully absorbing. . . . Wise, funny, unsentimental and exhilarating." 
—Financial Times
 
"A vast and dizzyingly ambitious project. . . . A work that has risen to the challenges of the era that summoned it, but also a series of novels that will endure, telling future generations what it was to live in these fraught and febrile times, and how, through art, we survived." 
—The Observer
 
"Stunning. . . . [Smith] envisions the shape of life as something more wildly elemental than the neat idea that our days on earth run from point A to B. . . . There is so much pleasure in Summer. . . . The typically Smithian interweaving of so many important, small voices makes this a complete universe. . . . Art, justice and nature are all given their due." 
—The Sunday Times (London)
 
"Revelatory. . . . This singular writer has found her moment." 
—Prospect Magazine
 
"A deeply resonant finale to a work that should come to be recognized as a classic." 
—Kirkus Reviews (starred review)