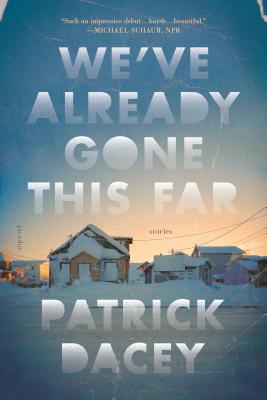 We've Already Gone This Far: Stories
Publication Date:
June 27th, 2017
Chop Suey Books
1 on hand, as of Nov 26 5:11pm
On Our Shelves Now
Description
We've Already Gone This Far takes us to Wequaquet, Massachusetts: a town like many towns in America, a place where love and pride are closely twinned and dangerously deployed. In this stunning debut, Patrick Dacey draws us into the secret lives of recognizable strangers. Here, in small-town Massachusetts, after more than a decade of boom and bust, everyone is struggling to find their own version of the American dream: a lonely woman attacks a memorial to a neighbor's veteran son, a dissatisfied housewife goes overboard with cosmetic surgery on national television, a young father walks away from one of the few jobs left in town, a soldier writes home to a mother who is becoming increasingly unhinged.
With a skewering insight and real warmth of spirit, Dacey delivers that rare and wonderful thing in American fiction: a deeply imagined book about where we've been and how far we have to go.
Praise for We've Already Gone This Far: Stories
"Patrick Dacey is one of my favorite young American writers. The stories in We've Already Gone This Far are . . . fast, poetic, edgy, full of tremendous affection for the things of the world."—George Saunders
"We've Already Gone this Far is a strong, intelligent, deeply felt book; Patrick Dacey is a beautiful and natural writer."—Mary Gaitskill
"Excellent . . . ambitious and heartfelt . . . an impressive debut. The best of [these stories] are harsh but beautiful reminders of the cost of wars—not just the ones overseas, but the ones we wage against ourselves."—Michael Schaub, NPR
"If you want to understand how President Trump happened . . . spend some time with the humble folk of fictional Wequaquet, Massachusetts. . . . You'll be glad you did."—Ed Tarkington, author of Only Love Can Break Your Heart

"In the keen, observational short-story style of writers such as George Saunders and Lauren Groff, We've Already Gone This Far illuminates both the quotidian details and the profound strangeness of modern American life."—Booklist
"[A] remarkable first short-story collection. . . . Dacey's naturalistic writing always feels clear-eyed and assured, his most mesmerizing stories capable of breaking free from their surroundings like a running back turning a short-yard gain into the improbable, tackle-breaking touchdown."—Style Weekly (Richmond)
"The title tells the tale: The characters in Dacey's debut collection have already gone this far, so they might as well keep going, just to see what's up ahead."—The Toronto Star

"Breathtakingly good . . . Dacey has a special knack for leavening his prose with wickedly funny, satirical flourishes. . . . Dacey is an agile writer who mixes satire with scenes of great emotional depth and empathy."—Richmond Times-Dispatch

"An empathetic and strikingly original debut short story collection."—Kirkus, author feature
"Patrick Dacey's We've Already Gone This Far is a rock-solid and mercifully unpretentious collection of stories, the sort of book I'm always in search of, but rarely finding. This is a book about people who (mostly) do honest work for a living by a writer who knows how hard it is out here on the ground in America. Generous and beautifully written."—Peter Orner
"Dacey's breakout collection shows that small towns can still yield big fictional rewards. . . . Despite the exhausted, drained characters, these tales of neighborly conflicts, professional and personal malaise, and family tragedy are marked by a certain buoyancy. In describing these frustrated lives, Dacey can be as funny as he is compassionate."—Publishers Weekly

"Irreverent . . . poignant . . . superb . . . A fine debut collection from a storyteller who improves as the stakes get higher."—Kirkus Reviews

"Patrick Dacey is a wonderfully talented writer, and among his many gifts is his willingness to explore the hole in the heart (and I believe we all have at least one if we've truly lived), and to find humor and grace in the sadness that surrounds it. We've Already Gone This Far is one of the best collections I've read in a long time."—Donald Ray Pollock
"These thirteen stories are linked not just through place and character but also by their pursuit of a warped form of happiness. Together they provide a startling portrait of American life today. A daringly resonant collection with the best endings in the business."—Courtney Maum
"Whether a used-car salesman or past-his-prime coach or lonely mother of a deployed soldier, the characters in Dacey's collection are 'living on these images of the past' looking for something that glimmers just out of reach. A book that brims with unguarded humanity and quiet moments of communion, I couldn't stop reading it. Dacey is a masterful prose stylist, a vibrant and original new literary voice."—Rae Meadows