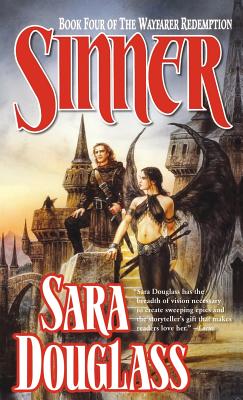 Sinner: Book Four of The Wayfarer Redemption
This product is not returnable.
Publication Date:
May 1st, 2005
Usually Ships in 3 to 5 Days
Description
The land Tencendor has been united for more than forty years. The Starman Axis defeated the dreaded monster Gorgrael and by fulfilling his destiny he has brought peace finally to the three races of this land: the Icarii bird people, the Avar tree people, and the humans who for generations controlled (and oppressed) the other two races. Attaining god-like powers, Axis chose to retire to the ethereal sphere in the heavens with his beautiful consort Azhure and ceded his authority to his son Caelum SunSoar. As Supreme Ruler of Tencendor, Caelum holds the reins of power carefully and the thousands of years of ill-will between the three races seems to be at an end. All seems golden for this land. Or so it might seem.
But the path of the son is not necessarily that of the father. Caelum is untried and has known nothing but peace during his lifetime. And while the three races appear at peace, there are undercurrents of jealousy and bitter memories just buried beneath the surface.
So when strange powers threaten to come through the Star Gate (a source of power that gives those with magic their near immortality) bent on the destruction of all he holds dear, Caelum will have to find the strength to fight this threat.
Complicating this situation is the almost impossible death of his Icarri sister...and the culprit appears to be none other then his hated brother Drago, who as a baby had been in league with Gorgrael and had sufficient power to try to kill Caelum. As punishment Drago was made mortal (unlike his near invulnerable siblings). As Caelum struggles to hold all he holds dear safe, he is left with this quandary:
Is Drago as powerless as he seems? Is his hate for his fate enough to have him murder?
And is he in league with the demons that hover ever nearer?
This is the fourth book in Sara Douglass's The Wayfarer Redemption series, however it starts a brand new story arc and is the perfect place for new readers to enter this series.
Praise for Sinner: Book Four of The Wayfarer Redemption
"Storytelling at its best, with fast-paced action, gritty realism, powerful characters, magic and romance." —Romantic Times on The Wayfarer Redemption
"Epic storytelling on a par with Terry Goodkind and Robert Jordan." —Library Journal on The Wayfarer Redemption
"With three races, licit and illicit loves, prophecy, fraternal hatred, and enough battles for several campaigns, Douglass has whipped up enough raw material to avoid shortchanging readers throughout her vast undertaking." —Booklist on Enchanter
"Sara Douglass is a powerful voice in high fantasy that readers can equate to the likes of Robert Jordan, Marion Zimmer Bradley and Anne McCaffrey." —Romantic Times, 4 ½ stars on Enchanter
"A superior adventure fantasy right to the last." —Booklist on Starman
"Should satisfy a fantasy readership hungry for strong female characters." —Publishers Weekly on Starman
"Exciting writing with emotional highs and lows! Ms. Douglass has created a mystical world populated with many vividly portrayed races." —Romantic Times, 4 ½ stars on Starman