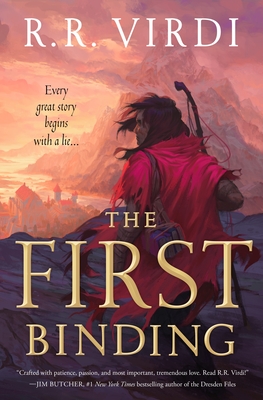 The First Binding (Tales of Tremaine #1)
Publication Date:
August 16th, 2022
Chop Suey Books
2 on hand, as of Feb 8 9:12pm
On Our Shelves Now
Description
All legends are born of truths. And just as much lies. These are mine. Judge me for what you will. But you will hear my story first.
I buried the village of Ampur under a mountain of ice and snow. Then I killed their god. I've stolen old magics and been cursed for it. I started a war with those that walked before mankind and lost the princess I loved, and wanted to save. I've called lightning and bound fire. I am legend. And I am a monster.
My name is Ari.
And this is the story of how I let loose the first evil.
Praise for The First Binding (Tales of Tremaine #1)
"Crafted with patience, passion, and most importantly, tremendous love. Read R.R. Virdi!" —Jim Butcher, #1 New York Times bestselling author of the Dresden Files
"Rich world-building, plenty of action, and devious twists abound. Very highly recommended!" —Jonathan Maberry, New York Times bestselling author of V-Wars and Kagen the Damned

"An epic like no other - grand, sweeping, dramatic, a love letter to fantasy burning with the dust and heat and mythos of South Asia. It reads like magic and tastes like saffron." —Yudhanjaya Wijeratne, Washington Post bestselling author of the Salvage Crew and the Commonwealth Empire.
"The First Binding is epic fantasy at its finest—an homage to storytelling and legend, richly told and endlessly engaging. Complex and luxuriant, this is an emotional, multifaceted gem of a book that examines the twists and turns a story takes on its journey from the truth." —Andrea Stewart, author of Bone Shard Daughter
"R.R. Virdi's The First Binding is engrossing and beautiful, joyous and painful—always entertaining, sometimes profound. This book makes me remember why I love epic fantasy."—Kevin J. Anderson, New York Times bestselling coauthor of Dune: House Atreides
"If you like your fantasy epic and seriously chonky, and make it South Asian, also make it a love letter to storytelling and legends—all told in a lush, engaging style….this is your book!" —Andrea Stewart, author of Bone Shard Daughter

"THE FIRST BINDING is a masterpiece of epic fantasy storytelling." — Michael Mammay, author of the Planetside trilogy
"If you loved The Name of the Wind and The Lies of Locke Lamora, this is your next reading addiction." — Dyrk Ashton, author of The Paternus Trilogy
"The First Binding is the first volume in a new magnificent and ambitious high fantasy series to obsess over."—Novel Notions