Discounted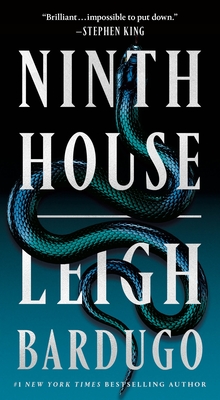 Ninth House (Alex Stern #1)
Previous price:

$10.99
Current price:

$9.99
Publication Date:
June 29th, 2021
Publisher:
Flatiron Books
Queen Leigh's first foray into adult fantasy is a sensational success! One of the best fantasy books I've read in a long while, Ninth House contains Yale secret societies, ghosts, magic, morally gray characters, and murder. Bardugo balances dual timelines with intricate precision, and the history and world-building of her fantastical New Haven is superb. I couldn't put this book down; I had to know what was going to happen next. I savored every moment reading this novel, and I am jealous of readers who get to experience it for the first time!
October 2019 Indie Next List
This stunning book in the tradition of The Secret History and The Magicians is about a girl who can see ghosts, and who gets a full scholarship to Yale in the aftermath of a horrible tragedy. Bardugo's first adult entry has a cast of characters you won't soon forget, and great social commentary about class. Great for fans of her other work who have aged up, or fans of gritty adult fantasy.
Winter 2020 Reading Group Indie Next List
Description
Ninth House is the mesmerizing adult debut from #1 New York Times bestselling author Leigh Bardugo, a tale of power, privilege, dark magic, and murder set among the Ivy League elite.
Galaxy "Alex" Stern is the most unlikely member of Yale's freshman class. Raised in the Los Angeles hinterlands by a hippie mom, Alex dropped out of school early and into a world of shady drug-dealer boyfriends, dead-end jobs, and much, much worse. In fact, by age twenty, she is the sole survivor of a horrific, unsolved multiple homicide. Some might say she's thrown her life away. But at her hospital bed, Alex is offered a second chance: to attend one of the world's most prestigious universities on a full ride. What's the catch, and why her?
Still searching for answers, Alex arrives in New Haven tasked by her mysterious benefactors with monitoring the activities of Yale's secret societies. Their eight windowless "tombs" are the well-known haunts of the rich and powerful, from high-ranking politicos to Wall Street's biggest players. But their occult activities are more sinister and more extraordinary than any paranoid imagination might conceive. They tamper with forbidden magic. They raise the dead. And, sometimes, they prey on the living.