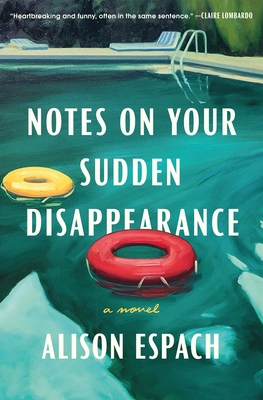 Notes on Your Sudden Disappearance: A Novel
Publication Date:
May 17th, 2022
Publisher:
Henry Holt and Co.
Usually Arrives in 3 to 5 Days
An insightful, moving, funny, and deeply relatable novel. Alison Espach masterfully brings to life a coming-of-age story in the midst of a terrible and sudden tragedy. This novel will stick with you and make you want to share it.
June 2022 Indie Next List
Description
Named a Best Book of 2022 by NPR and The Chicago Tribune

From Alison Espach, author of the New York Times Editors' Choice novel The Adults, comes a dazzlingly unconventional love story for readers of Ask Again, Yes and Tell the Wolves I'm Home.
For much of her life, Sally Holt has been mystified by the things her older sister, Kathy, seems to have been born knowing. Kathy has answers for all of Sally's questions about life, about love, and about Billy Barnes, a rising senior and local basketball star who mans the concession stand at the town pool. The girls have been fascinated by Billy ever since he jumped off the roof in elementary school, but Billy has never shown much interest in them until the summer before Sally begins eighth grade. By then, their mutual infatuation with Billy is one of the few things the increasingly different sisters have in common. Sally spends much of that summer at the pool, watching in confusion and excitement as her sister falls deeper in love with Billy—until a tragedy leaves Sally's life forever intertwined with his.
Opening in the early nineties and charting almost two decades of shared history and missed connections, Notes on Your Sudden Disappearance is both a breathtaking love story about two broken people who are unexplainably, inconveniently drawn to each other and a wryly astute coming-of-age tale brimming with unexpected moments of joy.
"Heartbreaking and funny, often in the same sentence—a deeply felt, finely wrought, and highly satisfying novel. Alison Espach has created a family whose every sorrow, joy, and idiosyncrasy is utterly, vibrantly real."—New York Times bestselling author Claire Lombardo
Praise for Notes on Your Sudden Disappearance: A Novel
Named a Best Book of 2022 by NPR and The Chicago Tribune
An Indie Next pick for June 2022
A USA Today "Must Read"
Named a Most Anticipated Book of May by The Millions
"Riveting."
—People

"Incongruously funny...Ms. Espach uses irony well."
—Sam Sacks, The Wall Street Journal
"Fans of Alison Espach's first novel, the wonderful The Adults, have had to wait 11 years for her follow-up. Good news: It's more than worth it...Espach's book is often quite funny, and the structure – it's told in the second person – is fascinating. Espach once again proves that she's a brilliantly talented author."
—Michael Schaub, NPR

"Terrific."
—The Chicago Tribune
"Riveting."
—People
"A raw, intensely moving portrait of grief and a story of how tragedy can bring unexpected connection."
—Yale Review
"Inventive and powerful...Espach captures the minutiae of love and loss with unflinching clarity and profound compassion, and pulls off the second-person point of view unusually well. Readers will be deeply moved."
—Publishers Weekly (starred review)
"This tragicomic bildungsroman in the shadow of loss will invade your heart and hold on tight."
—Kirkus
"A marvelous exercise in voice…Never contrived, the novel is beautifully written, making even the quotidian details of Sally's life fascinating, in part because the story invites such a deep emotional involvement with the fully realized characters and, indeed, with the entirety of this splendid and memorable book."
—Booklist (starred review)
"Notes on Your Sudden Disappearance is heartbreaking and funny, often in the same sentence--a deeply felt, finely wrought, and highly satisfying novel. Alison Espach has created a family whose every sorrow, joy, and idiosyncrasy is utterly, vibrantly real."
—Claire Lombardo, New York Times bestselling author of The Most Fun We Ever Had
"Tender, eloquent, and wise, this is an intensely beautiful book by a supremely gifted writer."
—Karen Thompson Walker, author of The Dreamers
"Unputdownable, insightful, funny, and emotionally profound. A book that swirls and glitters with strangeness and delight, as much a portrait of grief as a love story, both love and grief hinging on the ways we negotiate with things we cannot control, how we sit in the cockpit of the self, what we dare to share with others and what remains ineffable. Gorgeous."
—Rufi Thorpe, author of The Knockout Queen
"Oh how I loved this novel! Alison Espach masterfully examines the effects of devastating loss with enormous wit, charm, and intelligence. This is truly a novel like no other."
—Joanna Rakoff, author of My Salinger Year
"In Alison Espach's hands, a teenage girl on the cusp of understanding, a dazzling older sister, and a small Connecticut town become a beautifully described world filled with characters I wanted to meet, characters I still think about. Their trials and tribulations and adolescent longing and awkwardness; their love for each other—it all felt amazingly real. Notes on Your Sudden Disappearance is the rare kind of book that made me both laugh and cry. It is hilarious and moving and deeply felt, and I was sad when it ended."
—Anton DiSclafani, author of The Yonahlossee Riding Camp for Girls
"Espach is an immensely talented writer, and her prose unfolds with a devastating lightness of touch. This novel is deeply moving, always excellent, and often unexpectedly funny."
—Emily St. John Mandel, New York Times bestselling author of The Glass Hotel
"Writing from a black hole, 'soundless and windless and without gravity,' Alison Espach has alchemized unimaginable tragedy into a story that's deceptively funny, tender, and ultimately life-affirming. Novels like this are what the art form is for."
—Teddy Wayne, author of Apartment
Praise for The Adults
"Coming of age with a quick wit and a sharp eye…The Adults is as idiosyncratic as it is stirring."
—New York Times
"Tom Perrotta meets Curtis Sittenfeld in this razor-sharp debut by Alison Espach, who weaves a wry, devastatingly perceptive coming-of-age tale set in Connecticut's affluent suburbs."
—Marie Claire
"Fierce, tender adolescent narrative."
–The New York Times Book Review
"This cri de coeur carries a freshness and charm."
—San Francisco Chronicle